This is an easy, classic White wine vinaigrette recipe that only requires six basic ingredients. It takes less than a minute to make from scratch – you'll never go back to a bottled dressing!
Make it ahead of time for an easy way to elevate even the most basic of salads.
At first glance, ours is refrigerator and pantry may look bare, but it has everything we need to make a quick, fresh lunch or dinner, made from scratch!
No hidden ingredients or preservatives, just great taste, ready to toss with fresh veggies – in just a quick minute or two of your time. What's not to love?
This white wine vinaigrette is so versatile – it works well in salads with savory additions, sweet salads with fruit and even pasta salad!
I love sharing my favorite salad dressing recipes with you. When I first started making my own dressings, I never went back to store bought. You can find them all in this set vinaigrette recipe guide!
Why you'll love this white wine vinaigrette
So easy to make
Only 6 Pantry ingredients
Use on green salads or pasta salads
Customize to your taste
White Wine Vinaigrette Ingredients
Olive oil – My go-to oil for a vinaigrette. You can adjust the amount to your taste preference. Canola, safflower or soybean oil are good alternatives.
White wine vinegar – You can use whatever flavored vinegar you have on hand. Adjust the quantity – for more tang, increase vinegar and reduce olive oil, for less seaweed, reduce vinegar and increase olive oil.
Chopped garlic – Freshly chopped or bought in a jar. In a pinch, you can use garlic powder.
Sugar – Sweetens this vinaigrette. You can remove or use honey or agave if you prefer.
Salt – To taste. I love using thick flakes with a grinder.
Pepper – To taste. Coarse black pepper flakes from a grinder are best, but use what you have on hand.
Variations
Add Chopped shallots
Honey – replace the sugar in the recipe with honey or agave
Dijon – try an extra teaspoon of mustard.
Fresh herbs – Add a teaspoon of chopped herbs such as oregano, rosemary, basil or dill.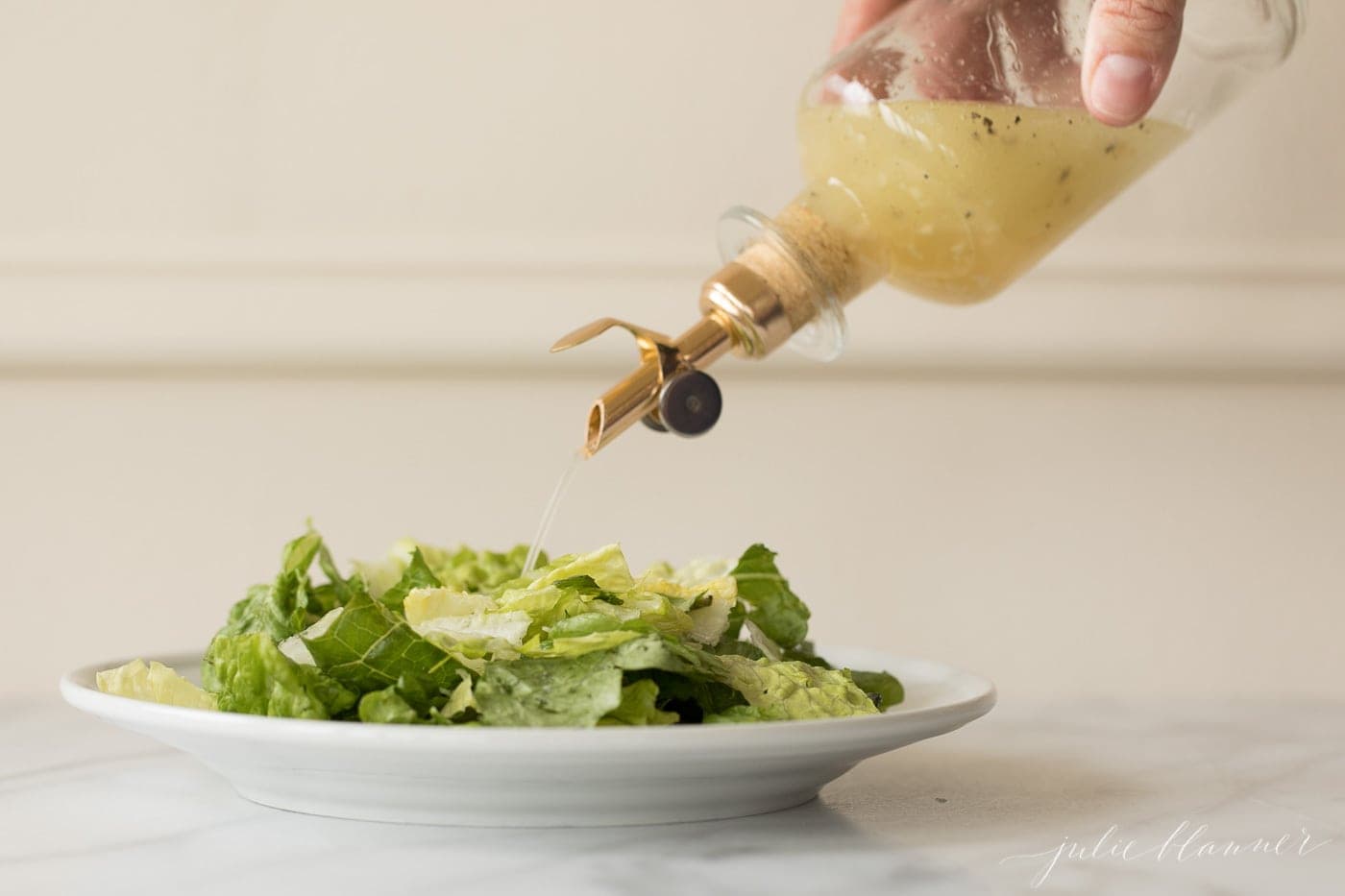 How to make white wine vinaigrette
Mix the ingredients in a jar with a lid.
Shake vigorously and enjoy!
Tips
Don't dress your salad with vinaigrette until just before serving. If you add it too far in advance, it can cause the greens to wilt and become soft.
The dressing has a fair long shelf life, so make a double batch for an easy to grab dressing.
It is cheaper and healthier making your own salad dressing – no preservatives required!
While refrigerated, the oil and vinegar in homemade vinaigrette recipes will separate into two layers. Shake it up well before adding it to a salad.
Halve, double or triple a recipe? Use this Measurement conversion chart. Need one Back replacement? We have a guide for them too!
Frequently asked questions
What does white wine vinaigrette taste like?
This vinaigrette is made with white wine vinegar – which is different than traditional white vinegar! Because it is produced with white wine, it has a softer, fruitier and less acidic taste than distilled white vinegar.
Is white wine vinegar healthy?
Vinegar is an excellent addition to your diet and lifestyle plans! Most vinegars are low in calories, carbohydrates and contain zero fat. But they are bursting with flavor for your salad dressings, marinades and much more!
How to serve this white wine vinaigrette
Add it to a variety of salads or use it as a marinade!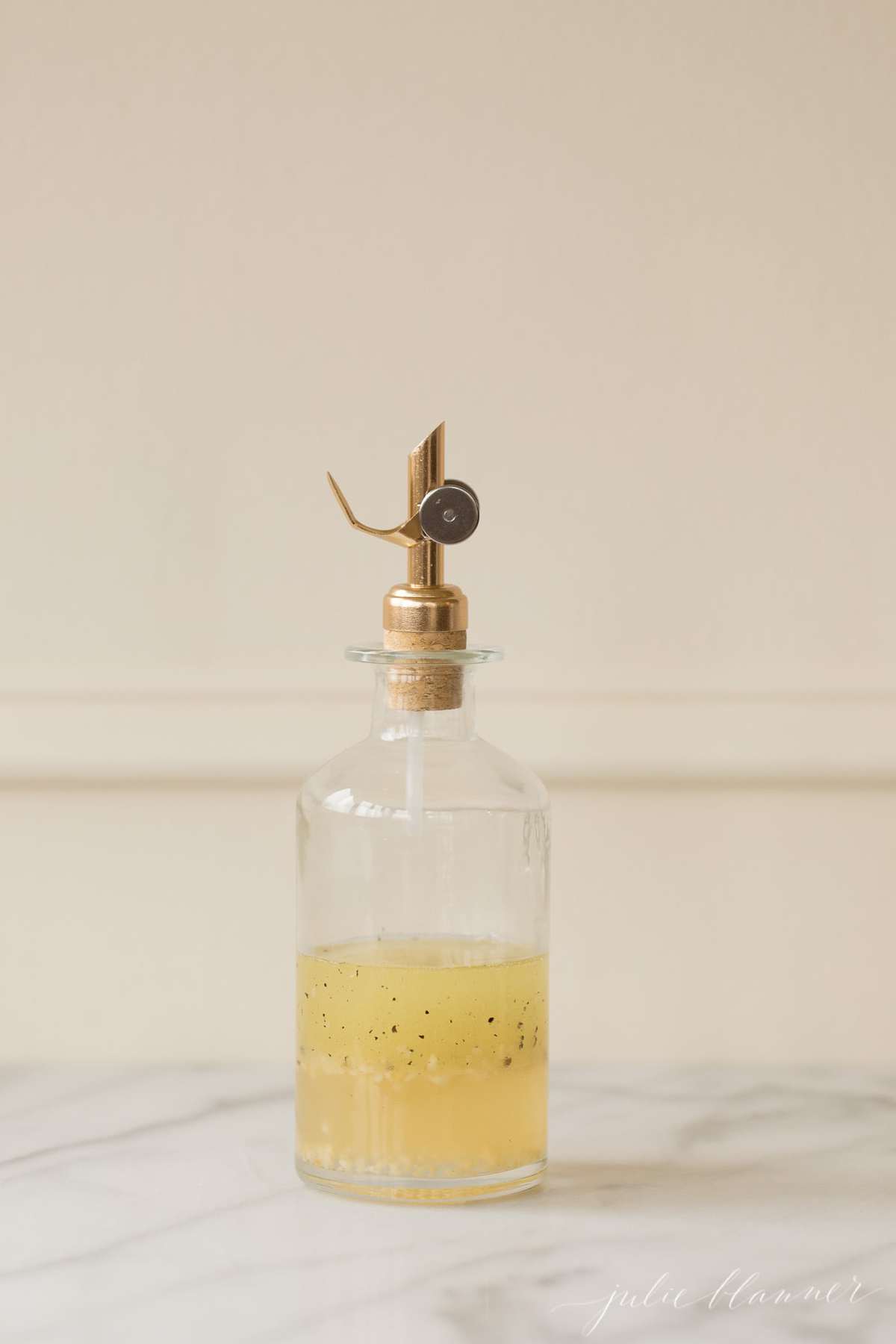 To store
Room temperature – Up to a week in an airtight container, preferably in a dark room such as a cupboard.
Cool down – Most vinaigrettes do not require refrigeration, but you can store this dressing in the fridge for up to 3-4 weeks.
Dietary considerations
Free of nuts
Gluten free
Dairy free
Vegan
Hungry for more easy recipes? Register my free recipe club and get amazing recipes delivered straight to your inbox every week!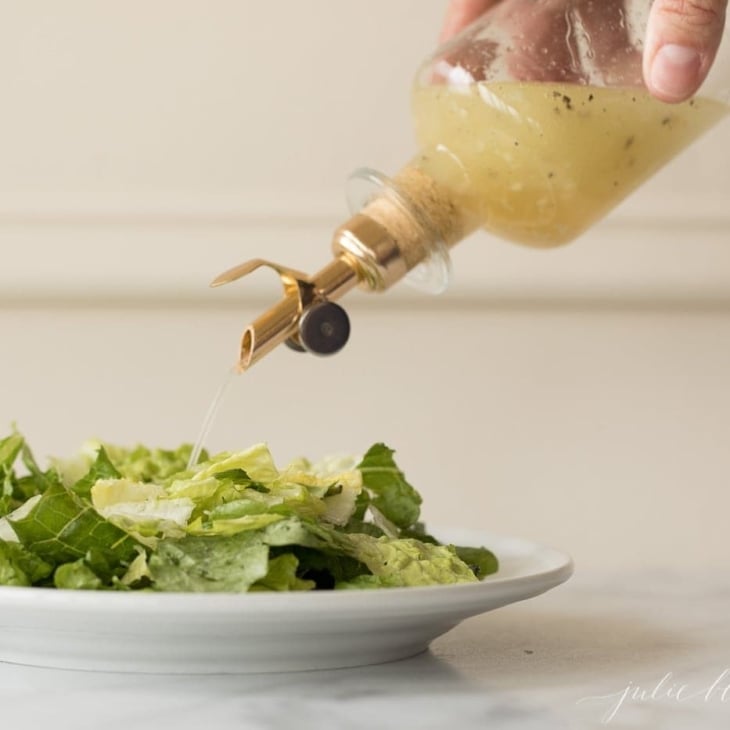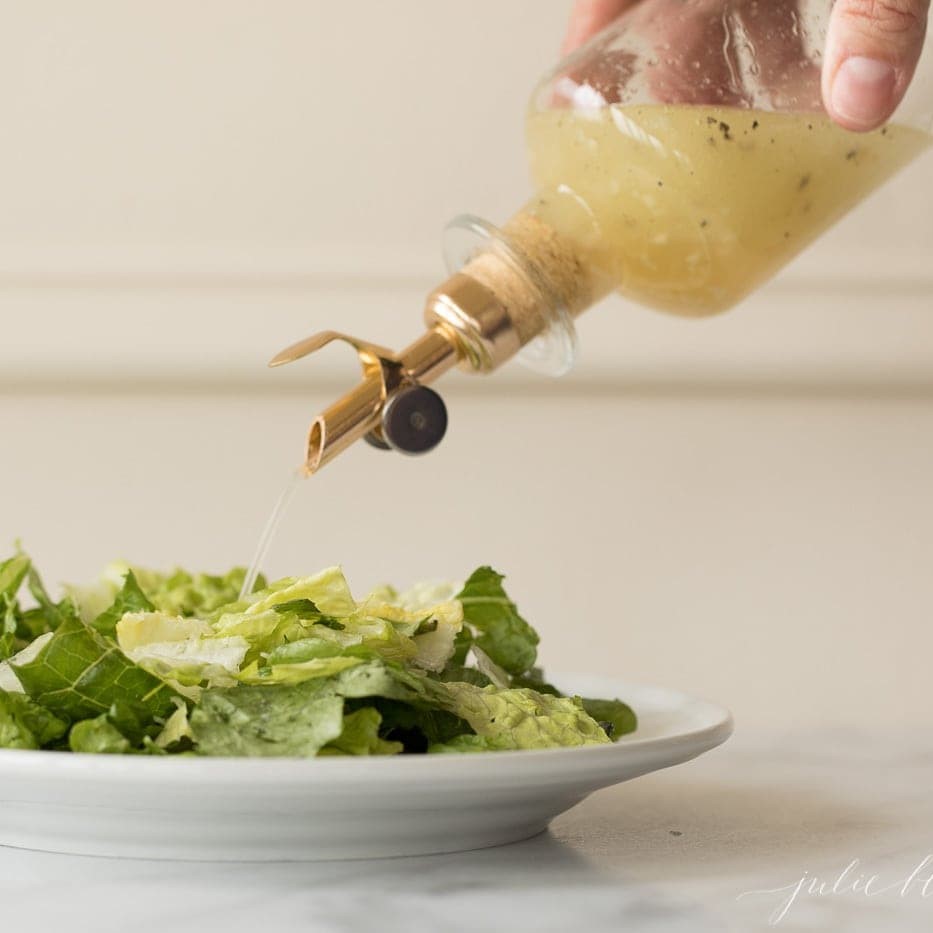 White wine vinaigrette
An easy, classic white wine vinaigrette recipe that only requires 6 basic ingredients and less than a minute to make from scratch!
Avoid your screen going dark
Tips
Variations
Add chopped shallots
Add honey
Add Dijon
Add herbs
Tips
Shake just before serving or toss.
To store
Room temperature – Up to a week in an airtight container, preferably in a dark room such as a cupboard.
Cool down – Olive oil does not freeze well and is therefore not recommended.
Nutrition information
Serves: 1g, Calories: 118kcal (6%), Carbohydrates: 2g (1%), Protein: 1g (2%), fat: 12g (18%), Saturated Fat: 2g (10%), Sodium: 195mg (8%), Potassium: 9mg, Fiber: 1g (4%), Sugar: 2g (2%), Vitamin A: 1IU, Vitamin C: 1mg (1%), Calcium: 3mg, Iron: 1mg (6%)
Estimated nutritional information is provided as a courtesy and is not guaranteed.