Let's be honest – put one picnic together requires a lot of advance planning. Prepping food ahead of time can be enough to make you throw in the towel and say, "Let's just go to Whole Foods." But this summer, we challenge you to break out your basket and head to the park with a few Home-cooked food in tow (you can do it, promise!). Bring one blanket, some music or a good bookand turn your picnic lunch into a relaxing afternoon al fresco. To help keep your picnic stress-free, we've rounded up a few easy-to-pack portable picnic recipes that will keep you eating outdoors all summer long.
With the release of our Top 40 Best Restaurants in Austin, those of you who call Austin home may be driving around as quickly as possible to fit each posh establishment into your schedule, which is totally encouraged (and I may or may not do the same). But for others, or for you Austinites looking for a fun and unique way to spend the afternoon, get ready to make your picnic dreams come true with these portable picnic recipes.
Portable picnic recipes are the ideal picnic contribution because they naturally pack well. These recipes fit easily into a Tupperware container, bag or basket, meaning you won't be fumbling with any extra gear for your outdoor meal. These recipes also match the atmosphere of a picnic because they don't require much preparation. Like a picnic, they are easy to prepare, simple in nature and celebrate the flavors of the season. With a basket full of these portable picnic recipes and good company to share them with, all that's left is to find some time in the afternoon to sit back, relax and enjoy.
And we want to know: What are your favorite portable picnic recipes? Drop a link in the comments below!
Featured Image by Michelle Nash.
Why we love it: This pasta salad is packed with complex carbohydrates, protein, vitamins and – best of all – seasonal produce. It's also perfect for a picnic because it's best enjoyed at room temperature, so you don't have to worry about saving space in the cooler. Bringing together edamame, kalamata olives, and a variety of grilled vegetables (think broccolini, summer squash, eggplant, and zucchini), this bowl has it all. Toss it with olive oil and lemon juice, pack it up in a to-go container, and get ready to enjoy the taste of summer.
Hero Ingredient: Make sure to get a healthy char on these vegetables. It's the bitter taste from the grill marks that makes this salad memorable.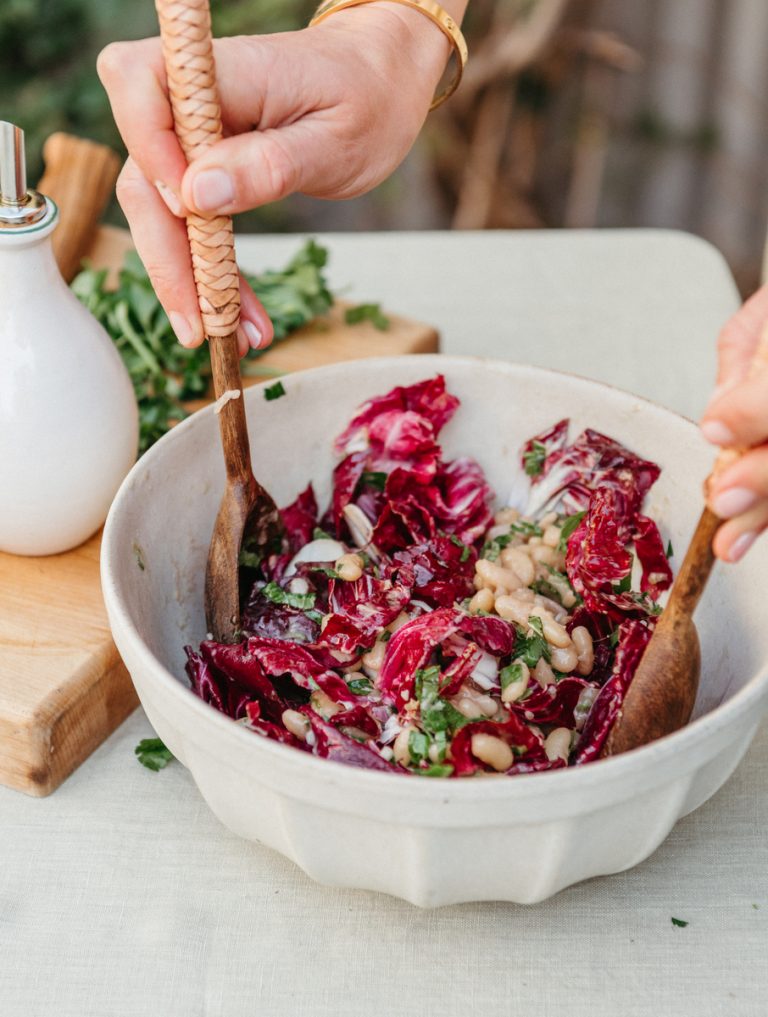 Why we love it: The simplest salad for easy and breezy summer gatherings. Olivia Muniaks White Bean and Radicchio Salad is one of those recipes that yields a whole that is so much greater than the sum of its parts. It's ideal for a picnic starter or side dish that everyone will love. The cannellini beans make it hearty and satisfying, while the bitter radicchio is an interesting base you'll want for the rest of the summer.
Hero Ingredient: Salty Parmigiano Reggiano ties all the flavors together. Bitter radicchio and creamy beans become truly harmonious under the mouth-watering shavings of parme musk.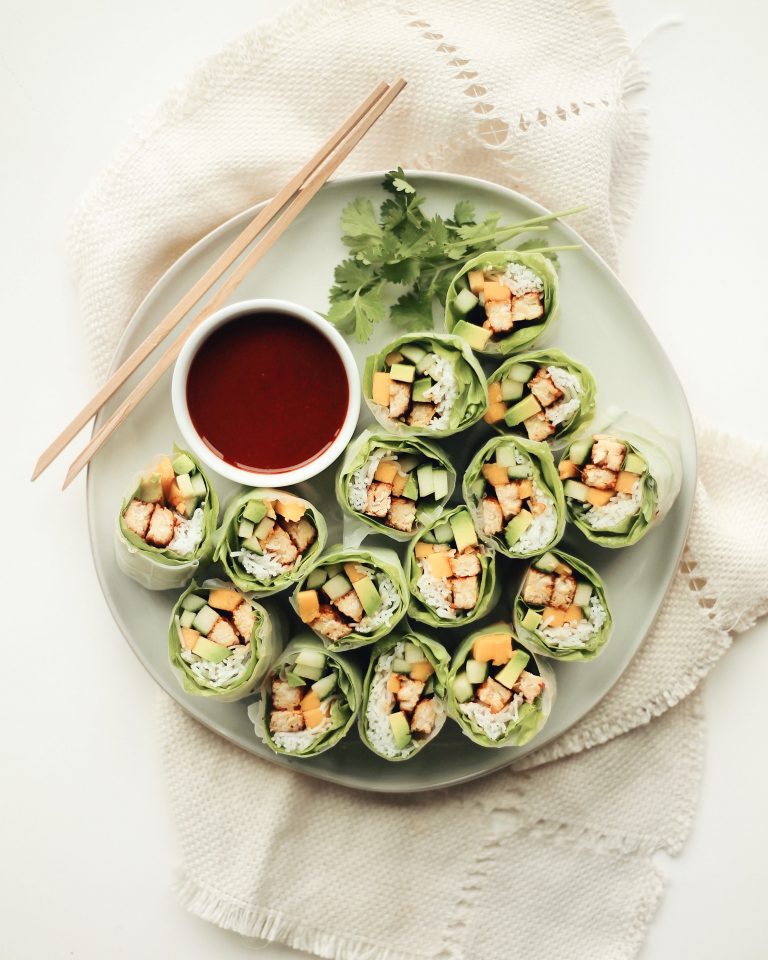 Why we love it: One thing I love about spring rolls is that they are a different and exciting way to incorporate vegetables into your diet. They're kind of funny too, aren't they? Either way, these tempeh spring rolls are as easy to assemble as they are to enjoy, making them more than ideal for a picnic. And don't even get me started on that honey sriracha sauce—it's sweet, spicy, and oh so satisfying. Pack lots of these spring rolls and prepare to be amazed.
Hero Ingredient: Mango! I'm always looking for ways to bring in a salty/sweet flavor combination that's whole lustful. These spring rolls certainly have.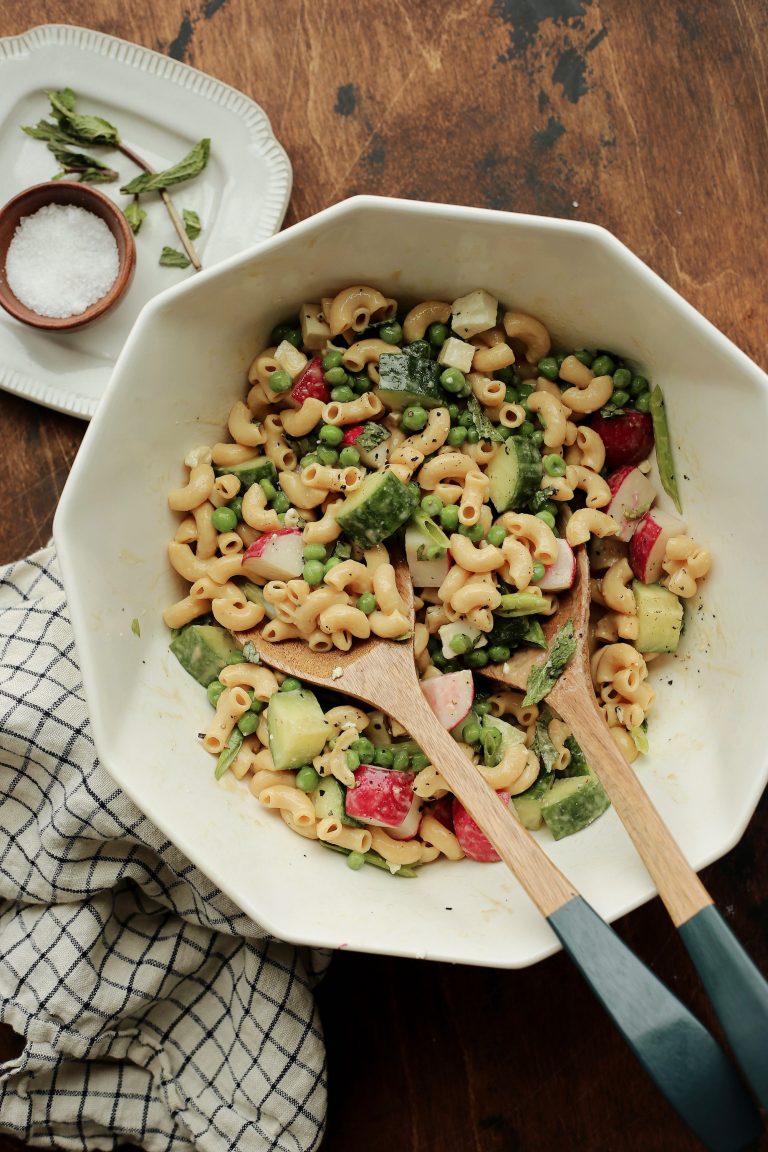 Why we love it: Macaroni noodles deliver all the picnic vibes. Especially when combined with crisp vegetables and fresh herbs. Peas, radishes, cucumber and tons of herbs seal the deal here to create a pasta salad you'll want to add to your weekly rotation. The dressing is composed of white miso paste, tahini, lemon juice, honey, soy sauce and olive oil, keeping everything light and flavorful.
Hero Ingredient: Salty feta cubes bring a dose of tang to every tasty bite. Don't skimp on the cheese here!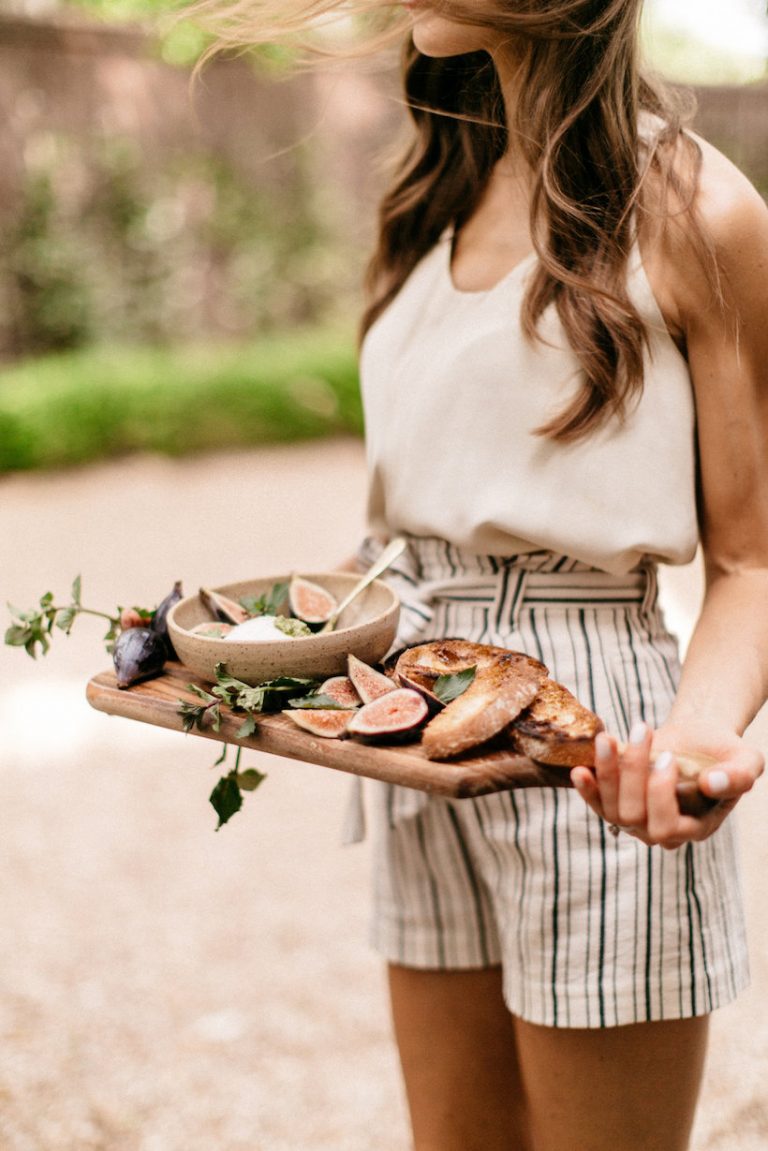 Why we love it: An appetizer with only four ingredients? Register me. This might just be the easiest picnic recipe ever, and here's why. All you need is toast, store bought (or homemade if you have the bandwidth) pesto, fresh figs and burrata. Pack the components separately and wait to build on site. The ingredients do the work, so all you have to do is assemble, sit back and relax with peace of mind and a slice of burrata-laden bread. Yum.
Hero Ingredient: Fig. Enough said.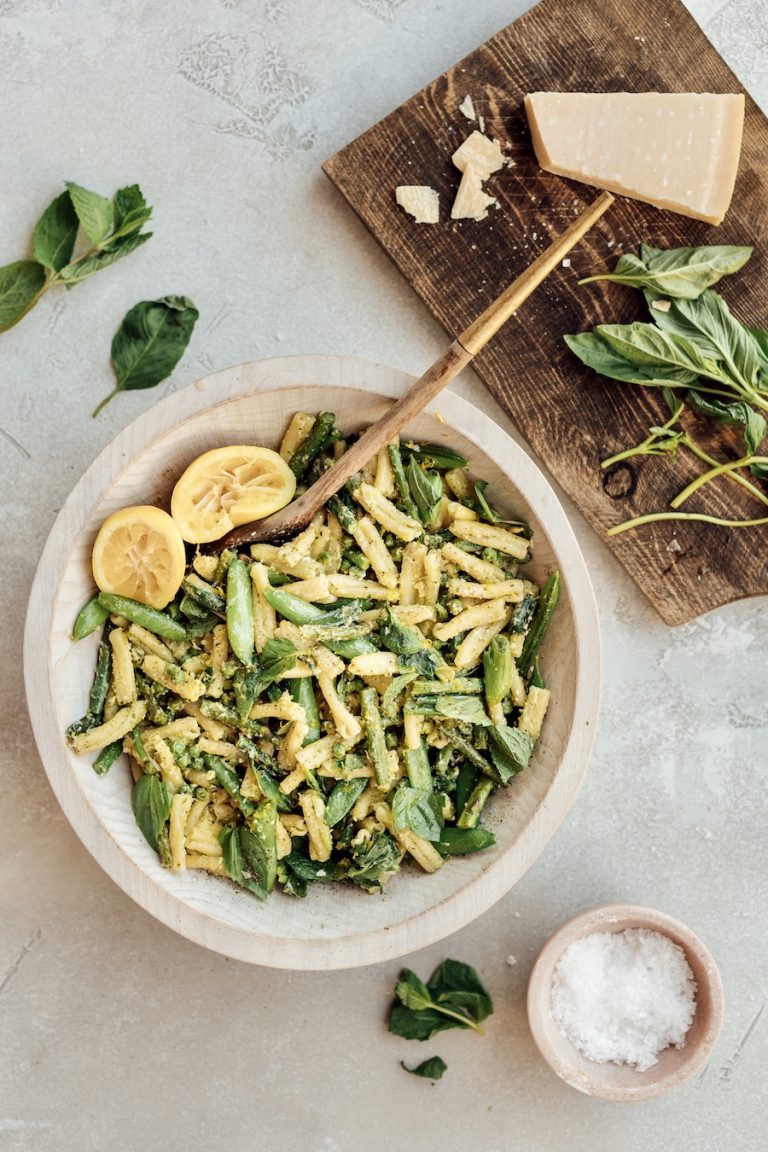 Why we love it: Something I love about this pasta salad is that the pasta mimics the vegetables. Everything is the same size, from the crispy pieces of asparagus to the sugar snap peas. Pesto lovingly coats every noodle and veggie for a big bowl of nutty deliciousness. All that stands between you and this masterpiece is about 30 minutes and a drawer full of vegetables. Need I say more?
Hero Ingredient: Creamy goat cheese crumbles bring a taste of zing to every forkful.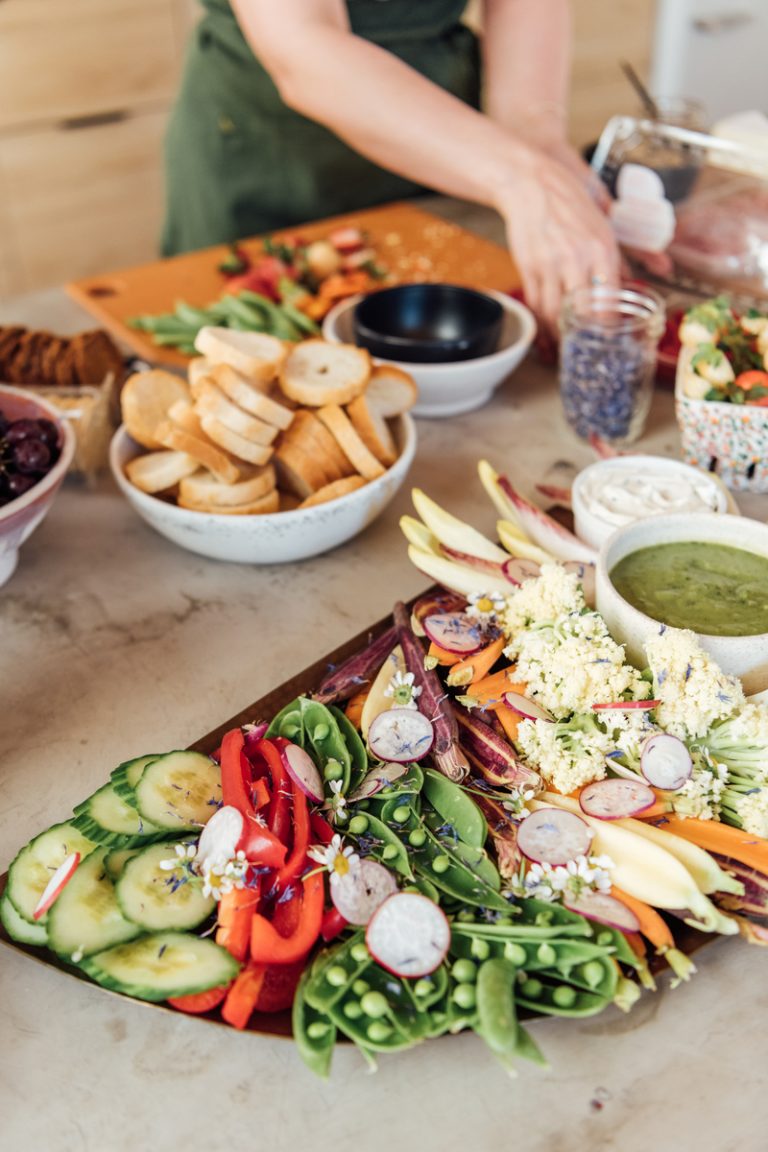 Why we love it: There are two things you need to know about this crudité: it's delightfully easy, and the green goddess dressing is to die for. Is there a more perfect way to start a meal out than with a refreshing crudité? I rest my case. All you need is a few fresh vegetables and the simple green goddess ingredients and you're ready to begin a polished meal outside.
Hero Ingredient: Pulse up with a little extra dressing to keep in the fridge for future salads, vegetable dips or whatever else you think needs a little healthy and tasty boost.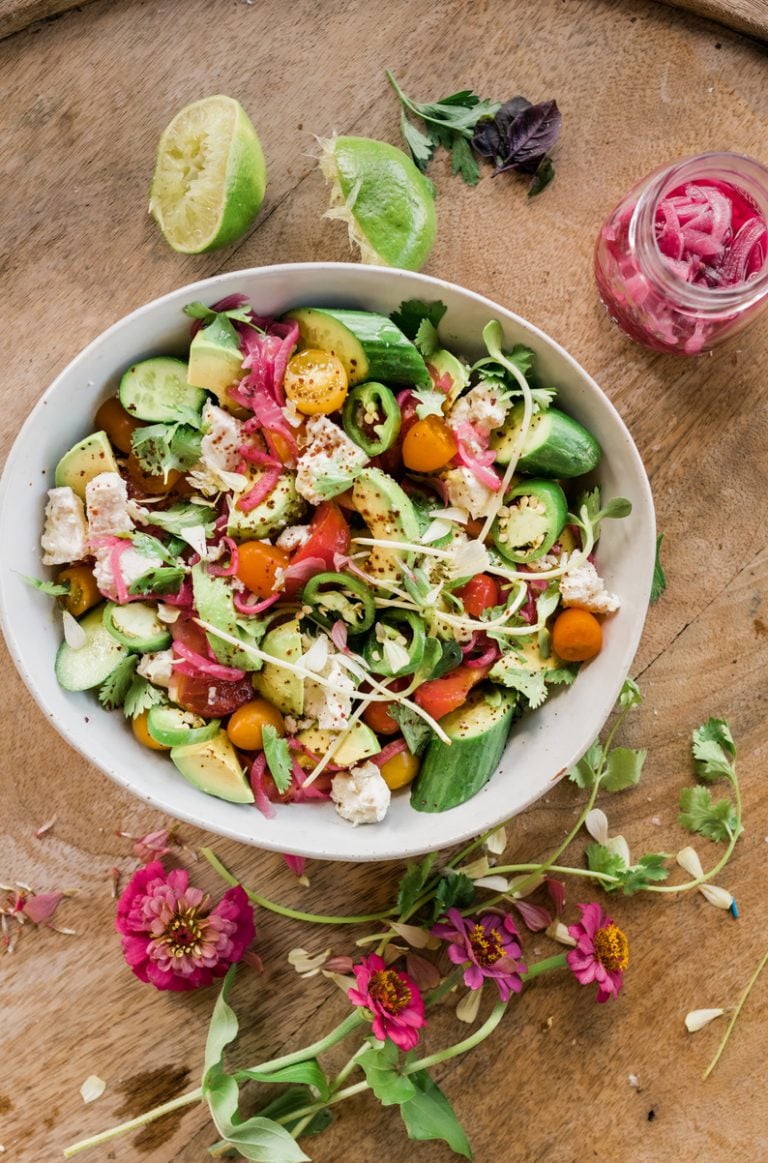 Why we love it: Tomato, avocado, cucumber, feta, jalapeño, pickled red onion and fresh herbs are the main components of this main course sidekick that might just steal the show. It's cool, refreshing and downright delicious and will definitely keep you coming back for more. The tomato and cucumber provide the foundation for flavorful feta, spicy jalapeño, and creamy avocado to polish off this salad.
Hero Ingredient: Honey lime vinaigrette brings together the fresh flavors in the most elevated way.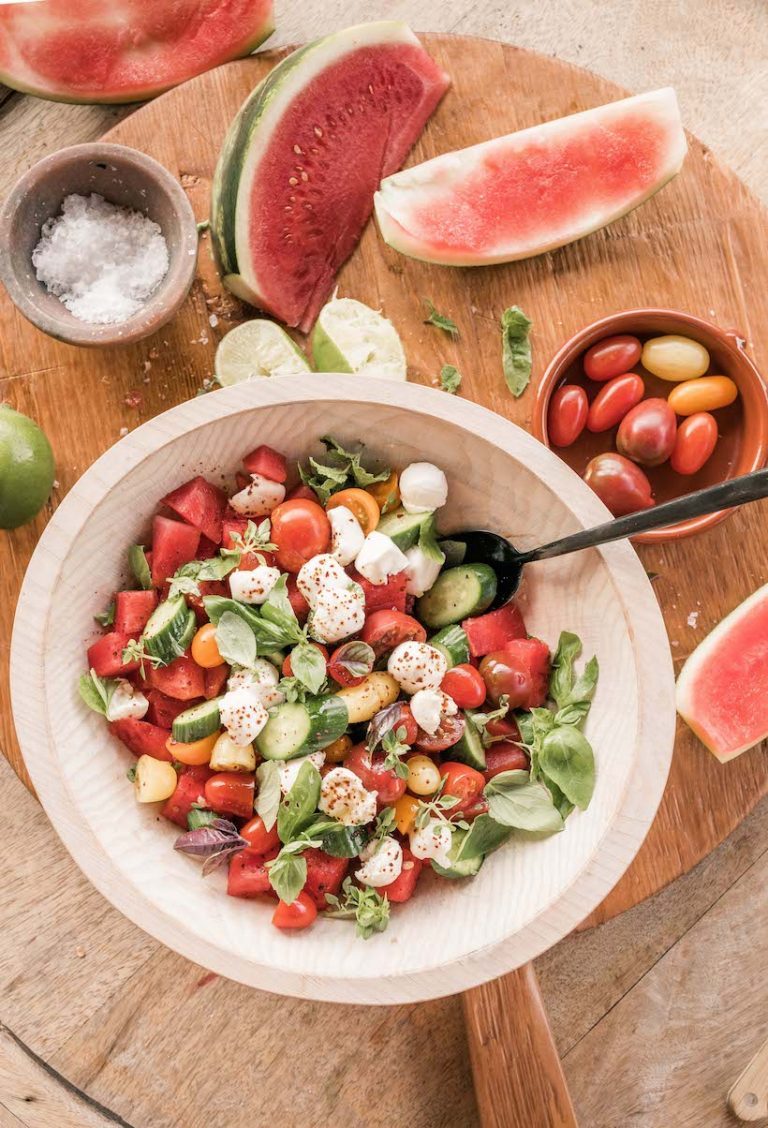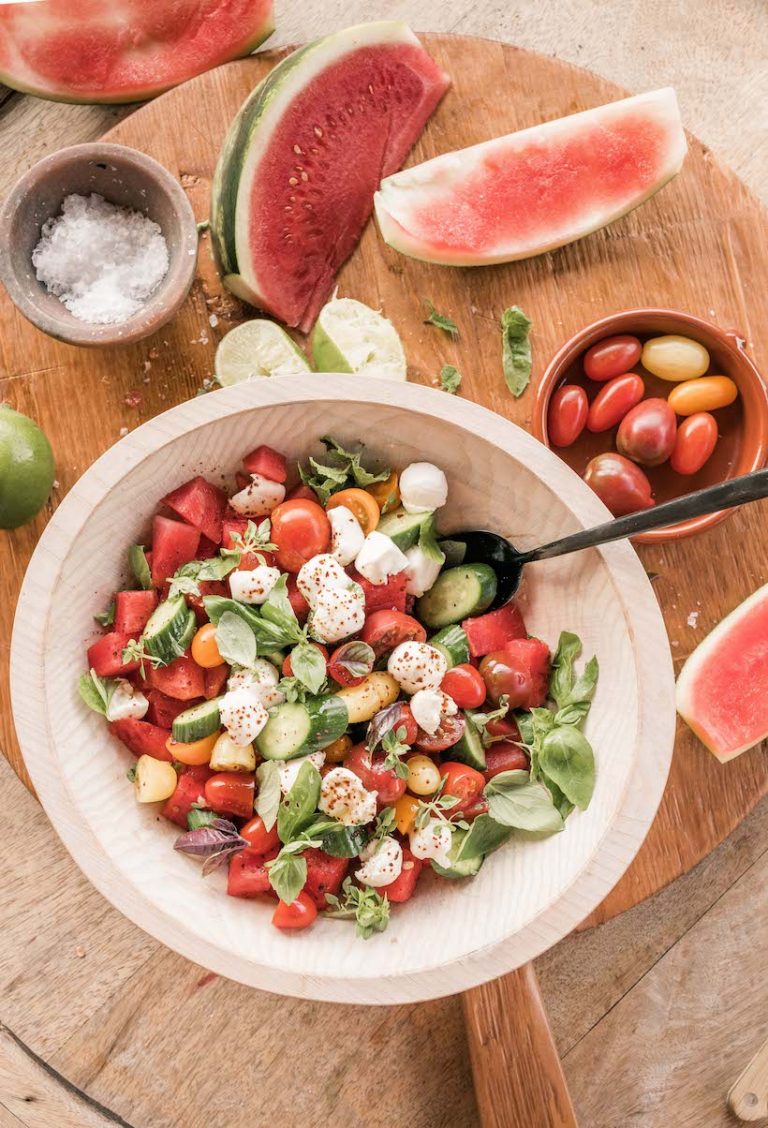 Why we love it: Another refreshing side, this Watermelon Tomato Caprese Salad will be a hit at any barbecue, soirée, and — of course — picnic. It's simple in nature, but brings the flavors of summer we all love to the fore. If you have leftover watermelon (I know you do), I highly recommend using it in this salad – you won't regret it.
Hero Ingredient: Fresh mozzarella introduces a creamy element that is harmonized by fresh basil, lime juice, flake salt and red pepper flakes. Drool worthy? Absolutely.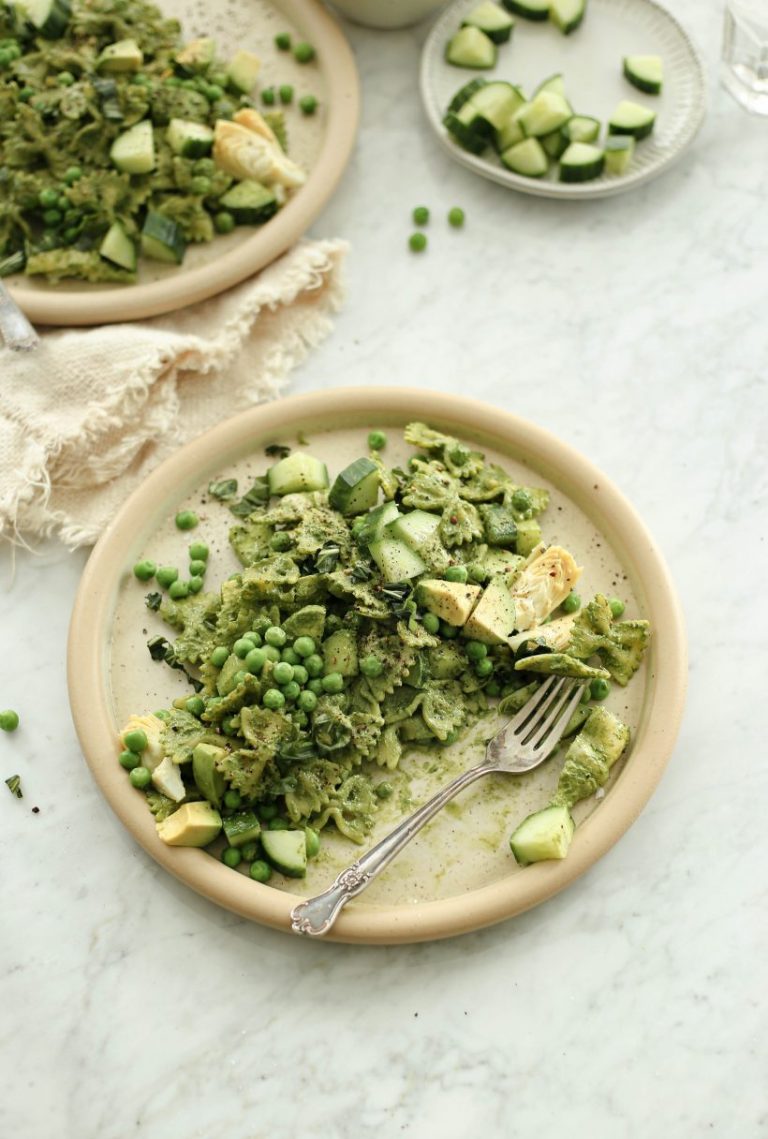 Why we love it: As our food editor Suruchi Avasthi shares, "green goddess dressing paired with tender pasta is a match made in heaven," and I couldn't agree more. This pasta salad, like the others on this list, is loaded with vegetables, fresh herbs, and *gasp* avocado. Bonus: This entire batch of creamy deliciousness is completely vegan. Whip up a big bowl of this healthy and hearty pasta salad to take with you on your picnic, sit back and enjoy.
Hero Ingredient: Artichoke hearts are salty, nutty, and lemony and perfect to enjoy among the other vegetables in this recipe. With cucumber, peas and celery in the mix, it's nice to have a soft vegetable to switch things up and mimic the texture of pasta.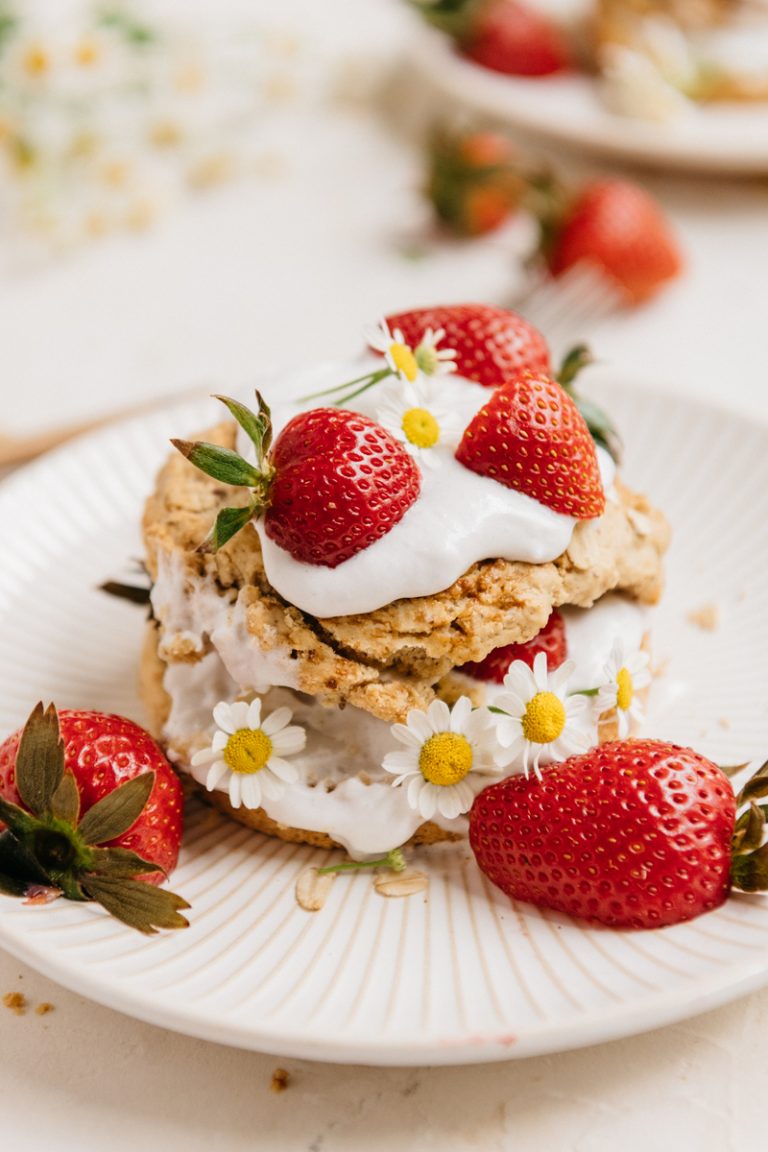 Why we love it: Gluten-free friends, get ready to be amazed. These shortcakes are nothing short of a miracle and are ready to be enjoyed by gluten-free and non-gluten-free eaters alike. For more dietary consistency, these strawberry shortcakes are also dairy-free and vegan, and they are absolutely delicious. With the base of a fluffy shortcake, whipped cream introduces a creamy layer that is topped with swoon-worthy soaked strawberries. One taste and you might just be hooked. You heard it here first.
Hero Ingredient: If you refrigerate your coconut milk overnight, you will have a thick, concentrated coconut cream that you can scoop out and thicken the whipped cream. Hero method, anyone?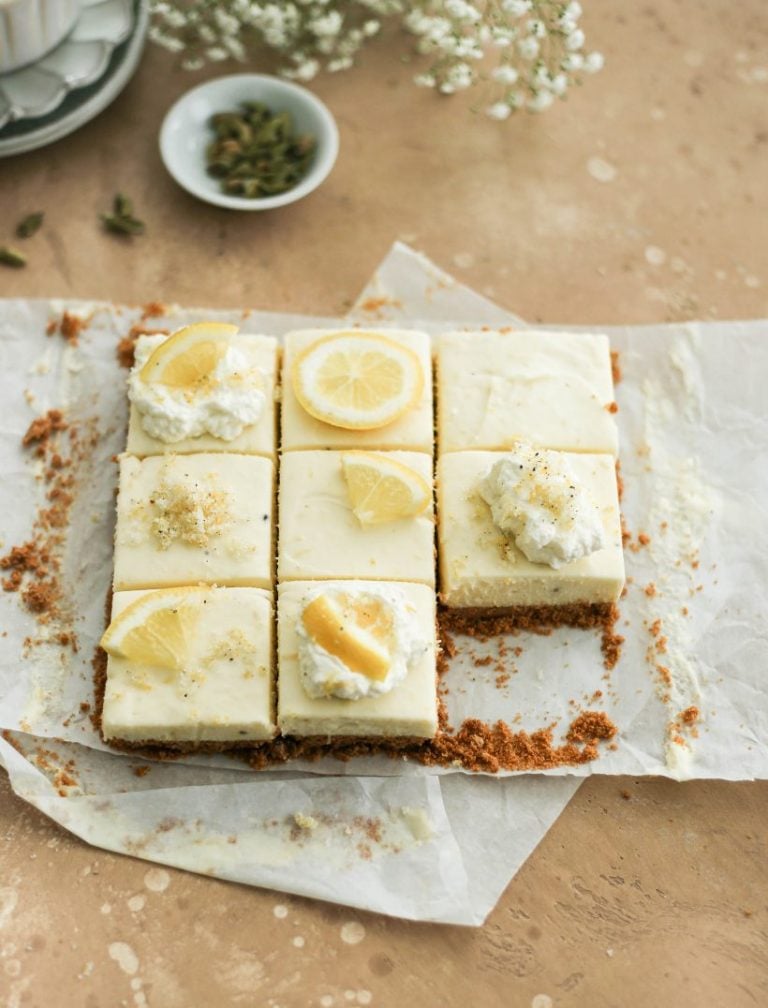 Why we love it: These lemon cardamom slices have got it going. They are no-frills, no-bake and made for a picnic. For maximum picnic enjoyment, consider freezing the slices for a few hours before slicing. When they thaw to room temperature, you have the perfect cool-but-not-melted texture to satisfy your post-picnic sweet tooth.
Hero Ingredient: Once again our food editor Suruchi provides the key to this recipe, which is to grind your own spices. In a simple recipe like this, it's the little things that make all the difference.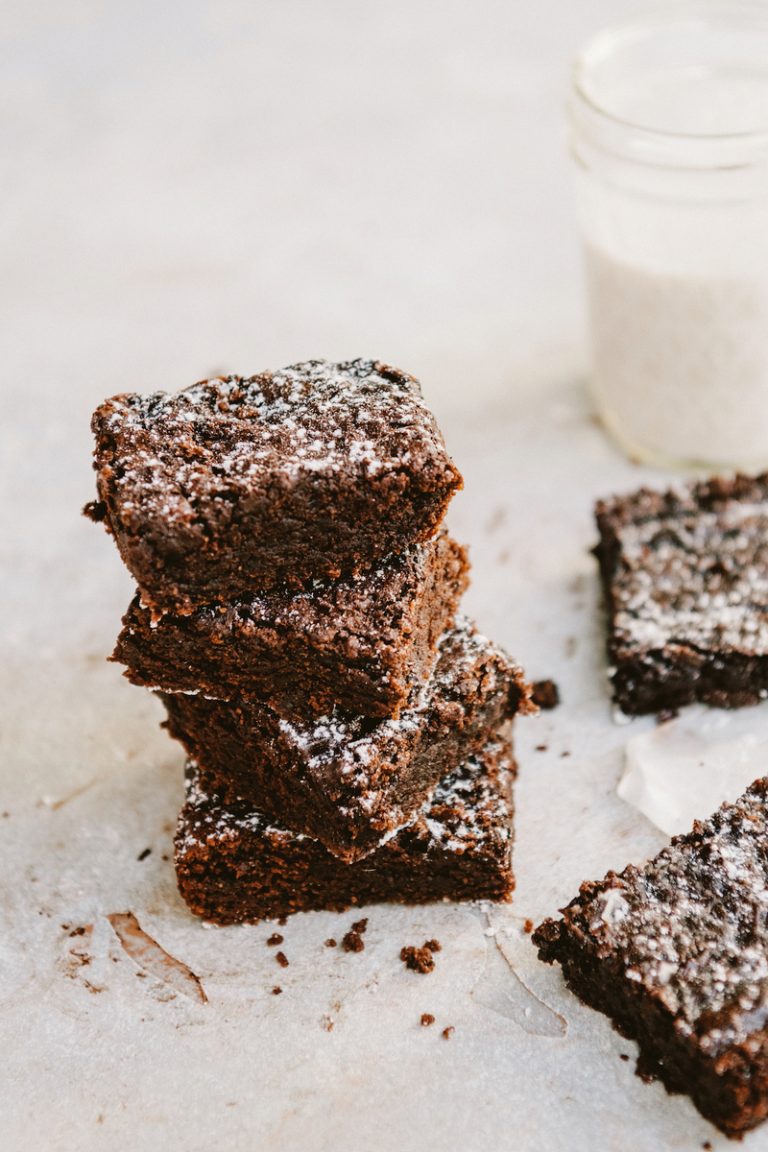 Why we love it: Let's get real. What's better than a chocolatey, gooey, sun-warmed brownie at the end of a picnic? Finish off your delicious meal with one of these gluten-free, dairy-free brownies that taste just as great as the OG version. These are fudgy, rich and still have the crispy edges and gooey centers of a traditional brownie (holding edge piece or team center?). Either way, everyone will love this brownie and probably ask you to make them more often. You have been warned.
Hero Ingredient: Instead of eggs, we use a mixture of ground flaxseed and water, which helps everything bake properly while giving the brownies a boost of healthy fibre. Unexpected? Maybe. appreciated? Absolutely.
This post was originally published on July 14, 2016 and has since been updated.