Simple and much Effective.
Minimalism as home aesthetics has had something of a boom thanks to Marie Kondo and the Instagrammable appeal of sparse, clean spaces in muted colors. But the good news is that you do not have to throw everything in your closet to adopt one minimal men's style.
Minimalism as a fashion style is not about owning less (though it can be that if you want it). Rather, it's about cutting back the pieces you're wearing: Remove unnecessary accessories and focus on timeless staples to create a deliberate, cohesive look.
What is minimal style?
The idea behind minimal dressing, in addition to looking good, is that everything in your wardrobe should work smoothly. Coco Chanel famously said, "Before you leave the house, look in the mirror and take one thing off." So she was obviously not a minimalist as they would tell you to remove about five.
That is not to say that there is no room for fun or accessories in minimal dressing – it certainly is. But at the heart of everything you put on, there should be one idea: simplicity. The great thing about minimal style is that it really is effortlessly cool. Once everything you own is withdrawn and curated to be carried along, you really can not go wrong.
Inspiration for minimal style
Of course, not everyone wants to overhaul their entire wardrobe to adhere to a minimal look. And that's fair enough … Sometimes you just want to layer your patterns and make a big statement. After all, no one said you had to be a real minimalist to get this look. So when it comes to seeking minimal inspiration, there are a few other trends you can look for to get ideas.
Scandinavian style
That Scandinavians are kings of minimal style. From their home to their wardrobes, minimalism reigns. And that's because they know the value of good quality staples that are designed to last a lifetime. Of course, not everyone can afford top products all the time. But one lesson to take from the Scandi style is that when you invest in a staple piece in a classic color, it will last a lifetime so you do not end up with a wardrobe full of old pieces you no longer love.
Japanese style
Okay, so some Japanese style is so extra that it's pretty much maximalist. But when it comes to cuts, shapes and structures, much of Japanese menswear embodies the minimalist perspective. It's the way it's styled that makes all the difference. Japanese workwear is known for its high quality, structured shapes that often come in simple tones like white, gray, navy blue or black. Chore jackets, oversize white shirts and loose-fitting trousers are perfect starting points for building a minimal look.
Streetwear
Again, carry on with us here: Streetwear is not always over the best shapes and statement prints. Recently, the trend has moved into a much simpler version of itself. It takes utensils like vests and cargo pants and pairs them with hoodies and jogging pants in muted tones to create its own bid for minimalism with its trademark edge. So if you love comfortable, casual attire, this may be the minimal path for you.
Robust modern
The minimalist aesthetic is not owned by a particular style, it is an approach that can be incorporated into whatever your fashion preferences are – regardless of a tailored or draped fit, geographical considerations or cultural expectations.
How to incorporate minimal style into your outfits
From subtle hints to total minimalism, there are various ways to incorporate this style into your everyday wardrobe. You may want to use the mindset of dressing up and then returning to the essentials. Or you might be embarking on a holistic minimalism journey and want to build your new wardrobe from scratch. Here are our top tips to get you started.
Invest in the basics
Solid white sneakers, a good quality white T-shirt, straight-legged trousers, a chore jacket, an overcoat. Do you have these pieces in your wardrobe? Then you have already taken your first step towards minimalism.
Imagine that these pieces are all worn together on a winter day (or to include the coat). They would look great in classic colors like black, white and gray or even in earth tones like khaki, beige and navy blue. Introduce some color, whether you are into subtle burgundy or eye-catching pastels, and the look still retains its simplicity. And this is how you create a minimal look that fits into your personal color palette, without getting lost in pieces that you are not sure you will ever wear.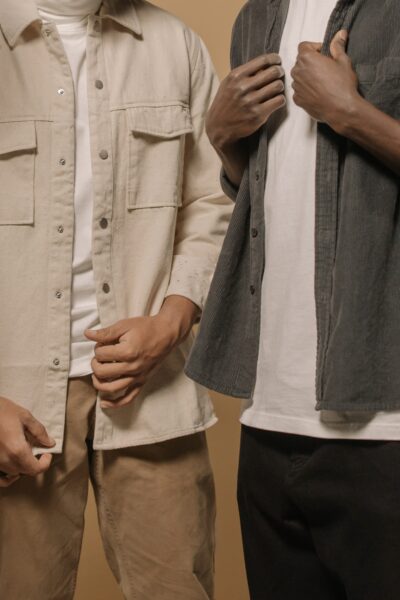 Keep the palette neutral
A pleasing effect of minimal dressing is that it is so harmless in its simplicity that it is basically appropriate to wear anywhere. The effect of that simplicity is that it is neutral and laid back, but never basic or boring. When paired well with other muted tones, neutral colors can actually have as striking an effect as bolder shades. Use white as a color in itself and it can help your other muted pieces stand out. It is for this reason that minimalism is a perfect addition to one smart casual wardrobe.
And when you choose to add a little color or a subtle print, make sure it is the center of your outfit. Minimalism is really more flexible than it sounds, and if you fall back on black clothes anyway, then it probably falls naturally for you.
Make friends with your wardrobe
If you were to empty your closet, remove all the statement pieces you bought in a moment of confidence but never really used, losing the bright or patterned pieces you are wearing because they have a "look", but you are not really sure if it is you, and just keep the basic pieces that you know will never go out of fashion (and yes, we let you include your plaid shirt in it), you might find that you are well on your way to already owning a minimalist wardrobe.
Over the years, we accumulate so much, but when we strip it down to the pieces we really love, it's much easier to adapt at least a touch of minimalism to our wardrobes than it sounds. So take the same mentality with you when you shop. Think before each purchase, "what do I already own that I can carry this with?" If the answer is less than two points, put it back.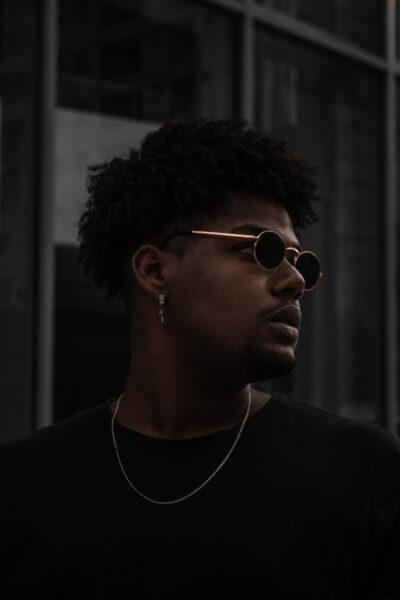 Start making accessories
Do you remember that we said that accessories had their place in minimalism? Well, here's how. If you've into jewelry – or even if you are not yet, but would like to be – by keeping your collection simple pieces like chains and clean straps make it easy to add your own twist to a minimal look without going out of your way the trend.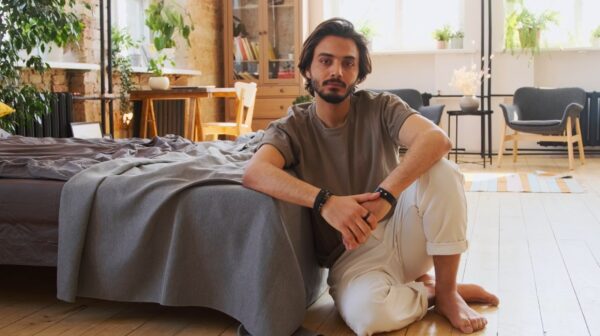 Similarly, baseball caps, tote bags and even slim backpacks work perfectly with minimal outfits. Just keep in mind the simplicity, avoid overly voluminous shapes and bold patterns and colors, then you are well on your way. Remember that the point of a minimal piece is that it should fit everything, so even though there is plenty of room for color in the rest of your wardrobe, your accessory will work best if it is plain.
Examples of the minimal menswear aesthetic
Minimize your smart look with a matching, loose-fitting suit, plain t-shirt and minimal sneakers or Derbies depending on the dress code.
Casual looks are easy to keep minimal: Stick to muted tones and staple pieces like a Henley t-shirt. Notice how you can change the feel of the look, either for seasonal reasons or formalities, by reversing the color order.
A bomber jacket is ideal as a minimal outwear, as the unpretentious neckline keeps the cut slim.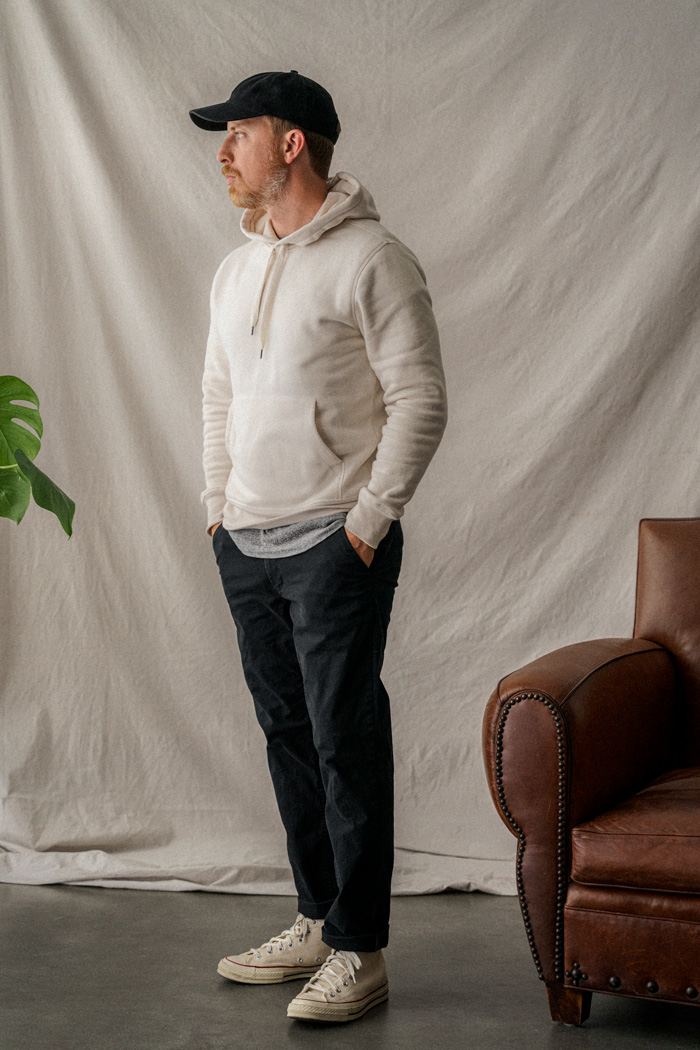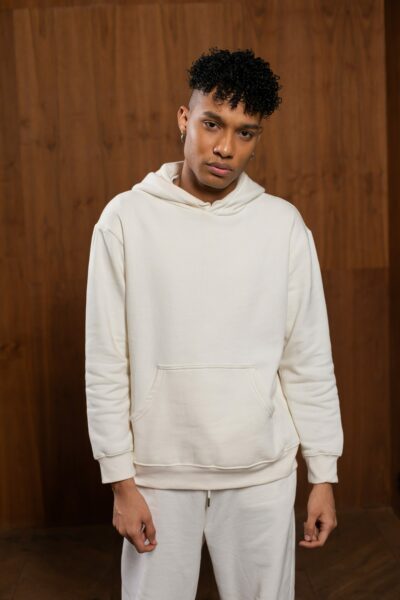 An all-white palette is the epitome of minimalism and makes room for some interesting color jumps if you feel confident enough to make a statement.
Black or navy blue and white may not sound like an interesting color palette, but playing with dark and light pieces in different cuts and shapes is what minimalism is all about.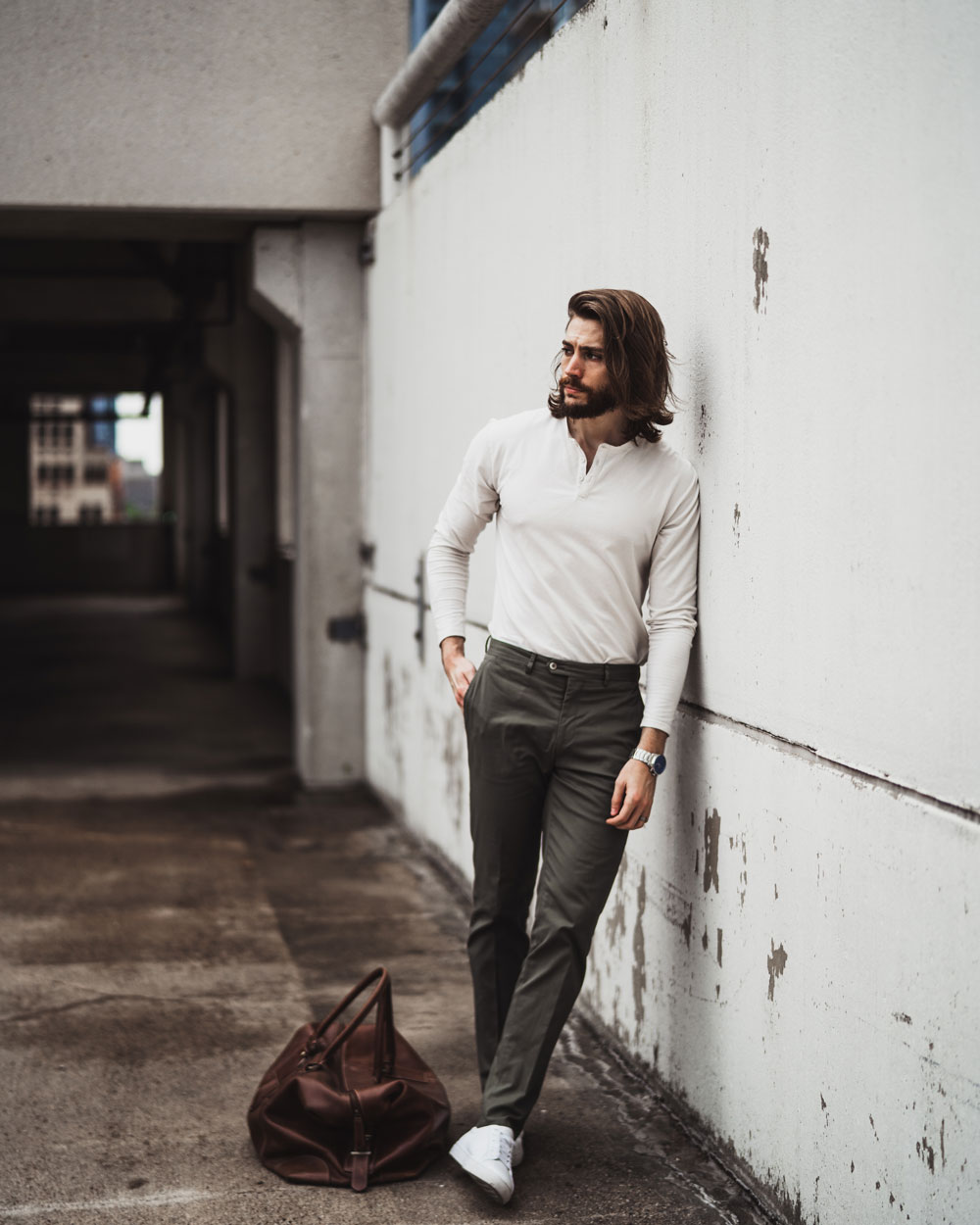 While black and white are common examples of a minimalist look, swapping black for olive, navy blue and others can still give a sharp minimal style that is less high contrast.
The best minimal menswear brands to have on your radar
Technically, you can find minimal clothing in almost any store. High quality jewelry that suits you well is really not that hard to grab. But if you are looking to build a specific 'minimalist' look, it may be easier to go straight to stores that incorporate minimalism in all their collections. Here are some of our favorites.