Best pajama party ever (and everyone took sleeping milk home)
Created with Cartier
Published on: August 2, 2022
The sun came out just as it was starting to set across the eastern end of Long Island (it had been raining all day). Gwyneth donned a yellow silk, abs-accentuating pj set by Olivia von Halle and layers of gold necklaces and bracelets by Cartier. And guests meandered toward a stunning private Amagansett shingled stone barn through a lush vegetable garden and orchard, past chicken coops and some particularly adorable chickens.
"Is everyone else really wearing pajamas or am I the only one?" was the most common question when guests checked in, followed by "And what is Sleeping milk?" They were there to celebrate the launch of GOOPGLOW Dark Spot Exfoliating Sleep Milk and the newly opened seasonal Cartier store in East Hampton (goop and Cartier hosted the intimate dinner together, and the invitation specified that both pj's and Cartier were required attire) ; the silky smooth, sun damage erasing new serum had yet to be revealed.
Trays of special Cartier champagne bottle flutes greeted guests as they entered, along with twinkling lights and flowers streaming from the ceiling. "I wore my cat pajamas especially for the one (GP) who hates cats the most," said writer Jessica Seinfeld. Caviar stations were stocked with ROE caviar and a silk pajama clad band played violin and accordion. Created by event designer Mimi Brown, the party felt romantic and lighthearted—like a really, really glamorous sleepover.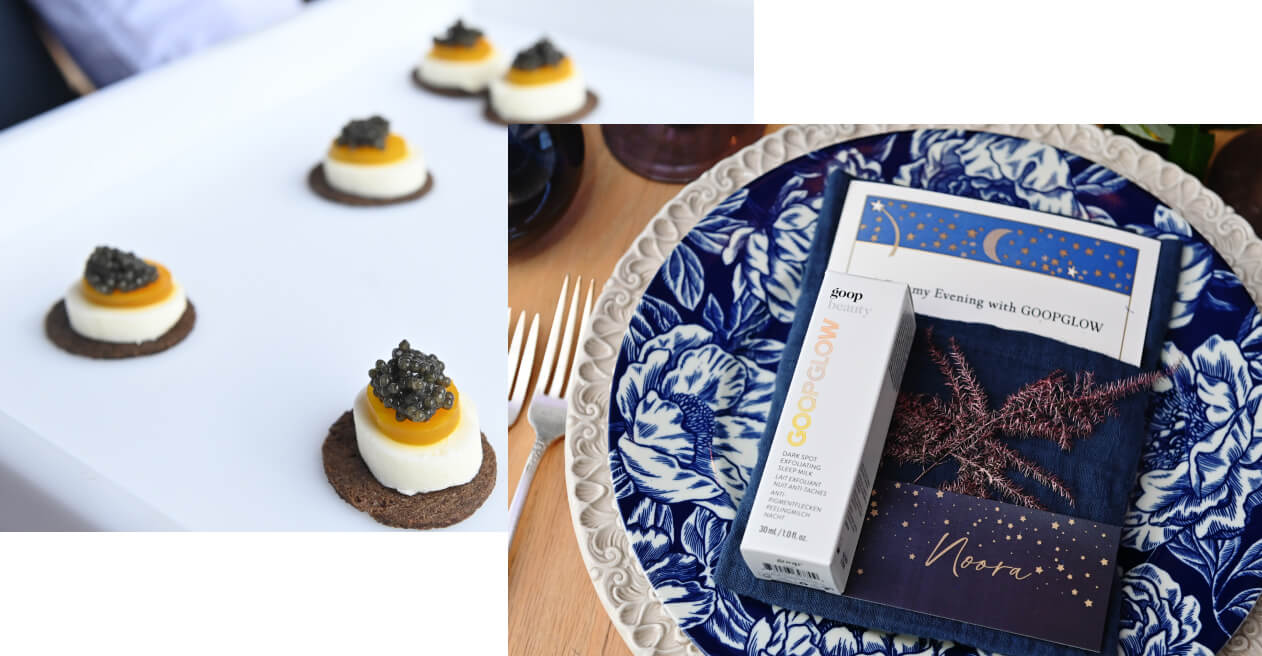 The mystery of Sleep Milk was solved when everyone sat down to dinner: at each place setting, there was a bottle for each guest atop new deep blue goop x Social Studies china plates (coming August 14th; watch this space). "Welcome to my midsummer night's dream dinner," Gwyneth said. "And now you know what Sleep Milk is—it's my favorite product we've made yet. It really is beauty sleep in a bottle. Try it tonight and you'll wake up in the morning and you won't believe your skin."
Many people dug right in: "Okay, I think it actually already works," exclaimed Rachel Zoe, fashion designer, author and founder of The Zoe Report. "It feels amazing – and of course I want to wake up looking like Gwyneth Paltrow." (Because the serum is made with time-release AHAs and a skin-soothing, moisturizing "desert milk" complex, it's easy to smooth on—it feels hydrating, not harsh or sticky.) "I'll use this on all the freckles I get of being in the sun this summer," said philanthropist Lili Buffett.
"Thank you, Gwyneth," said fitness entrepreneur and author Tracy Anderson, "for giving my tanning bed years a huge chance at rehab."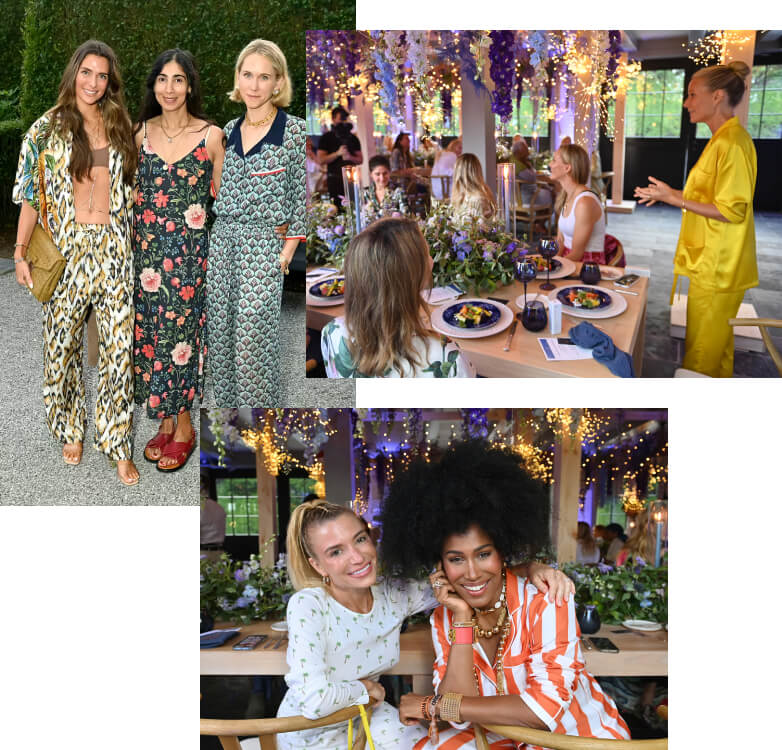 Dinner (the menu was printed on custom Cartier paper) started with a salad of summer vegetables, and progressed to branzino al cartoccio and a local berry clafouti, with a special lavender sleep milk tonic for a bedtime drink. "Under the stars with the lovely Gwyneth Paltrow," marveled television journalist and attorney Savannah Guthrie. "So straight home to bed to exfoliate like a good sissy."
"Good night – more like goop night, amirite?" said journalist Aly Weisman.
The gift bag
There were of course plenty of goop Beauty essentials, plus an Entrelacés de Cartier Trinket Tray and a Desmond and Dempsey pajama set and eye mask.