This adorable Hedgehog cheese ball is the ultimate cheese spread with almonds, green onion and bacon!
It's great for woodland themed baby showers, Thanksgiving, Christmas, or any special event when you just want to serve up some charm.
There is a traditional cheese ball I have seen served many times, decorated as a cone for Christmas. I love a little whimsy for holidays and special events, so I made this the centerpiece Woodland Baby Shower I recently hosted.
It's a simple and delicious cheese ball recipe with almonds, cream cheese, mayonnaise, bacon bits, dill weed and green onion. When marinated while refrigerated overnight, magic happens!
It's true, I love cheese balls in every shape, flavor and style. Who can argue with ALL.THE.CHEESE? In fact, I have your ultimate cheese ball guide right here – it's a summary of everything you need to know to make the best traditional cheese bun appetizers!
Don't miss mine ornament cheese ball if you're looking for holiday appetizer inspiration! I also have a simple, elegant way to elevate a classic cheese and crackers spread – your guests will love it.
When I host a large gathering, I look to prepare dishes ahead of time. That way I can do a little at a time without extra stress. A cheese ball is the perfect appetizer and keeps for 5+ days!
This hedgehog cheese ball is as delicious as it is adorable. It is perfect for a baby shower or birthday party. You can also serve it rolled into a ball for a more traditional cheese spread for football games, New Year's Eve and more!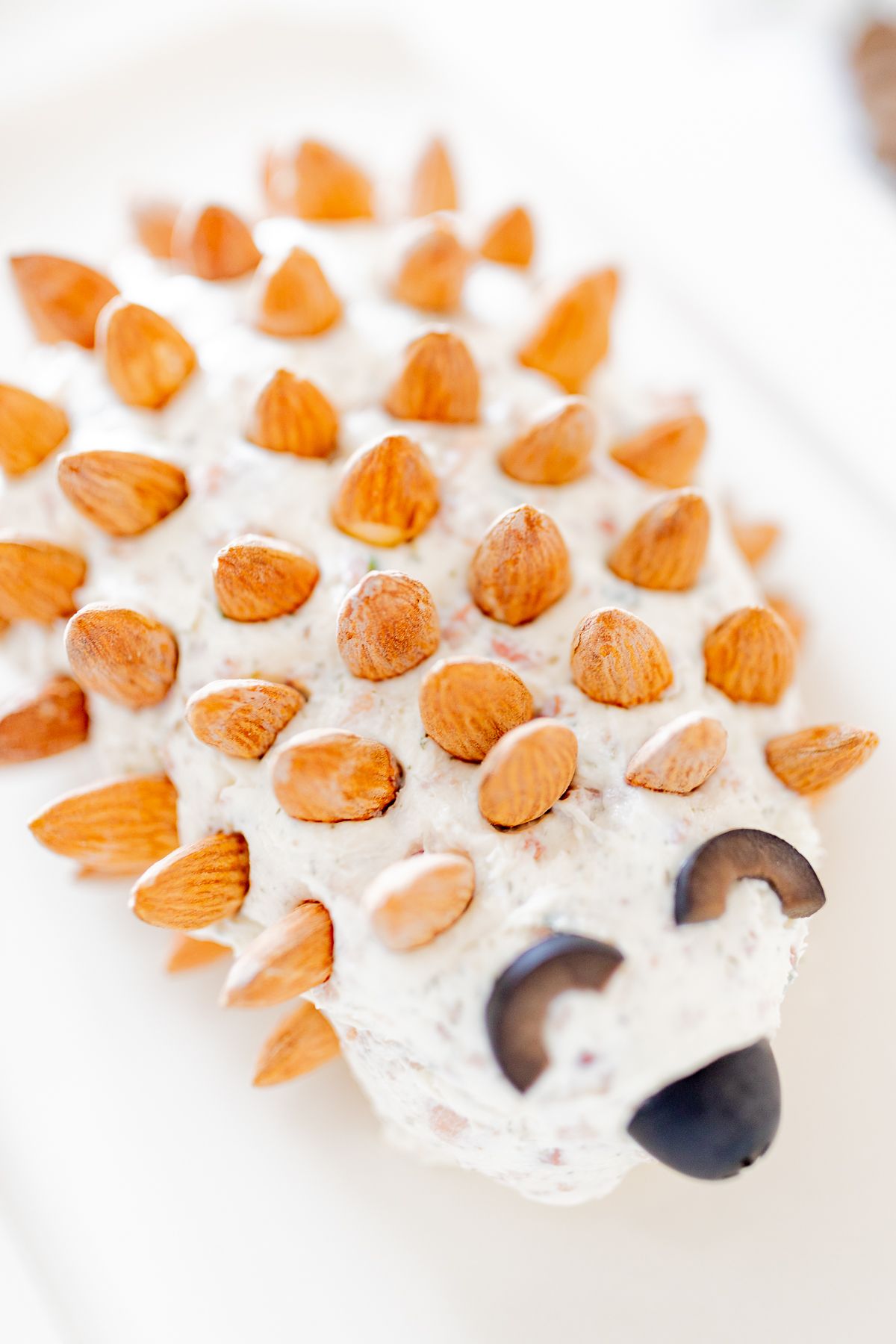 Why you'll love this Hedgehog Cheese Ball
Simple ingredients
Quick and Easy
Before
Feel special
Ingredients and Substitutes
Cream cheese – Use softened cream cheese, full fat for the full flavor. Learn more about How to soften cream cheese here.
Mayonnaise – I love an olive oil mayonnaise for good taste. You can also learn to make homemade mayonnaise here.
Bacon – Chopped bacon pieces work well for this recipe. Cook and crumble your bacon according to your favorite method – or buy ready-made pieces for a shortcut!
Dill weed – Dried.
Green onion – Finely chopped.
Salt and pepper
Almonds – Left whole to create the charming hedgehog shape!
Olive – For the eyes and nose, if you wish.
Curious about freezing your cream cheese recipes? Read more in Can you freeze cream cheese to learn all about what works and what doesn't!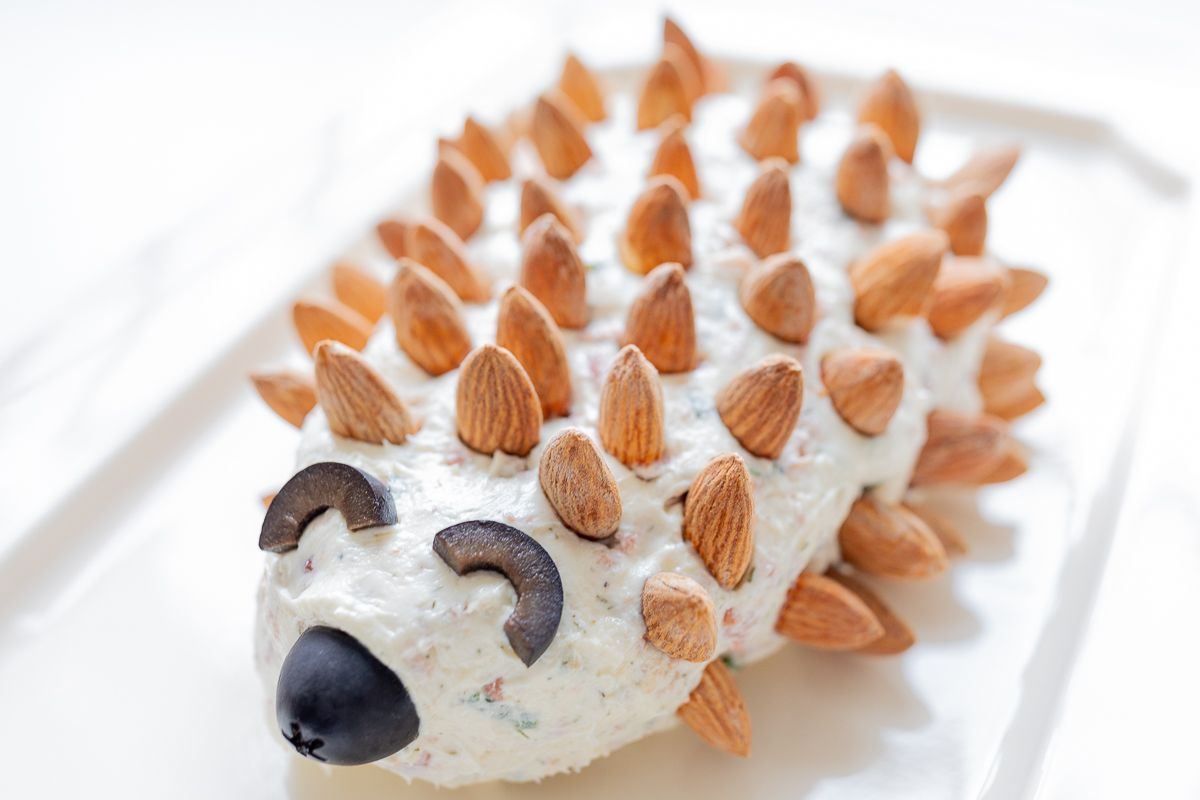 Variations
Try with cranberries on the outside instead of almonds.
Add 3 tablespoons of Everything Bagel Seasoning or instead of bacon.
Try your favorite Spice mix instead of dill weed
Try a low-fat mayonnaise and cream cheese for a healthier option.
How to make a hedgehog cheese ball
Combine cream cheese, mayonnaise, bacon pieces and dill.
Stir in green onions, salt and pepper.
Refrigerate, covered, until firm.
Shape on a platter into a hedgehog (more of an oval shape than a traditional cheese "ball") with your hands or parchment.
Press almonds into the cheese in rows covering all but a small area at the front to create the body of the hedgehog.
Cut an olive in half. Place one half on the front of the hedgehog to create a nose.
Use a slice of the remaining olive and cut it in half to create eyes.
I also added some rosemary to make it look like he's speeding through the grass.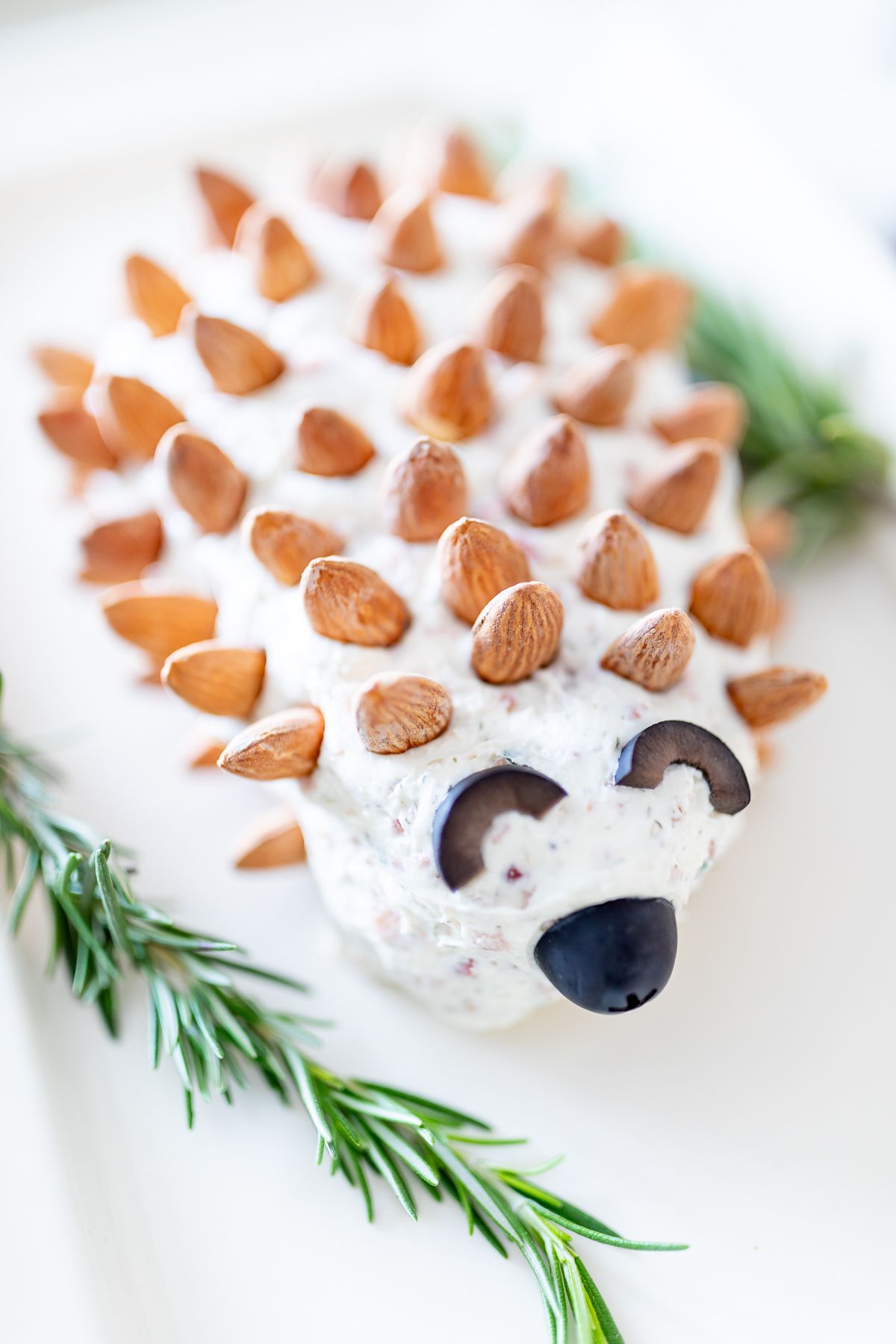 Tips

Make Ahead – Yes, you can make this incredible holiday appetizer ahead! Simply wrap and add toppings just before serving.
Be sure to cover your cheddar cheese ball tightly. Not only does this help it hold its shape when you refrigerate it, but it prevents air from getting in and drying out your hedgehog cheese ball before it's ready to serve.
Fresh bacon is always best, but I think it's okay to use a pre-made bag of bacon bits here.
This is delicious at room temperature, but it can definitely be served cold straight out of the fridge. It's delicious no matter what, which is why it's such a perfect make-ahead party food!
Frequently asked questions
How long can a cheese ball sit out?
Cheese balls generally have a cream cheese base and should not sit out for more than two hours before serving.
What can I use instead of almonds in this recipe?
If you'd like to make this hedgehog cheese ball nut-free, use pretzel sticks as "quills" for your hedgehog! It is equally sweet and fun to serve.
Serving suggestions
Pear and apple slices are firm for effortless spreading. Just toss them in lemon juice to prevent browning.
Carrots and celery are the perfect low-carb alternative to serve with a cheese ball.
Crostini – that's my favorite couple! Crunchy crostini is the ultimate way to enjoy a cheese spread, especially when drizzled in olive oil.
Savory pretzels are amazing.
Buttery crackers are always a favorite with this cheese ball.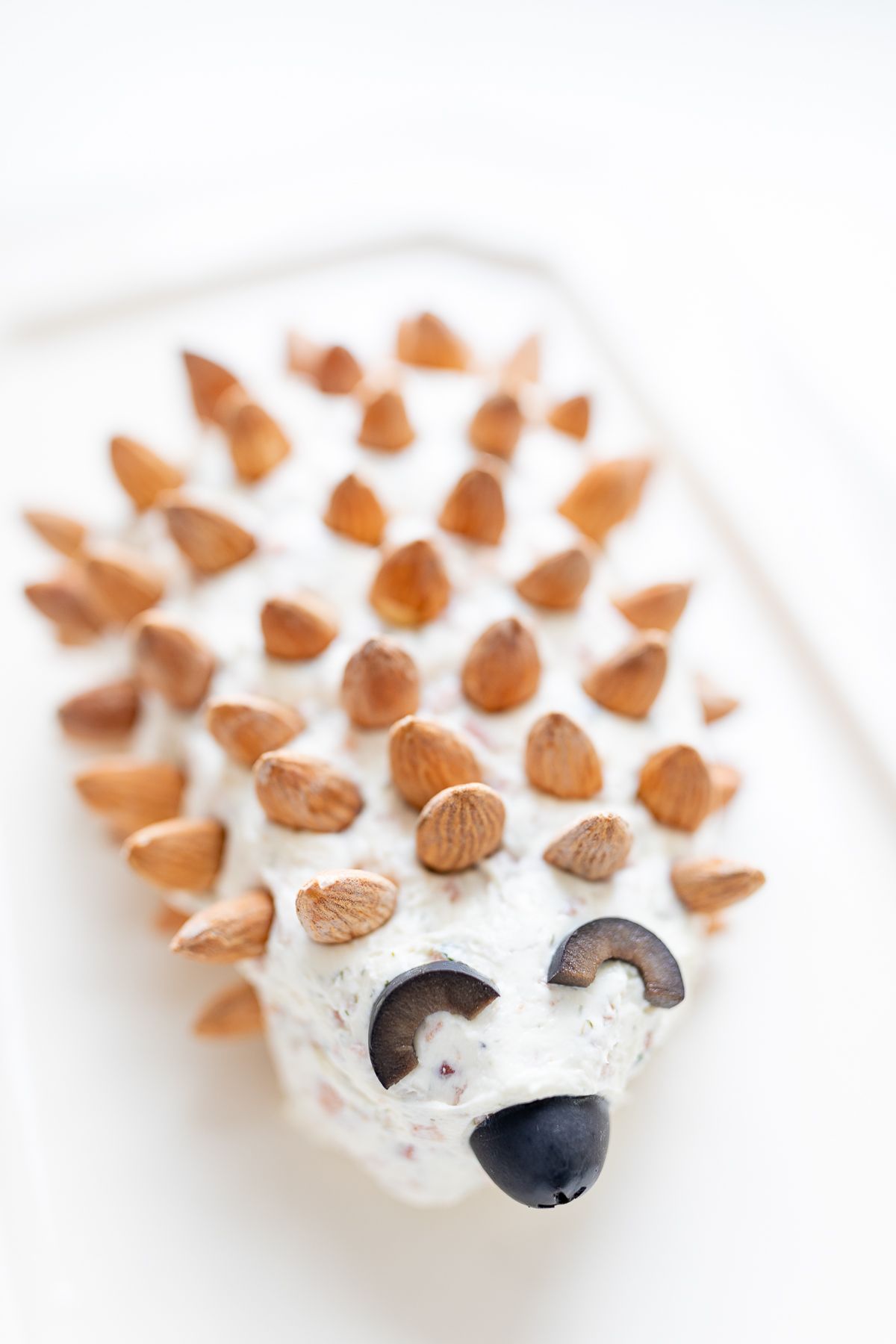 What to do with leftovers
Use the remaining cheese ball melted into your favorite pasta dishes.
Add to egg dishes such as quiche.
Top a salad with this leftover cheese ball.
Dietary considerations
Gluten free
Vegetarian
Do not go nut-free, replace the almonds with pretzel sticks!
How to store
At room temperature – You can leave this hedgehog cheese ball out for up to two hours before serving.
Cool down – Make this cheese ball up to a day in advance and store tightly wrapped (before adding toppings). Stored for up to a week in the refrigerator.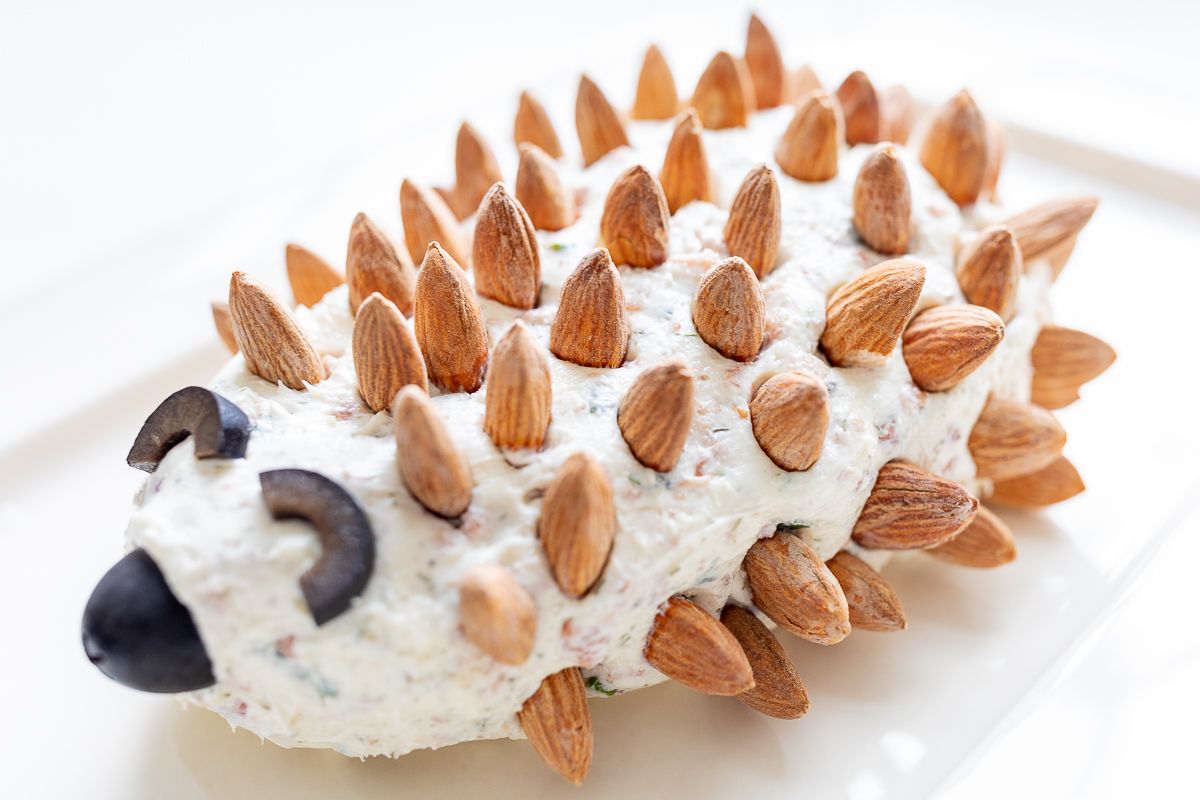 Hungry for more easy recipes? Register my free recipe club and get amazing recipes delivered straight to your inbox every week!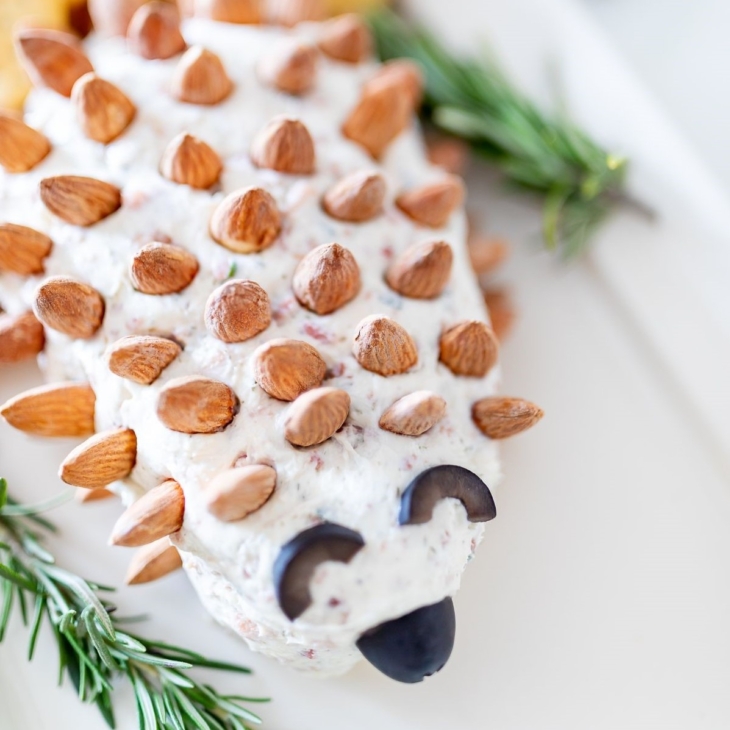 Hedgehog cheese ball
This adorable Hedgehog Cheese Ball is the ultimate Cheese Spread with almonds, green onions and bacon!
Avoid your screen going dark
Instructions
Combine cream cheese, mayonnaise, bacon bits and dill.

Stir in green onions, salt and pepper.

Refrigerate, covered, until firm. Form into a sphere, cone or hedgehog.

Stick almonds in cheese spread in rows.

Optional: cut olives in half, use for nose. Slice and halve the olives and press in front of the eyes.
Nutrition information
Calories: 148kcal (7%), Carbohydrates: 2g (1%), Protein: 5g (10%), fat: 13g (20%), Saturated Fat: 2g (10%), Cholesterol: 11mg (4%), Sodium: 221mg (9%), Potassium: 90mg (3%), Fiber: 1g (4%), Vitamin A: 10IU, Vitamin C: 0.1mg, Calcium: 34mg (3%), Iron: 0.5mg (3%)
Estimated nutritional information is provided as a courtesy and is not guaranteed.