I believe that tedious tasks can be made more fun if they take place in beautiful surroundings, and I tackled the design of our new laundry room with that in mind. The laundry area at #JungalowByTheMountain was relatively spacious and perfectly functional, but completely lacked personality and vibes – making the task of washing clothes feel like just that – a task. I wanted to inject a large dose of color and pattern into the room so that the laundry room could feel like a place I could actually feel like being, such as. as a boutique hotel for dirty clothes. Hehe.
A laundry room is a great place to go bold and have fun with color and pattern. Like a powder room, it's an enclosed area that doesn't really need to "go with" surrounding space, so there's a perfect opportunity to have fun and get a little wild. I chose to install this one peel and glue the wallpaper because I wanted something patterned and with a dark bottom that matched back to washing machine and dryer. (To help us calculate the amount of wallpaper we needed, we used the very handy Wallpaper Calculator from The Home Depot app). The overall ambiance I wanted to give the room was magic and mystery.
On the floor we then put a cement hex tile in Sage from Zia flise. We used a very slim grout line and "River Rock" grout because I wanted the grout lines to be less prominent. We styled it with one Gemology rug from my collection with Loloi Rugs.
I chose Cajun Red and Terracotta Clay from Behr for the paint colors because I wanted to bring warmth to the room. We used two colors to give the room a little more dynamism. As the finishing touch, we replaced the old cabinet fittings with something more modern in black and gold that matched back to the wallpaper.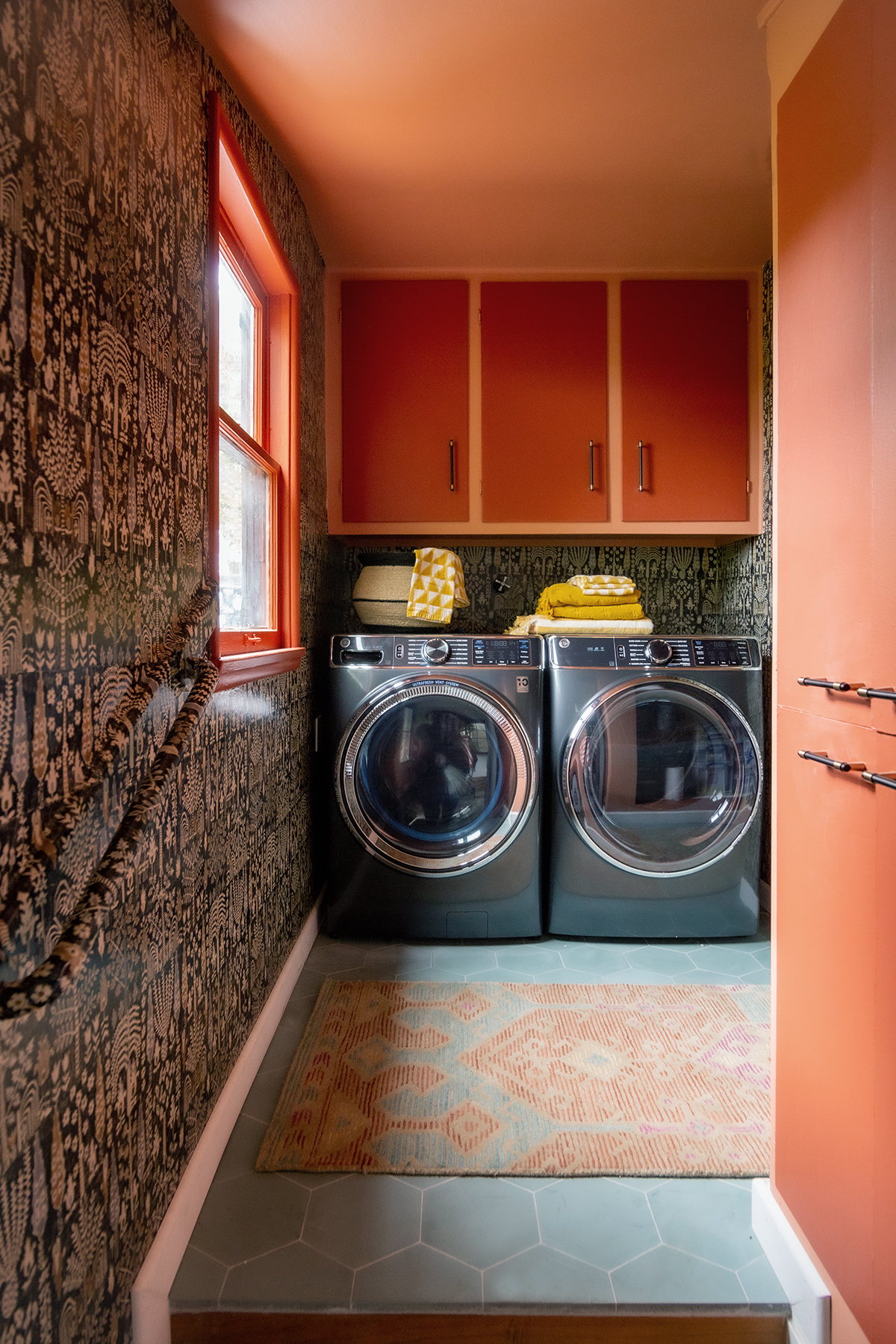 Since the wallpaper we used was peeling and sticky, I decided to also cover the hideous railing (which we kept for security reasons), and it now kind of disappears into the wallpaper pattern. Yay.
Now I can get lost in the wallpaper pattern and the warm tones on the wall and ceiling and dream of washing clothes in Florence, Istanbul or Antigua (just some places I would not mind washing clothes!)
xxJB