Although you can get an apple any time of the year, autumn is when they are really in season and they shine in all their apple glory. So what do you do when you have an abundance of apples? Make an apple dessert of course! We've rounded up 23 delicious apple desserts ranging from traditional to unique to please almost any palette. So the next time you want to whip up something sweet for fall, be sure to try one of these delicious apple dessert recipes!
via Better Life
Nothing says fall is here like a steaming glass of hot mulled apple cider. Warm and spicy, this recipe doesn't add any extra sugar, so you can leave room for some other fall treats. This can be cooked on the stove, but there are also slow cooking instructions.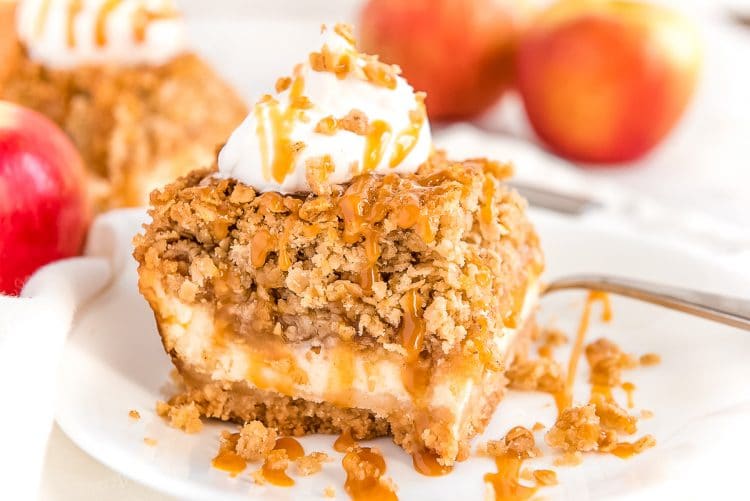 via Sugar and soul
Any time of the year is a cheesecake time of the year. But for a recipe that combines the flavors of fall with a less intimidating but oh-so-delicious way to make a cheesecake-based dessert, be sure to try this recipe from Sugar and Soul. A shortbread crust is topped with a creamy cheesecake layer, homemade apple filling and finished with brown oatmeal.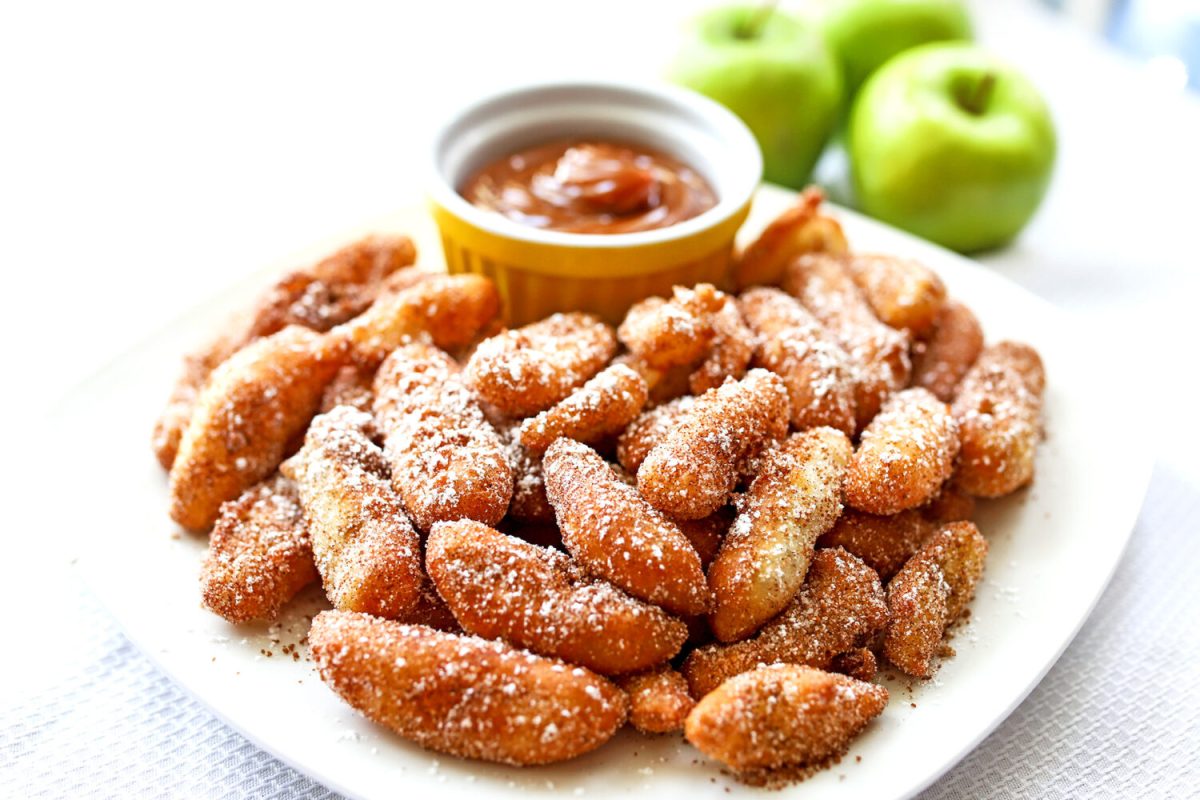 via Super Mom Life
If you live for fair and festival food, then these apple frites should be on your 'Need to Make Now!' sheet. Heather from Super Mom Life came up with this amazing recipe after being inspired by a batch of apple fritters she tasted at Legoland Florida. After lots of disappointing recipes and trial and error, she found that funnel cake batter was the trick to keeping the apple fritters crisp on the outside while concentrating the delicious warm apple flavor in the center. Genius! Tossed with cinnamon sugar and served with a creamy caramel dipping sauce or whipped cream on the side, once you taste them, you'll crave these apple fritters forever.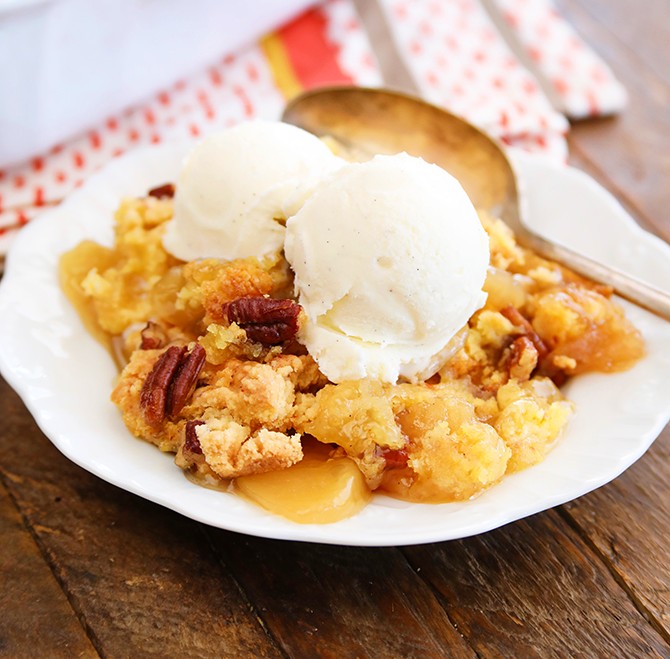 via Southern bite
Flipping through old cookbooks is a great way to rediscover some forgotten gems. That's how Stacy comes from Southern bite found this wonderfully easy and delicious recipe for an apple flavored cake. Similar to a "dump" cake, but with a much more adorable name, this apple dessert recipe has only 4 ingredients and is 100% guaranteed to please.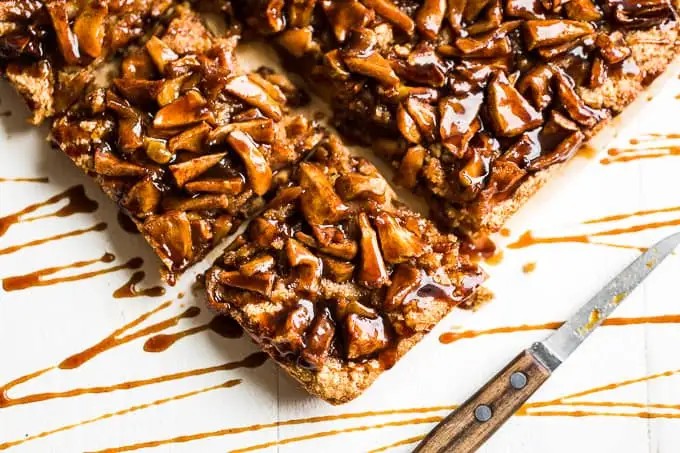 You can have your apple dessert and be Paleo too! And if you love the chewy texture of a brownie but want something a little different, the apple blondies are the way to go. Made with an almond and coconut flour cake base, these blondies are topped with roasted cinnamon apples and drizzled with caramel.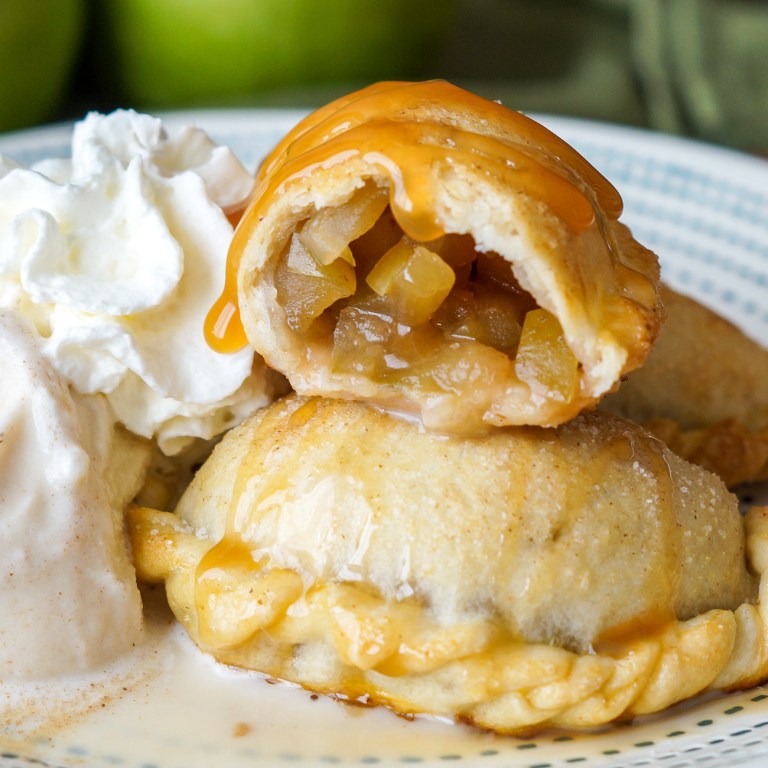 via Tara's multicultural table
Everything about these Caramel Apple Empanadas has me super excited. This recipe from Tara's Multicultural Table takes diced granny smith apples, simmered in a cinnamon, clove, and vanilla spiced caramel sauce, then wraps them in a flaky, buttery empanada dough. Once they are baked in the oven, Tara recommends serving them with cinnamon ice cream, whipped cream and a drizzle of caramel. Yum!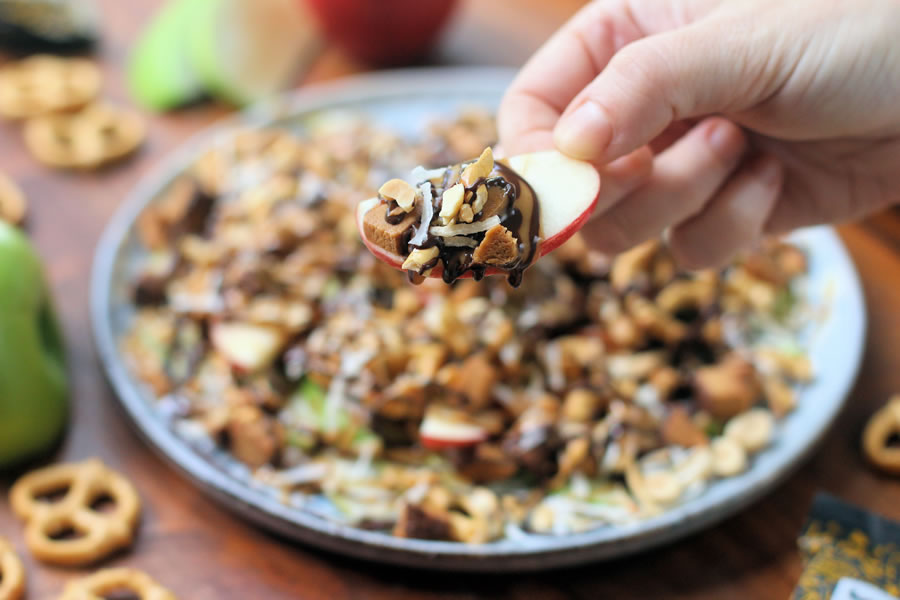 via Better Life
Even when you're eating clean sometimes you just need something sweet. These apple nachos are loaded with protein and low in sugar, yet incredibly satisfying. Super easy to put together and you definitely won't miss all the extra sugar with this healthy apple dessert.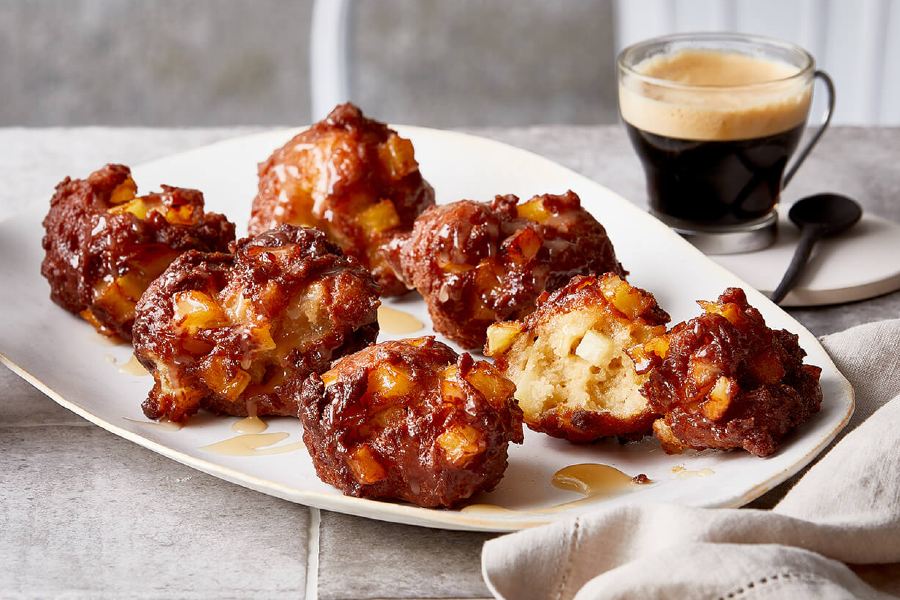 via Fresh market
Crispy on the outside, doughy and ever so sweet on the inside. What's not to love? While you can put almost anything in a fritter, this recipe is loaded with fresh diced apples and spices to highlight the season's apple bounty. This easy recipe includes an apple cider glaze, but they're delicious with just a simple sprinkle of powdered sugar.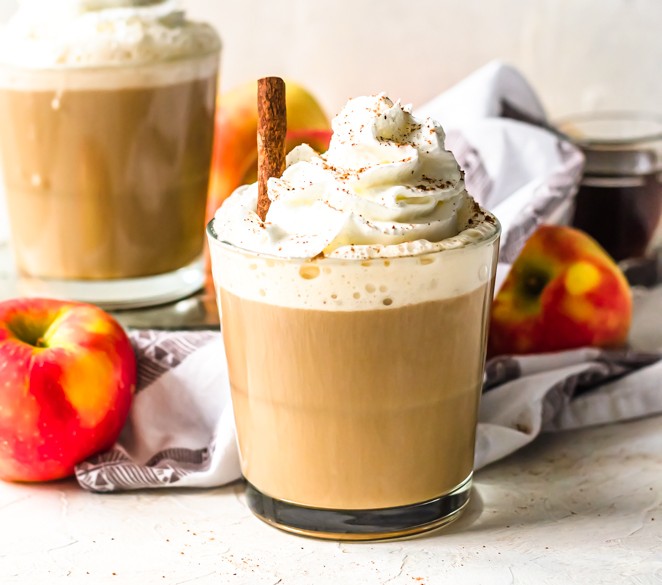 For a twist on your next afternoon coffee, try this fall in a glass-inspired apple cider latte from Phenomenal Phoods. Made with skimmed milk, a shot of espresso and warm apple cider, one sip will have you wondering where they've been all your life.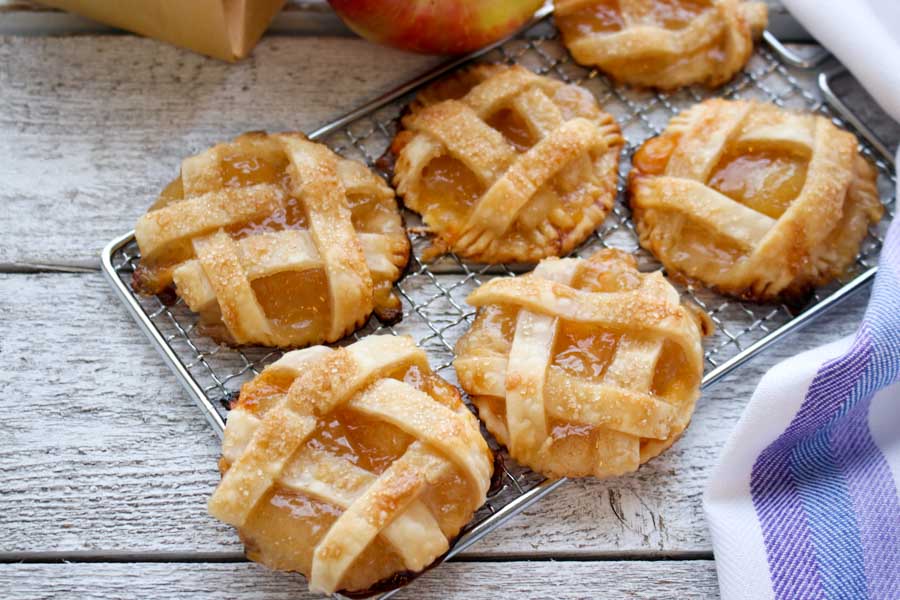 Almost cookie-like, these Mini Apple Cheddar Tarts from Krazy Kitchen Mom are absolutely loved! If you're not in love with the idea of ​​making your own pie crust, don't worry! These little pies are made with a store-bought refrigerated pie crust to speed things up.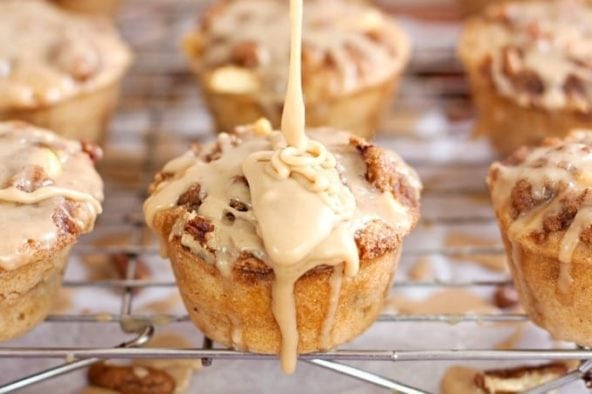 via 2 teaspoons
Just imagine waking up to these buttery and moist freshly baked apple cinnamon muffins topped with pecan streusel and drizzled with rich salted caramel sauce muffins hot out of the oven on a beautiful cool fall weekend morning. Yes, thanks a thousand times! Made with fresh apples, applesauce and apple cider, these muffins are truly a delicious celebration of this amazing fruit.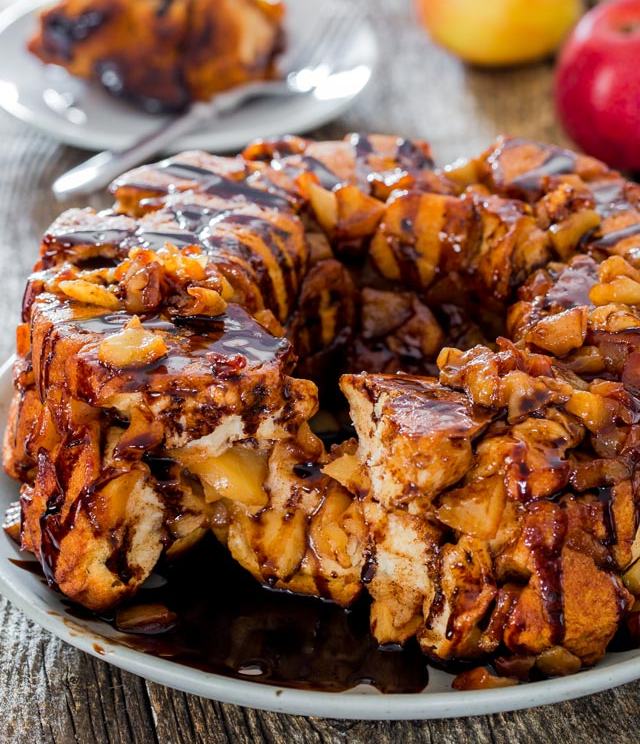 via Joe Cooks
There is something so addicting about pulling piece by piece of ooey-gooey monkey bread. This pull-apart bread looks difficult to make, but is actually quite easy using a prepared cookie dough. Baked with cinnamon and brown sugar spiced apples and drizzled with chocolate after baking, this recipe is sure to be a family favorite.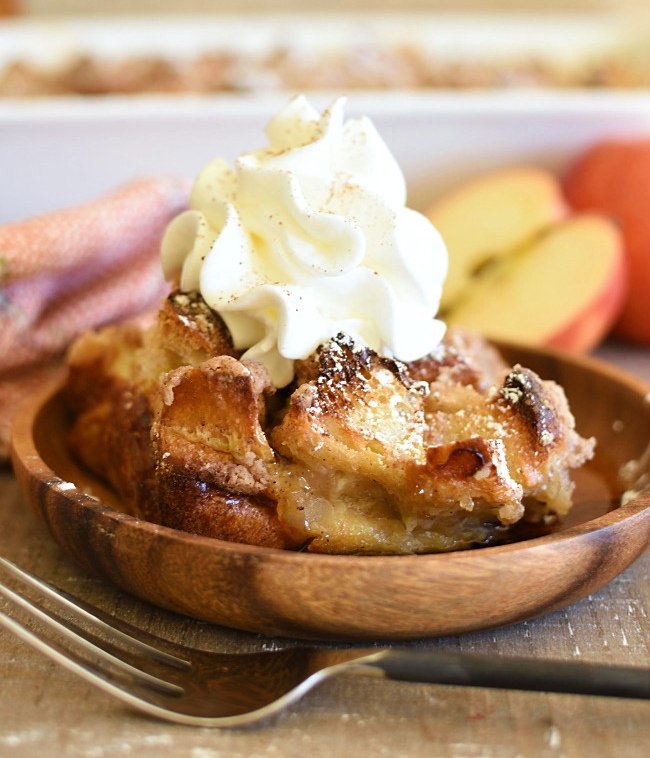 via Little Dairy on the Prairie
French Toast is one of those dishes that can make even the most mundane of mornings feel like a special occasion. For an even more decadent take on French toast combined with the flavor of baked apples, try this Baked French Toast with Streusel Toast recipe from Little Dairy on the Prairie. Whether you enjoy it for dessert or a special breakfast, it's French Toast on a whole other level.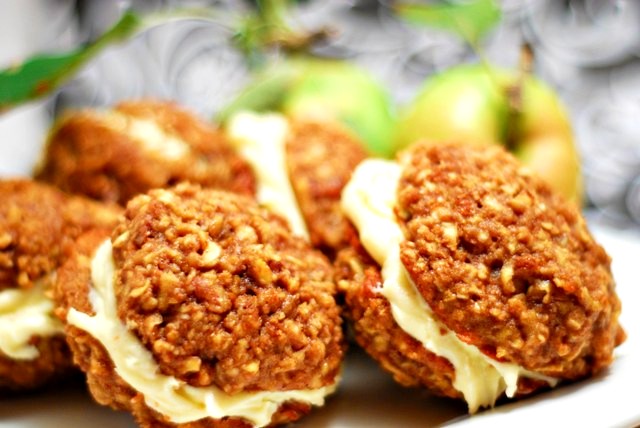 via Little Dairy on the Prairie
Brown butter adds a layer of delicious nutty toasted flavor that enhances anything it's added to. And it pairs perfectly with nutmeg, cinnamon, ginger, apples and pecans in these sandwich cookies. Roasted, spicy and fruity apple flavors are layered with a cream cheese frosting. What more could you ask for in an autumn cake?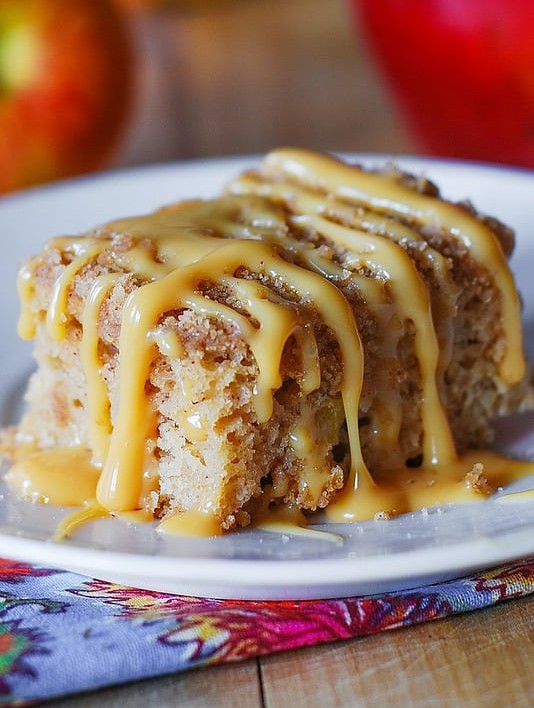 via Little Dairy on the Prairie
For a moist, delicious crumb cake infused with the flavor of autumn, this apple crumble is the way to go. Lots of cinnamon-spiced apples are baked in a moist, delicious coffee cake batter, topped with a cinnamon crumb and then drizzled with caramel. Baked with rich Greek yogurt, this crumb cake is moist and delicious.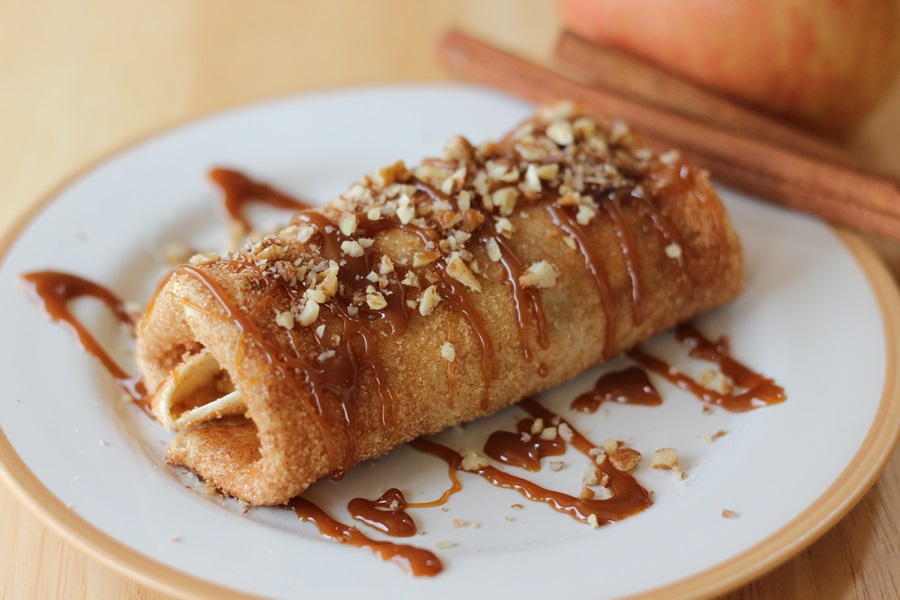 via Worth whipping
Enchiladas for dessert anyone? These amazingly delicious dessert-style enchiladas are filled with warm sauteed cinnamon apples and wrapped in a cinnamon-sugar dusted tortilla. Drizzled with caramel before serving, these would be the perfect end to a warm and cozy autumn dinner.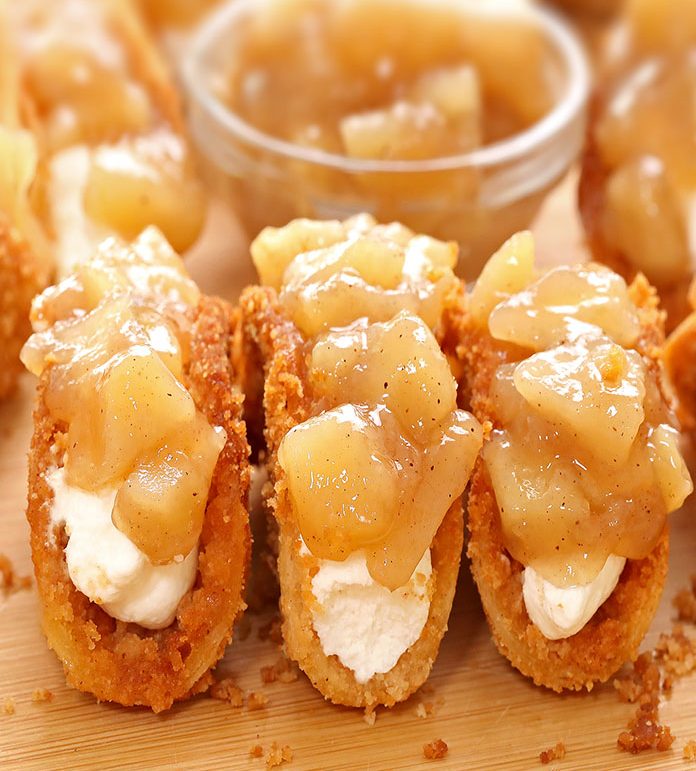 via Sugar apron
Just when you thought tacos couldn't get any better, Sarah from Sugar Apron said "hold my beer." These Apple Pie Cheesecake Tacos take the flavors of two all-time favorite desserts and create a mash-up that's irresistible. Taco Tuesday will never be the same. And that's a good thing. Cheesecake and apple spice filling is layered with cinnamon and graham cracker crumb coated taco shaped tortillas.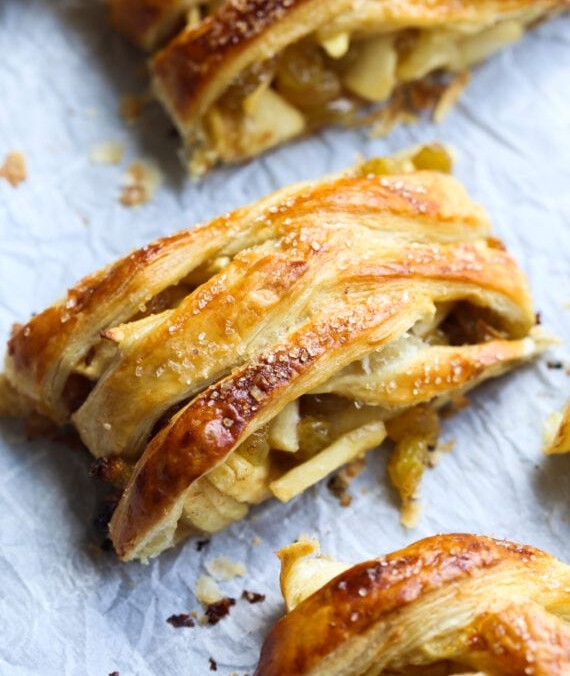 via Cookies and cups
If you're celebrating Oktoberfest at home this year, as many of us are, then this easy apple strudel is a must. This classic German dessert made with cinnamon-spiced apples and raisins is then rolled in puff pastry (found in the freezer section of your grocery store) and baked. If you like straightforward apple desserts that deliver flavor, this one is a must try.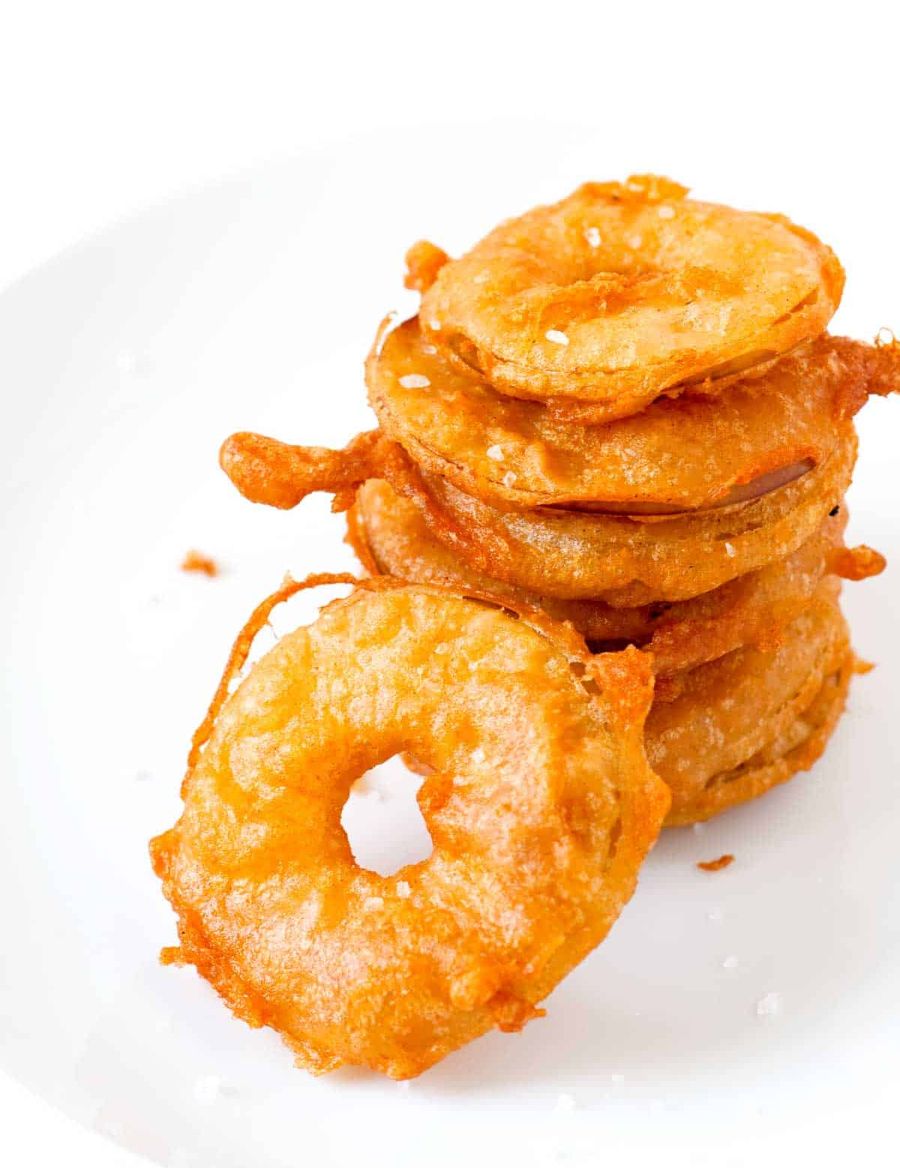 via Inspired taste
You can beer batter just about anything and you've got my stamp. But, fried sweet slices of crisp sweet and juicy apples? Simply brilliant. And there's no better time for this recipe than fall. Best of all, you can enjoy these as a sweet dessert with powdered sugar and drizzled with a little caramel, or even sprinkle them with salt and enjoy them as a dinner side.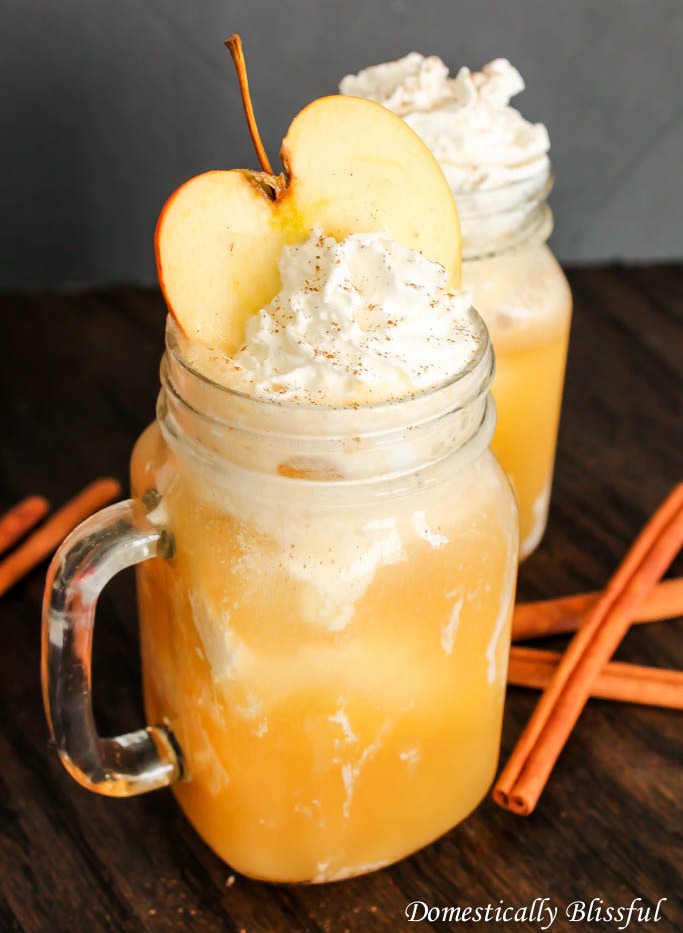 via Domestic bliss
Who doesn't love an ice cream float? Perfect for kids and adults alike, this unique apple-infused twist on an ice cream parlor classic is made with both sparkling and still apple cider and French vanilla ice cream. Domestic bliss. To make it a real adult drink, a touch of bourbon would be a nice addition.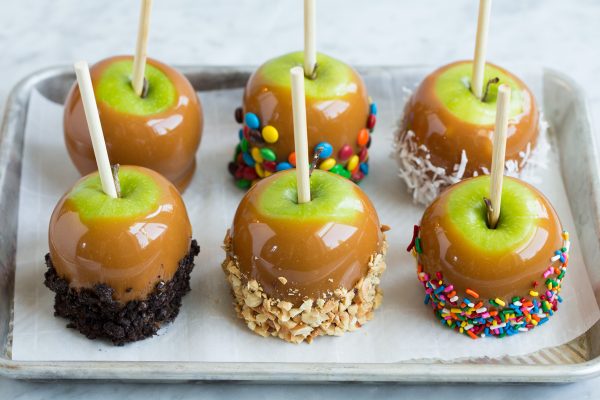 Caramel apples are pretty irresistible. And they're also easy to make with this homemade recipe! To customize your apple stock with a mix of toppings like nuts, pretzels, shredded coconut, toffee bits, crushed Oreos, mini M&Ms and whatever else you can dream up. Wrapped up, they make a wonderful edible gift for a friend or neighbor.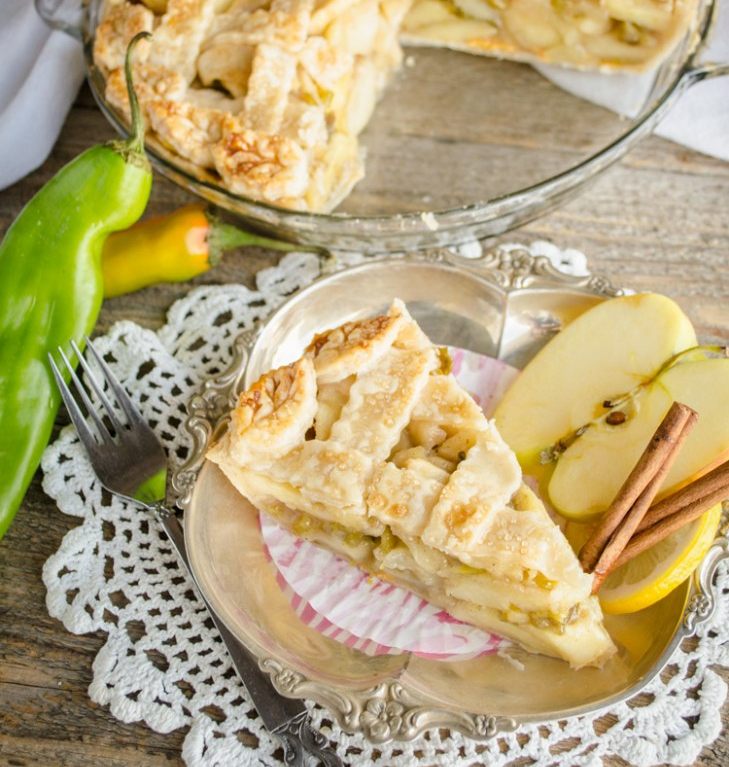 For something different with a New Mexican twist, try this green chile apple pie. Originally invented in the tiny town of Pie Town, New Mexico, this apple pie is perfect for anyone who likes a little heat with their sweet. Fresh apples are stewed with green chile and hot apple pie spices and then poured into a pie shell sprinkled with shredded cheddar and then baked. You won't believe how good this pie is until you try it!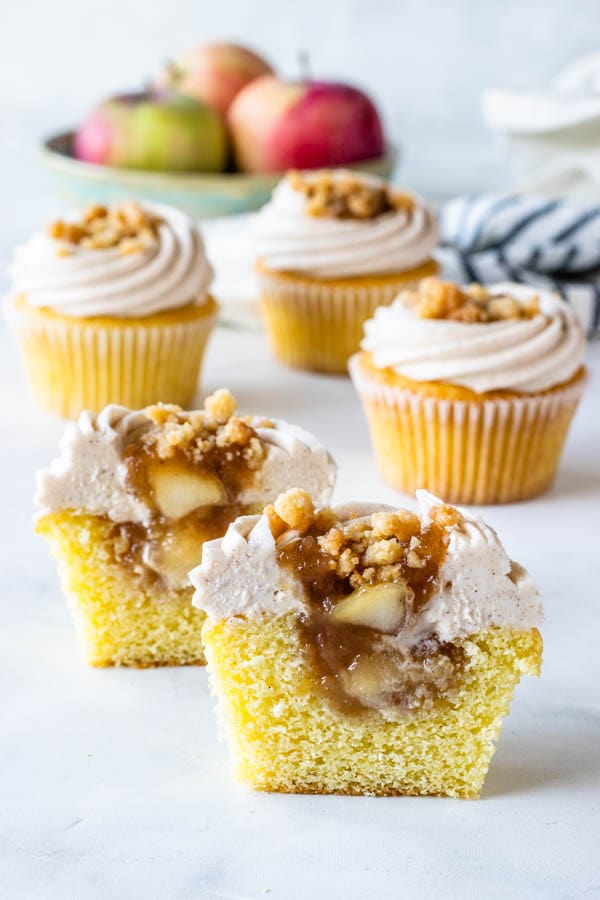 via Pies and tacos
It's basically impossible to resist a cupcake and these vanilla cupcakes filled with homemade apple pie filling, then topped with cinnamon cream cheese frosting and a buttery crumble are the fall-inspired treat from Pies and tacos we have all lacked, but absolutely needed.