The day I got engaged in November 2019, I already knew I didn't want one wedding dress.
As a child I loved nothing more than watching brides in white ball gowns. But as an adult turned bridal editor, when I finished my third wedding magazine job in 2016, I knew I wanted to run away. After spending several years breaking down every part of the wedding planning process for work, I couldn't see myself enjoying the stress, financial commitment or societal pressure that goes into what some consider one of the biggest days of their lives (even though I was an "expert" on it). With that in mind, I didn't think I could justify spending money on one wedding dress – that Therefore The knot, costs an average of $1,800 – for such an intimate affair. And as someone who tries to minimize excess fashion consumption for the life of me, I also couldn't see the idea of ​​buying a look I only wanted once.
This meant no big visit to the bridal shop with my family and friends. Instead, I picked a white suit by a New York designer that was already in my closet for a small union ceremony in Manhattan, and bought a deeply discounted white cocktail dress from one of my favorite brands online for my legal getaway in Hawaii. I didn't feel the type of excitement or excitement that bridal publications tell you you should feel when you try on "the one", but they felt like "me" and I knew with 100% certainty that I would wear both again on many occasions in the future. Of course, as the weeks went by, I felt the occasional doubt when I saw an unmistakable bridal look from one of my favorite wedding designers pop up on my Instagram feed, but I pushed it aside.
The fleeting thoughts, however, turned into complete uncertainty when I attended Bridal Fashion Week, a biannual event where bridal designers present their latest collections to the press and buyers. As I looked at one elaborate gown after another, I realized I was more moved by the thought of future brides-to-be wearing a cathedral veil embroidered with a heart at Galia Lahav, a cut-out mini party dress at Houghton, and a dress with oversized sleeves at Rosie Assoulin than I was of the looks I had in the back of the closet. I wanted to try on at least one wedding dress.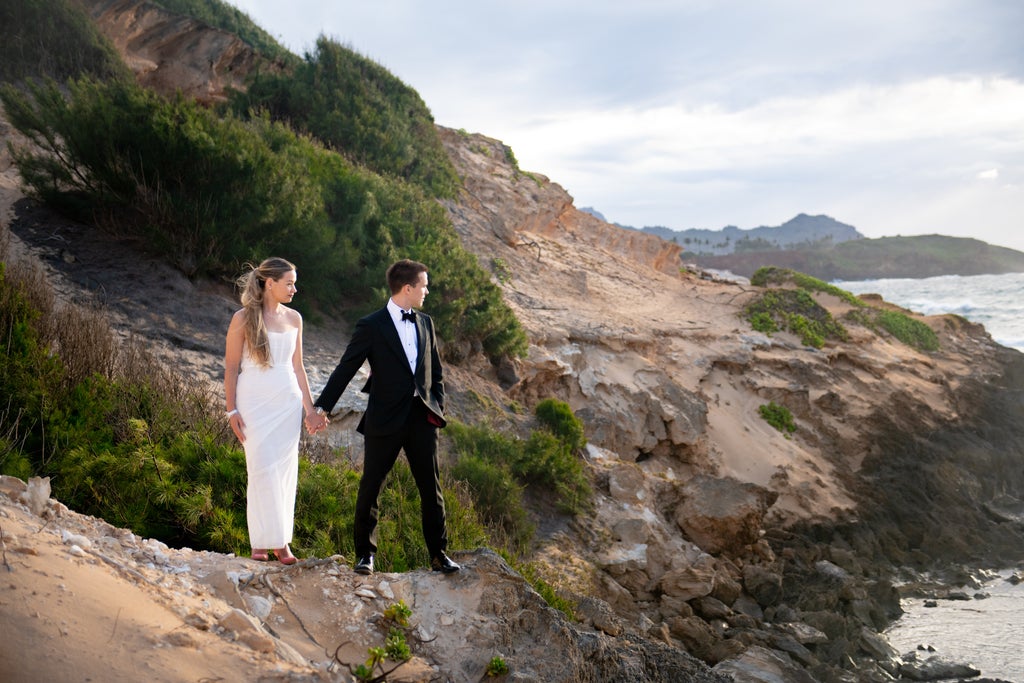 As soon as I put on weight Khloe dress from Houghton, my long-time favorite bridal brand, I felt the butterflies-in-the-stomach feeling I get when I see a look that I know will define the next season on a New York Fashion Week runway; I had found mine dress for Hawaii. The close-fitting style needed no alterations (a big plus when the wedding is a month away); the mesh material was airy enough for an outdoor beach wedding and hugged my body without constricting it; and the corset detailing and scoop neckline added just the right amount of unexpectedness to an otherwise timeless silhouette. And even though I haven't worn a strapless dress since the early 00s, I couldn't remember why when I put this one on.
Still set on wearing something by a New York-based designer for my city ceremony, I headed to the studio of Jackson Wiederhoeft—a Thom Browne alum, this year's CFDA/Vogue Fashion Fund finalist, and the most exciting new name in bridal wear. While I was pretty sure I wanted a tuxedo style wedding dress from the designer who in the three years that have passed since the launch of his eponymous brand Wiederhoefthas become known for her subversive creations that straddle the line between avant-garde couture, fairycore fantasy and classic romance, I was surprised again when it was Charlie, a high-low dress in matte satin with a meringue-like corset bodice, that made me rethinking everything I thought I wanted in a wedding look.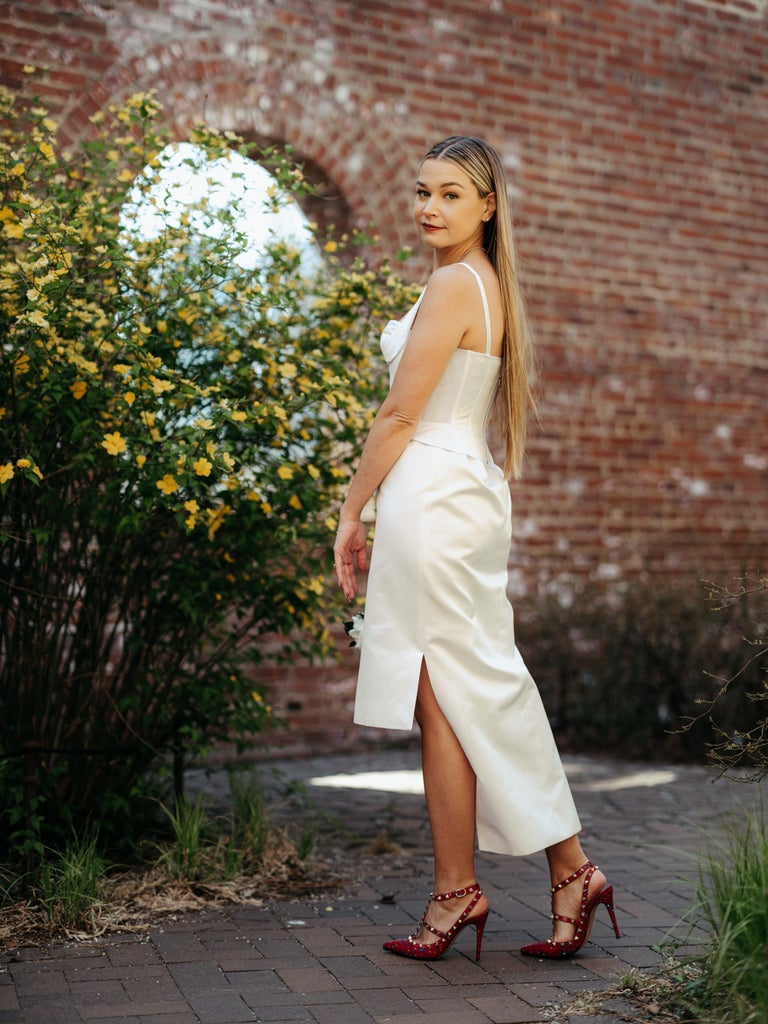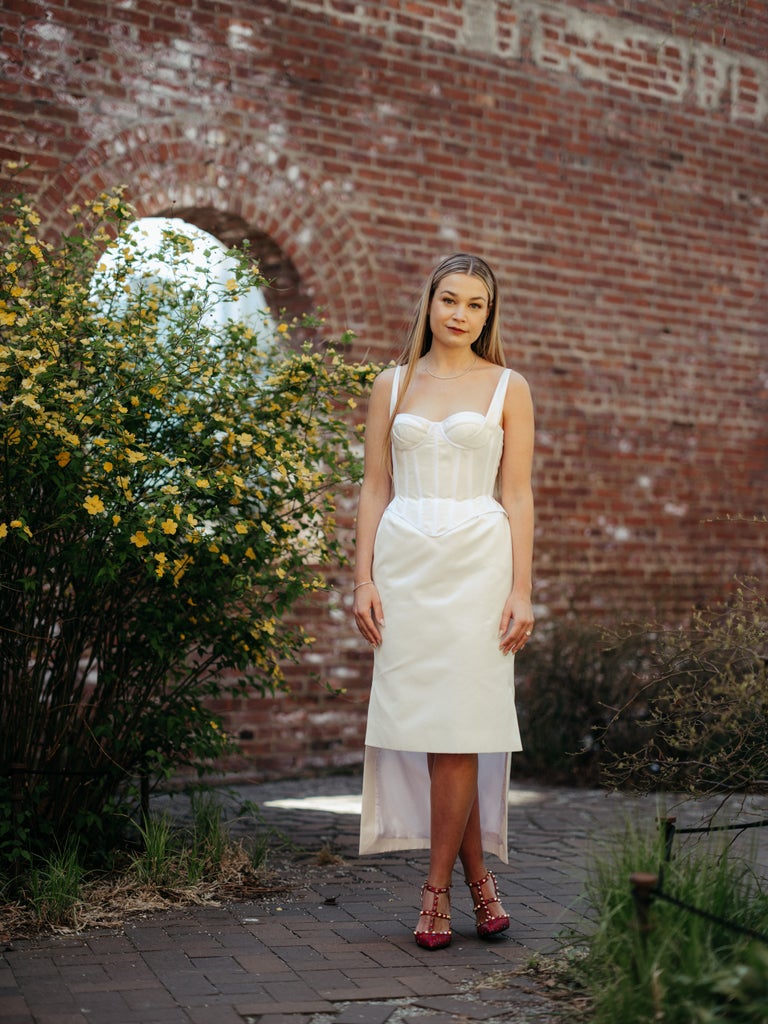 In the process of choosing two new wedding dresses, I didn't completely compromise my values: while the Wiederhoeft style landed right around the price of an average wedding dress, and the Houghton's cost less than $1,000, both brands make their designs ethically in New York and LA, respectively . Charlie was created using 100% recycled fabric made in Italy from a post-consumer recycled yarn; meanwhile, Houghton uses an on-demand production model that eliminates excess waste. Both brands also create pieces for every body size, which, while it should be considered a normal practice of all brands, is unfortunately still a rarity in industry that often perpetuates fatphobia.
In the months leading up to the wedding, people asked me what I was going to wear—a common question for any bride-to-be, but even more so for someone who went from bridal to fashion editor—I found myself reply that, like my reaction to my first set of looks, lacked the enthusiasm expected of a bride: "It's a small wedding, so I'm just wearing a suit and a cocktail dress." Although no one ever questioned it, the more I downplayed the appearance in front of other people, the more I felt I was downplaying the day I was about to make one of the biggest commitments of my life.
In my new dresses, on both my wedding days there was no doubt that I was a bride – people shouted congratulations, little girls stared at me in delight, tourists took pictures; the dresses were as special as the vows my husband and I exchanged. While I don't recommend changing your mind about your wedding dress shortly before your wedding for the sake of your wedding designers and your own stress level, I do suggest waiting for a dress that you can't wait to wear on your Wedding Dayinstead of one you feel you would wear a weekday. And maybe it's naive, but I still believe that I will wear both of mine wedding appearance again, though for more special occasions rather than work, where I've since worn my original white suit, or a girls' night out, where I debuted my first white cocktail dress. Then again, why would I want to reduce dresses that will forever remind me of my wedding to an everyday look anyway?
As for my bridal accessories, I wore heels that I already had in my closet. And I wouldn't have it any other way.
Do you like what you see? How about some more R29 goodness, right here?
Why more brides choose black wedding dresses
Meet designers of the coolest wedding looks