Lately I've found myself spending far too much time on my smartphone – my screen time is gone, my messages are endless, and my camera roll has almost reached its maximum capacity (for pretty much the second time this month mind you) . Although I've long reminisced about the good old days of switching my teenage attention back and forth between a keyboard phone and an iPod Shuffle, truly convinced that my burgundy LG Env3 was the best thing ever, I can still 't make myself get rid of my iPhone completely. Sure, the convenience of the device is great, but the real appeal of a smartphone (at least to me) is the ability to have a quality camera on the go—you know, without the hassle of having to actually carry around a clumsy, high-end digital camera.
But in my latest search for a solution that could help limit my phone usage without having to also forgetting my need for constant technological convenience (I am still, to my dismay, a Gen Zer, after all!), I discovered Ray-Ban Stories smart glasses ($299), which not only shares the style of Ray-Ban's famous Wayfarer sunglasses, but also packs high-tech features like open-ear speakers, three microphones, touch controls and, you guessed it, a built-in Dual 5 MP camera.
How Ray-Ban has managed to fit practically everything I love about my smartphone into a simple, compact and damn stylish pair of sunglasses is beyond me, but they've nonetheless proven to be a true essential in my life . Keep reading to see how these smart frames have helped me limit my screen time, live in the moment, and capture life's best moments as I see them—all without having to dig my phone out of my purse!
What I like about Ray-Ban Stories Smart glasses
Naturally, I love the ease of use and convenience these smart glasses provide. I can seamlessly take a picture of the view through my lenses just by touching the temple located on the side of the frames, or even through voice-activated commands. From there, I can easily import my captured moment into the Facebook View app and edit or upload the photos and videos directly to social media. Even a digital camera doesn't offer that kind of immediate convenience, and it's so cool to be able to capture a moment exactly as I see it and at the exact moment I see it—no need to prepare a camera's settings or unlock my phone on it. In addition to the frame's photo capabilities, I also love the hands-free capabilities offered through Ray-Ban Stories, which allow me to play or pause a song, send a text message, and even answer a phone call, all through the accessory's microphone and speaker tools. I simply say "Hey Facebook" and speak a specific command, and the sunglasses take care of the rest. This is especially useful when I'm driving, as I can avoid any of the typical distractions that can come from using my iPhone.
As a shopping editor (of course!) I also can't help but love the look of these sunglasses. At first glance, you'd have no idea these frames are actually a high-performance tech accessory, as they're designed to look and feel exactly like a pair of classic Ray-Ban sunglasses. From the sleek design and variety of colors and lens options to their surprisingly comfortable fit, there's so much to love about this style. Plus, when they need to be charged, I can simply put the frames back into their portable charging case, which comes with the purchase of the product and is also designed as a classic sunglass case, so you can easily carry it in your everyday bag or personal travel bag.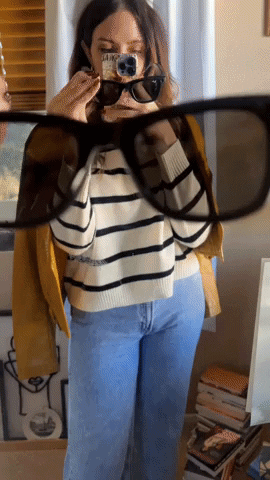 What is worth noting
As a byproduct of the Meta, these smart glasses work exclusively through the Facebook View app, meaning that in order to import and edit photos or videos taken on your Ray-Ban Stories device, you'll need to have a Facebook profile set up and get also the product synced with the Facebook View app (separate from the Facebook social media app) on your smart device. While you'll still eventually be able to download your recorded content to your smartphone, you'll need to do so through the app instead of simply importing images to your phone's camera roll. As someone who deleted her Facebook profile several years ago – mostly to protect my mental health and create better boundaries with social media – this requirement proved to be a bit of a challenge for me personally, and I was forced to re-download the social app again. As cool as the Ray-Ban glasses are, if you (like me) lack any interest in having a public Facebook profile long-term, these fancy frames might not be the right investment. However, users who do enjoy being active on the platform will likely appreciate the ease with which they can capture content, download it to the Facebook View app, and even upload it directly to their own Facebook social profile.
Who are these Ray-Ban Stories smart glasses best for?
If you're someone who loves multitasking and appreciates tools that help you better streamline your life, then you can't go wrong owning a pair of Ray-Ban Stories frames. Similar to one classic smartwatch or smartphone, the device allows users to easily take photos and videos while on the go (and wearing the glasses!), switch between listening to music or taking a call, and even use the advanced technology's voice control functions – how about the simple command to say "Hey Facebook," you can actually instruct the glasses to send a message, pause a song, make a call, or even start recording a video. If you're someone who is often distracted while looking at your smartphone, these frames remove the need to use your phone at all during the day – ultimately limiting your screen time, removing the temptation to check your phone while you drive, and helps you live better in the moment without having your eyes glued to a smart device 24/7. Plus, with the sunglasses' classic Ray-Ban Wayfarer design, you'll look (and feel!) so stylish too.
Are these Ray-Ban Stories smart glasses worth paying for?
If you're a Ray-Ban loyalist looking for a way to limit your smartphone usage and better streamline your life, they're definitely worth the money! A classic pair of Ray-Ban Wayfarer frames typically cost well over $200 as is, and with a little extra cash, you can get the same timeless accessory that consumers have loved for decades, just equipped with advanced technological capabilities. For the first time ever, you can essentially control any of your typical, day-to-day smartphone uses (ie texting, making calls, playing music, taking pictures, etc.) all from your sunglasses. It doesn't get much more practical than that!
Where are the Ray-Ban Stories Smart glasses available?
Ray-Ban Stories Smart Glasses can be purchased at Amazon, Ray Ban ($299), and Sunglasses cabin ($299).
further details
These Ray-Ban Stories frames are equipped with touch control features that allow users to take a photo or video or even pause a song, all with a single tap.
The smart glasses are available in 10 different colors, including shiny brown, matte black (my shade of choice!), olive and blue. Shoppers can also choose styles with transition lenses, blue light and prescription lenses if preferred.
Users can charge their Ray-Ban Stories using a portable charging case. Additionally, a fully charged frame has the capacity to record and sync up to 500 photos or up to 30 videos.
Evaluation:

Image Source: POPSUGAR Photography / Kyley Warren