Don't be fooled into thinking that Paris Fashion Week Men is just a forum for menswear: with some of the most dynamic and zeigeist-y brands choosing to present both coed and genderless collections begging to be worn, it gives the more traditional women's ready-to-wear calendar a serious run for the money.
Characteristic of the showcase – which concluded its fall 2023 season in Paris over the weekend – is a vibrant energy fueled by culture, charged with youth and underscored by inclusivity (whether of gender, color or size) that both challenges preconceptions and disrupts patriarchal ideologies.
PFW Men's is "the most exciting" of the schedules, he says Casablanca's Charaf Tajer, whose own co-ed Fall 2023 contribution to the schedule was staged around a decommissioned fighter jet festooned with flowers. The message of peace and seizing joy in the face of devastation drew inspiration from Syrian youth culture and played out in a sporty and optimistic line-up.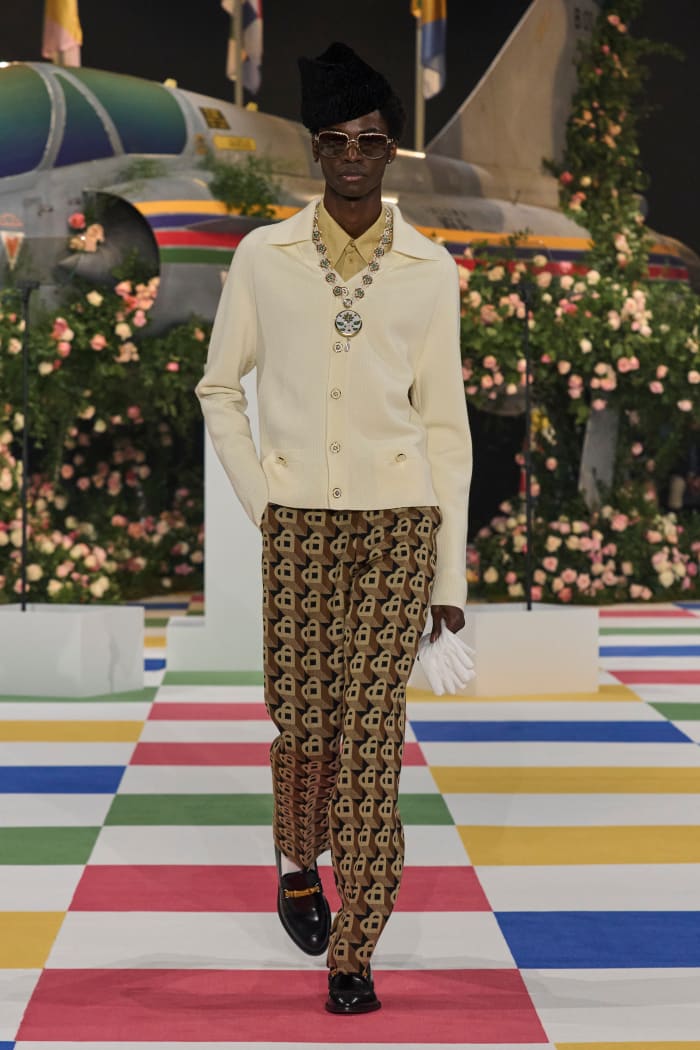 On Marine Serre, the driver has always been sustainability. Against the backdrop of three giant, tightly compacted blocks of deadstock from which its products derive – in this case, silk scarves, denim and the purportedly "eco-friendly" canvas tote bags – the brand continued to prove that a recycled brand is both commercially viable and supremely scalable for both genders with its latest collection.
Meanwhile at Kenzo's co-ed autumn 2023 production, artistic director Nigo riffed on British, American and Japanese street cultures of the 60s, 70s and 80s. That file rouge? Checks and plaids in tribute to the archer provocateur, the late Vivienne Westwood.
"There's an eclectic feel that's very fresh," Natacha Ramsay-Levi, former artistic director of Chloé and Nicolas Ghesquière's right-hand man at both Louis Vuitton and Balenciaga before that, says of PFW Men's. "It feels younger, more spacious and more dynamic [than the women's schedule]."
There is arguably no one who exemplifies this better than Ludovic de Saint Serninthat enfant terrible of French fashion and newly appointed creative director of Ann Demeulemeester, who has made a name for himself for his sexually charged designs for everyone. The Belgian-born designer – whose label originated in a leather jockstrap – re-popularized the Edie Sedgwick "no pants" trend long before Kendall Jenner, and his latest runway provided several new riffs on it, along with a range of his trademark micro mini skirts crystal net.
"For our generation, everyone can wear a dress or jeans – it's about expressing yourself," says Florentin Glémarec, one half of the young design duo Egon Lab (with Kévin Nompeix), speaking backstage after a show that featured a harder, punkier look. this idea:
Meanwhile at Dior Homme, Kim Jones spiced up his collection with kilt styles and shorts so voluminous they might as well have been skirts. These were often combined with elaborately embellished knitwear, borrowing techniques from the Maison's haute couture atelier.
Gender fluidity, of course, cuts both ways. Menswear has historically attracted a female audience since Yves Saint Laurent introduced a tuxedo for women in 1966.
This season, Naomi Campbell attended the Casablanca show in a multi-colored striped suit in the 70s bent, worn by a male model on Tajer's runway. The supermodel also wore a version of one of Jones' more traditional men's looks to sit front row at Dior.
Manu Atelier's Merve Manastir is a menswear customer herself. She gravitates towards blazers for their oversized proportions and dislikes clothes that are "too tailored and feminine".
"It's 2023 and we're still trying to make women sexy and not comfortable and confident," she says.
Stephen Doig, men's style editor and assistant luxury editor at The Telegraph argues that "a cross-pollination between the sexes" is coming to the fore "now more than ever." And brands respond in kind.
Fine made her official female debut during Paris Fashion Week for men. And yet Amy Paris started in 2011 as a pure menswear brand, it launched womenswear four years ago due to demand from an already established female clientele. Founder Alexandre Mattiussi's appearance in the last episode of "Emily in Paris" season three (which, according to Netflix, has reached around 35 million households worldwide) will do nothing if not further expand his fan base across gender expressions – and likewise the long poetic coats that walked his runway in autumn 2023.
(Speaking of the "Emily in Paris" effect: At the Louis-Gabriel Nouchi show, actor Lucas Bravo walked the runway — catnip for the female gaze. What he wore didn't matter.)
Bianca Saunders' eponymous men's label (sold in Ssense's women's department, for the record) is likely heading in a similar direction to Ami. With fans including Kendall Jenner and Hailey Bieber, it made perfect sense for the designer to show his Fall 2023 collection on a mix of male and female bodies.
"I wear a lot of my clothes and try everything on myself – and if it looks good on me, it will look good on someone else," she says. Saunders took her final bow in an oversized bomber made from memory leather that matched a pair of voluminous pants that had just walked her runway.
Showing womenswear during PFW Men's also makes good commercial sense, as the event shares a timeline with sales for the pre-collections.
"Pre-collection product stays on the shelves longer before it goes on sale," says Ramsay-Levi, adding that "the timing of when to show a collection has always been a conversation in any fashion house."
Sacai, which also presents a full collection on the women's schedule, has long presented a selection of women's pre-season looks on its PFW Men's runway. For fall 2023, creative director Chitose Abe produced pieces for collaborations with Carhartt, Nike and Moncler, spanning both lines.
"It used to be white men and big houses, but since around 2014/15 it's moved away from just being a trade show to more brand-defining moments where content is created," says Jonathan Hirschfeld, CEO of The Swedish unisex brand Eytys, quotes at Rosalía's appearance at the Louis Vuitton fall 2023 debut as an example. (Another: Abe takes inspiration from Christopher Nolan's "Interstellar" for her latest.)
Then there is the effect of streetwear, which can be seen most prominently on the PFW Men's program through Louis Vuitton's collaboration with KidSuper's Colm Dillane for Fall 2023. Shortly after, Dillane presented a collection for his own label in the form of a comedy night hosted by Tyra Banks, who modeled 10 of the 20 looks. It turned out to be one of the most talked about events of the week – partly because of the near riot that broke out at the door and partly because of the subversive and thoroughly weekly material that hit Balenciaga, Kanye West, Alexander Wang and Dillane himself in equal measure. Challenging? Yes. Disturbing? Bien sûr. Convincing? 100%.
Want the latest fashion industry news first? Sign up for our daily newsletter.