Majestic waterfalls or erupting geysers? Technicolor hot springs or emerald lakes? Choosing between Yellowstone and Yosemite is no easy task, but we will try to make the decision a little easier.
Yosemite and Yellowstone are two of them USA's most beloved national parks. But how on earth are you supposed to choose between the two? It's a tough one. Rather than leave it to a spin of heads n' tales, we've gathered some information to help you decide which national park to cross off your bucket list first.
Best for landscapes
People did not believe the first explorer, John Colter, when he returned from his expedition to Yellowstone with fantastic tales of this otherworldly land. They even mocked him, calling the park "Colter's Hell." From bubbling mud holes and steaming fumaroles to hissing geysers and rainbow-colored hot springs, Yellowstone has no shortage of natural wonders that will blow your mind. In fact, it is home to half of the world's geothermal features. There's also the beautiful Grand Canyon of Yellowstone with its cascading waterfalls and the lush Lamar Valley teeming with wildlife (more on that later).
You won't find any strange and otherworldly sights in Yosemite, but you will find more idyllic landscapes. Yosemite was formed by glaciers millions of years ago. These glaciers eventually carved out massive granite peaks and beautiful alpine valleys filled with waterfalls and glistening lakes. It is also home to giant sequoias, the tallest trees on earth, and the feeling of walking beneath them is hard to beat.
The verdict:
Yellowstone wins the award for weird and wonderful. It promises to intrigue you and make you question whether you've ended up on another planet. Yosemite, on the other hand, is where you'll find more breathtaking scenery. With its pristine lakes, wildflower-filled meadows and lush forests, it's beautiful in a postcard-perfect sense.
Best for wildlife
Because Yellowstone is so large and remote, it has the highest amount of wildlife in the lower 48 states. There are 67 species of mammals alone, including black bears, grizzly bears and wolves. There are also seven native species of ungulates (large mammals with hooves), including elk, bighorn sheep, moose, white-tailed deer, mule deer, and bison. You're pretty much guaranteed to see large herds of bison roaming the Lamar Valley. You may even find yourself stuck in a bison traffic jam during rush hour in Yellowstone! You can also join a wolf tracker for the day to learn about these mysterious creatures and maybe see one in its natural habitat.
BRING A WOLF TRACKER FOR THE DAY IN YELLOWSTONE
READ MORE: WHAT TO EXPECT ON A WOLF TRACK TOUR IN YELLOWSTONE NATIONAL PARK
Yosemite is also home to an impressive array of wildlife, including black bears, bighorn sheep, bobcats, mule deer and coyotes. But are you likely to see these large mammals in the park? It is not so likely, especially in the high summer season. Yosemite is much smaller than Yellowstone, and wildlife tends to hide from large crowds. Bird watchers are in for a treat though. The high elevation means there are plenty of opportunities to see Stellar's jay, sooty grouse, dark-eyed junco, ravens and more.
The verdict:
If seeing wildlife is at the top of your list, then you should probably go to Yellowstone. It's bigger and has less foot traffic than Yosemite, so you have a much better chance of spotting big animals.
Best for hiking
Yellowstone has over 1,000 miles of hiking trails that showcase the park's geothermal features and incredible sweeping views of Wyoming and the Rockies. The terrain is quite different from Yosemite and some might say the views are not as dramatic, but they are quieter and you are more likely to see wildlife.
READ MORE: THE 8 BEST HIKING TOURS IN YELLOWSTONE NATIONAL PARK
With its giant granite monoliths, soaring peaks, and 750 miles of trails to explore, there's no doubt that Yosemite is great for hiking. There are trails to suit all levels and abilities, whether you want to test your endurance by reaching the top of the iconic Half Dome or take a pleasant stroll through the valley to breathe in the fresh alpine air.
The verdict:
Yosemite has world-famous trails that attract hiking enthusiasts from near and far. That said, the trails are more crowded, so if you like to hike in solitude, you might prefer Yellowstone. When it comes to backcountry hiking, Yosemite can also be a bit safer as there is less wildlife and the weather is more reliable.
Best for waterfalls
Did you know that Yellowstone has 290 waterfalls? People often overlook this because the geothermal features steal the show. Some of the park's most famous waterfalls include the Upper and Lower Falls of the Grand Canyon of Yellowstone, Union Falls, Terraced Falls, and Cave Falls. Sure, they're not as tall as Yosemite's, but they're just as enchanting.
Waterfalls are one of the main draws of Yosemite. In fact, 10 of them are taller than Yellowstone's tallest waterfall. Plunging over 700 feet, Yosemite Falls is one of the tallest cascades in the world. There are also the mysterious Vernal Falls, Horsetail Fall and Bridalveil Fall.
The verdict:
This is a tough one as both parks have magical waterfalls. Yellowstone gets an extra point because the waterfalls run year-round, whereas Yosemite dries up in the summer, leaving only a trickle. If you're looking for massive cascades that will leave you speechless, Yosemite wins the prize. If you're not too fussed about the height, but still want to enjoy the tranquility of the water (with the added bonus of seeing waterfalls no matter when you visit), go with Yellowstone.
Best for the weather
Summer is the high season in both parks. But the crowds are significantly thinner in Yellowstone during the summer rush. Yellowstone has relatively short summers, but they are hot and quite dry. Winters are long with heavy snowfall limiting access to most of the park (unless you're snowmobiling), and spring and fall can be unpredictable with a mix of warm, cool and wet weather.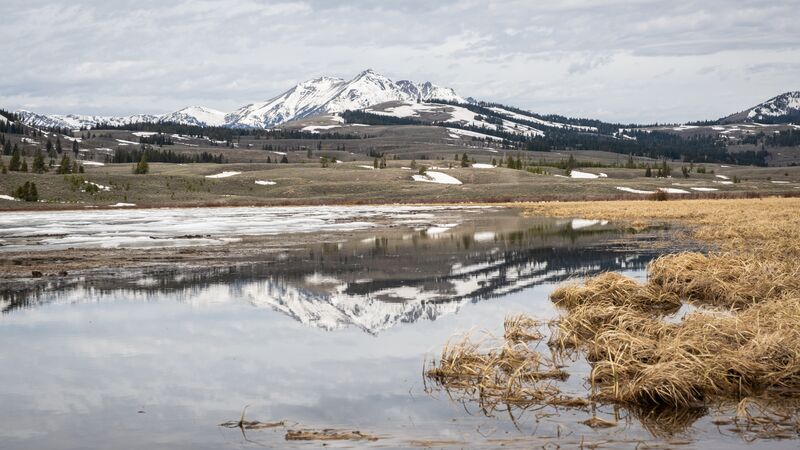 Located in California, the weather is generally a bit milder in Yosemite with drier and warmer weather throughout the year. Spring heats up quickly, and fall is a slightly cooler extension of summer (making it prime time for hiking). There may still be occasional thunderstorms in the summer, but temperatures remain warm. Yosemite also experiences snowfall in the winter, but it is not as heavy and many of the trails remain accessible.
The verdict:
If you prefer warmer temperatures and more reliable weather, Yosemite wins. Yellowstone weather is known to fluctuate with sudden thunderstorms and temperature drops. Winter is the least popular time to visit either park, but it's a good time to plan a trip if you enjoy snowy scenery, cross-country skiing, and snowshoeing.
Best for accessible travel
Both parks are fairly easy to travel to depending on where you are coming from. Yellowstone is located in a remote area of ​​Wyoming. The closest airports to the park are Bozeman (North or West Entrance), Yellowstone (West Entrance) and Jackson Hole (South Entrance). Yosemite is located in California, and the most popular travel route is to fly to Fresno, about a 2.5-hour drive from the park, or San Francisco, which takes about four hours.
Many areas of Yellowstone and Yosemite are accessible to travelers with disabilities. Both parks have accessible trails, facilities and wheelchair-friendly accommodation in the park's cabins. The National Park Service (NPS) also offers one Interagency Access Pass for free lifetime admission to US national parks for people who are blind or have permanent disabilities.
Most of Yellowstone's visitor centers and roadside attractions are wheelchair accessible, and all campgrounds (except Slough Creek, Tower Fall, Fishing Bridge, and Pebble Creek) have at least one wheelchair-accessible campsite. Yosemite also has wheelchair-accessible cabins, campgrounds, and visitor centers. It has more than 12 miles of paved trails along the Lower Yosemite Fall area where you can see most of the park's main attractions.
It's impossible to say which national park is the best, and we're not just saying it's nice! Honestly, both parks are wonderful in their own right. If you have limited time and want huge peaks and amazing views, Yosemite may be the right choice. If you want to experience something completely different, Yellowstone may be calling.
No matter which park you visit first, we're sure of one thing: you'll have a great time.
Experience these national parks for yourself on a Yosemite or Yellowstone trip.