What was once a gold mining town is now New Zealand's national treasure…
If you are traveling to Queenstown then chances are your main focus is packing as much of an exhilarating punch as you can, from bungy jumping off the Kawarau Bridge to blasting across the Shotover River at breathtaking speed (no, literally, it will take your breath away you). While Queenstown is known for its adventure activities, it's also known for its stunning scenery and Insta-worthy views.
Whether you're taking it all in from Skyline Queenstown or sailing on Lake Wakatipu with The Remarkables in sight, Queenstown is full of magnificent places where Mother Nature's beauty is at its fullest. But this is not where her hard work ends.
Introducing Arrowtown, a town that is not only rich in natural beauty with sweeping fields full of lush vegetation and cozy streets lined with oak trees, but also steeped in gold rush history. Located just 21km from Queenstown's city centre, this historic yet vibrant destination offers character, charm and loads of fun from browsing the high street's quirky shops to dining at one of its many bustling eateries.
If you're traveling to Arrowtown as part of your Queenstown trip or exploring this town on your own, we've put together a guide to the things you must do if you want the full experience.
Try your luck for gold in Arrow River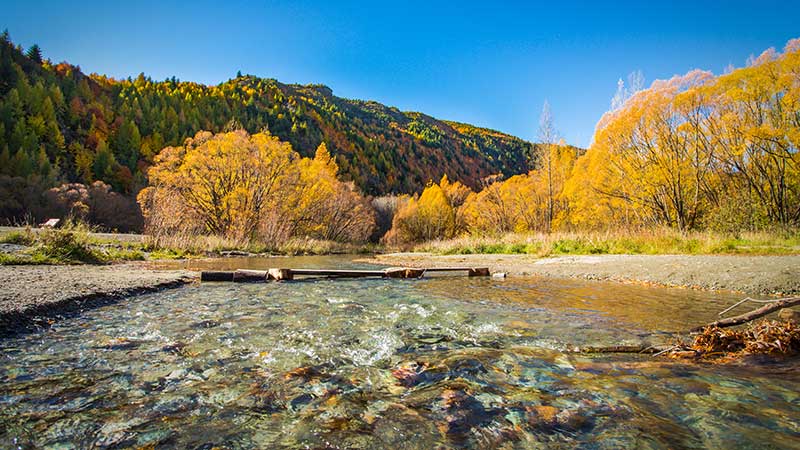 Whether you're in Arrowtown for the day or just for the afternoon, try panning for your own gold in the Arrow River. Located just 2 minutes from the city, gold panning is the perfect activity for both kids and kids at heart and won't take up too much of your time.
Simply rent a gold pan, go down to the river and start panning for gold. Sounds easy enough, right? If you're struggling to figure out how to pan for gold, or if you just want to brush up on your skills, there are several places, including Arrowtown Curios, that will not only give you a lesson in panning for gold, but also make you a professional in no time.
Start at one of Arrowtown's three golf courses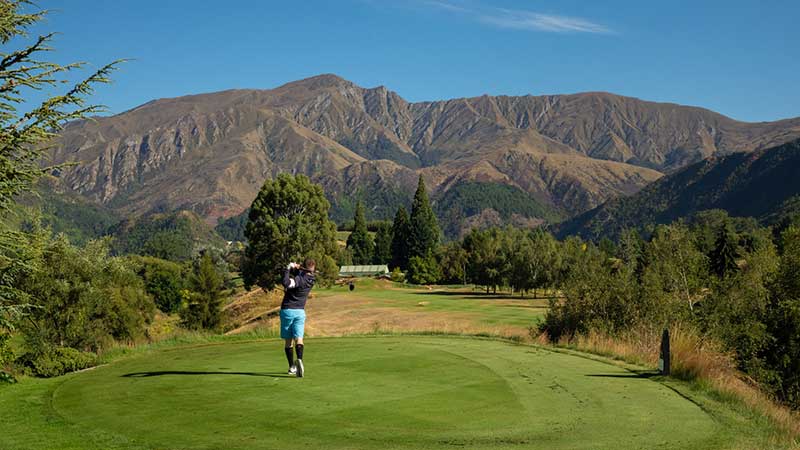 When it comes to golf, those visiting and living in Arrowtown are spoiled for choice with 3 truly spectacular golf courses; Arrowtown Golf Club, Millbrook Resort and The Hills Golf Club.
Arrowtown Golf Club offers sweeping views and a dramatic mountain backdrop, while Millbrook Resort offers three world-class 9-hole courses designed by Sir Bob Charles and as fancy as you can imagine. The Hills Golf Club is a great place to play golf, but is surprisingly much more than that. A walk through the fairways will have you admiring various sculptures, manicured gardens and vast wetlands with waterways sprinkled throughout.
Each golf club has its own advantages, but whichever one you choose, you are sure to be anything but disappointed.
Learn about the history of this city on a guided tour
Arrowtown is a proud community that celebrates its history and encourages those who visit to soak up as much of it as they can. If you're interested in learning about the town's gold mining past and the people who came here from all over the world hoping to strike it rich, there's no better way to do it than on a historic, guide-led tour.
Paired with a knowledgeable and local guide, this tour will take you through the streets of Arrowtown and down to the Chinese Village for an insight into what life would have been like for the miners, guaranteeing you'll take in a little piece of this town's history home with you.
DIP YOUR TOES IN ARROWTOWN'S HISTORY ON OUR PREMIUM SOUTH ISLAND TOURS
Browse the high street shops
Looking like something straight out of the Wild Wild West, the main street of Arrowtown has been perfectly preserved to reflect a small slice of the history this beautiful town is known for. Arrowtown is dotted with shops filled with lovely gifts, funky trinkets and quirky 'can't-go-home-without-thems', a shopping experience like no other.
From fashion boutiques to art galleries and from jewelers to confectionery shops, this high street has a little bit of everything and guarantees you'll take home a unique souvenir of your time in this charming city.
If the historic walking tour wasn't enough history for you, then you'll certainly have your fill at the award-winning Lakes District Museum. Located right on the main street, this historic hub provides an insight into Arrowtown's gold mining and early settler past, helping to paint an authentic picture of the daily life, struggles and celebrations of the people who lived in this region.
With exciting and informative exhibits depicting stories of European settlement and the bustling gold rush era of the 1800s, this museum is not only for history buffs, but also for those seeking a deeper understanding of this fascinating city and its place in currently.
Take a walk on one of Arrowtown's many trails
Arrowtown is recognized as part of Tohu Whenua, a place that has helped shape New Zealand and connect the people of today with stories from the past, and once you walk through it, it's not too hard to see why. Choose from fifteen trails that take you past mountains, forests, lakes and rivers and make you enjoy the fresh air and the sounds of nature unfolding around you.
Whether you want to walk for an hour or prepare for a six-hour round trip, Arrowtown has some of the best hiking trails, including the Arrow River Trail, the Big Hill Trail, and the Lake Hayes Trail, to keep the explorer in you satisfied.