From the whimsical wonderland of Nautilus to the buzz of Seabean Tapas, these are the best restaurants in Port Douglas.
What better way to end the perfect day of fun exploring or relaxing on the beach than to satisfy your taste buds at one of Port Douglas's best restaurants. We are waiting.
Guaranteed to fill your stomach (and have you dreaming of coming back the next day for more), we've put together a list of the best Port Douglas restaurants you simply have to dine at if you want the full tropical culinary experience.
Whether you fancy a seafood feast or prefer to try some Mexican food, Port Douglas has a whole heap of good options, both for casual dining and for something a little more sophisticated.
The best restaurants in Port Douglas
Offering a genuine, elegant dining experience like no other, this iconic Port Douglas restaurant welcomes guests along a hidden path surrounded by lush, tropical gardens and places them in the middle of an outdoor oasis that feels like it's straight out of Neverland. Offering modern Australian cuisine with subtle Asian and European influences, enjoy the fresh and local ingredients while gazing up at the stars. With a relaxed atmosphere and dishes featuring Moreton Bay Bug Tails and Coral Trout, this dining experience is one you'll never forget.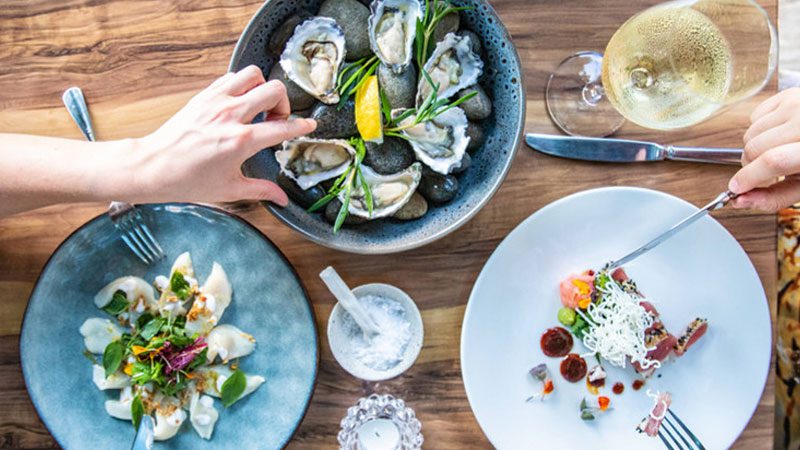 Take your taste buds on a culinary journey at Melaleuca, a modern Australian restaurant that uses fresh, local ingredients to both satisfy your cravings and fill your belly. Run by award-winning executive chef Adam Ion and his wife Nahmee, this fine dining destination prides itself on creating an inviting and vibrant atmosphere with entrees starting at $32 for the gnocchi and going up to $44 for the flame-grilled eye fillet. Serving both lunch and dinner, Melaleuca is a top choice among locals looking for a great place to enjoy the best produce Port Douglas has to offer.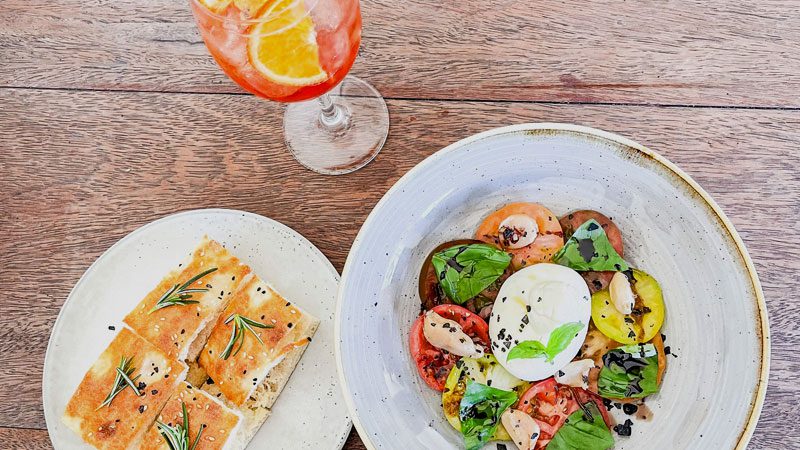 While fancy restaurants are good every now and then, sometimes you just need to have a meal in a casual, relaxed atmosphere and The Little Larder is the perfect place to do just that. A cozy place to refuel in the morning before a big day of exploring (who doesn't love a good rhyme!?), this cafe spot offers the best breakfast with options including the 'Nutcase Smoothie Bowl' and the 'Vietnamese Crab Omelet' . Pair your choice with a fresh juice, a classic milkshake or a freshly brewed latte to ensure you start your day the right way.
When it comes to wanting a culinary experience that's miles above the rest (literally), Osprey's Restaurant is that place to go. Located at Thala Beach Nature Reserve, Osprey's offers the chance to 'eat amongst the treetops' in a truly unforgettable culinary experience. Open for breakfast, lunch and dinner daily, this unique restaurant allows you to dine on a seasonal menu carefully curated by Head Chef Richard Howard while enjoying the breathtaking Great Barrier Reef. With menu items like 'Popcorn crocodile' and 'Duck pappardelle', your taste buds will not only thank you, but sing your praises to anyone who will listen.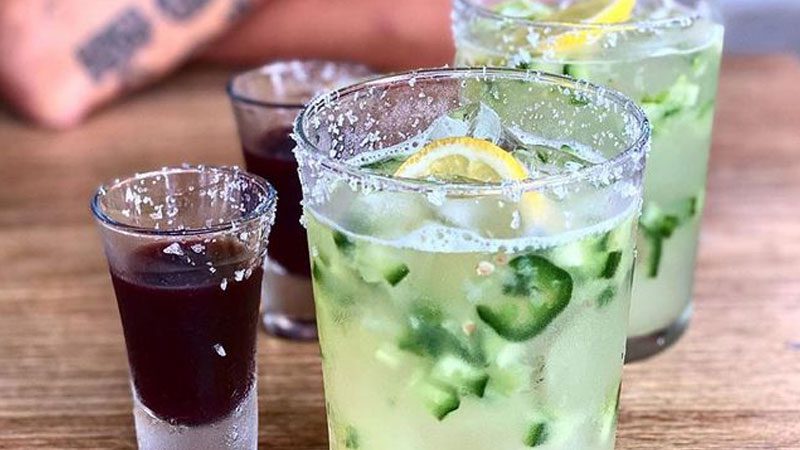 You could be forgiven for thinking that because you're in a tropical destination surrounded by sparkling waters full of tasty seafood, that other cuisines won't be available. Fortunately, that's not the case as The Mexican is a Port Douglas staple when it comes to offering tasty food to tourists and locals alike. Founded by a husband-and-wife team back in 2015, this casual and funky restaurant offers fresh, tropical ingredients in a variety of dishes meant to be shared while drinking a margarita or two.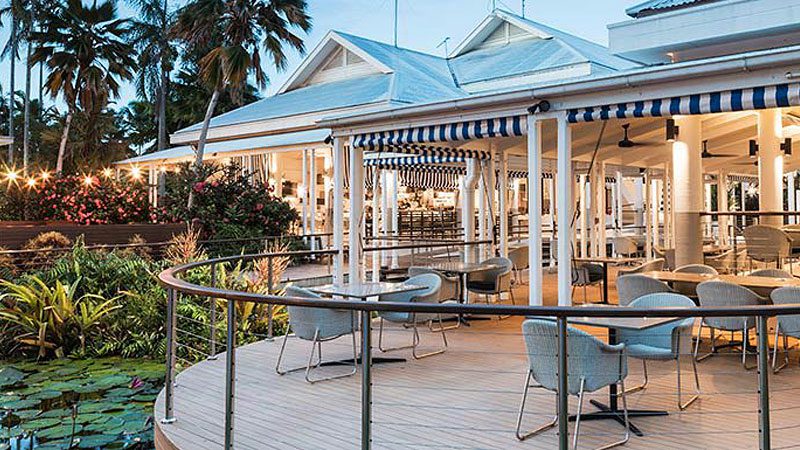 If you're after dinner with a view, then Oak and Vine, located in the Oak Port Douglas Resort, should be at the top of your list. Perched on the edge of the edge of the beautiful pool and right under the stars, this restaurant offers a relaxed and casual dining experience that you won't forget in a hurry. Open for both breakfast and dinner, Oak and Vine offers a menu full of fresh, local ingredients with dishes including classic burgers and wood-fired pizzas.
Beach vibes and fine dining combine to create a truly inviting atmosphere at this laid-back beachside café. Located in the iconic area of ​​Four Mile Beach, The Beach Shack is proud to offer guests fabulous food and a wide selection of fine wine. Designed to be the ultimate place to relax, this cafe offers a menu of all your favorites, including pizzas (available for both dine-in and takeaway) as well as smaller plates filled with popcorn chicken and saganaki. Yum.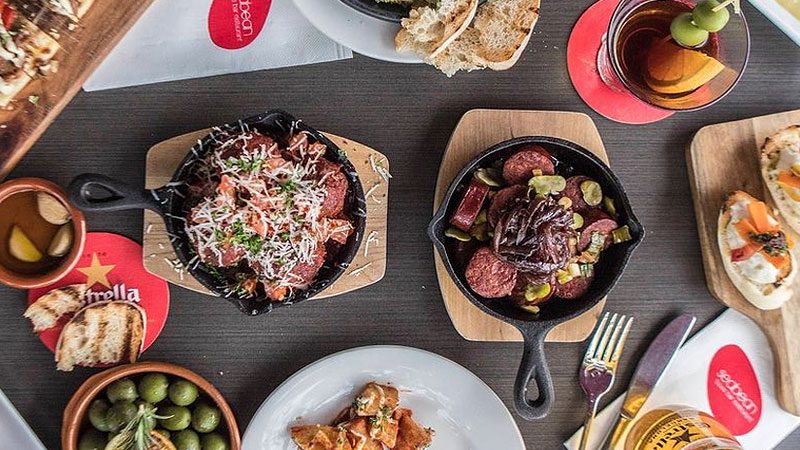 Grab food and sip wine as long as you like at the Spanish tapas bar, Seabean Tapas. Don't be completely shocked if you feel like you've suddenly set foot in Barcelona, ​​​​​​​​as this cozy but busy restaurant offers dishes that draw on Mediterranean flavors, with paella and tacos being among the most popular. But why stop at food? Treat yourself to a drop of sherry, a glass of Spanish wine or a pitcher of sangria in a relaxed setting that encourages good times with your best friends.
HAVE THE OPPORTUNITY TO EAT AT THESE RESTAURANTS ON OUR PORT DOUGLAS TOURS