From peeking into William Wordsworth's former home to drinking local craft brews with stunning views, there's so much to see and do in the Lake District.
You'd be wrong to think that lakes, walks and stunning views are the only things on offer in the Lake District. By all means, if you want to spend your days walking or cycling the mountains and filling up your camera with pictures that will make your mates really jealous, there's more than enough to go around. But the villages and towns dotted across the Lake District are full of cozy pubs, eateries, quirky museums and theatres, and there are plenty of ways to divide your time outdoors. Here are some of our favorite things to do in this beautiful national park.
1. Hike some of England's finest landscapes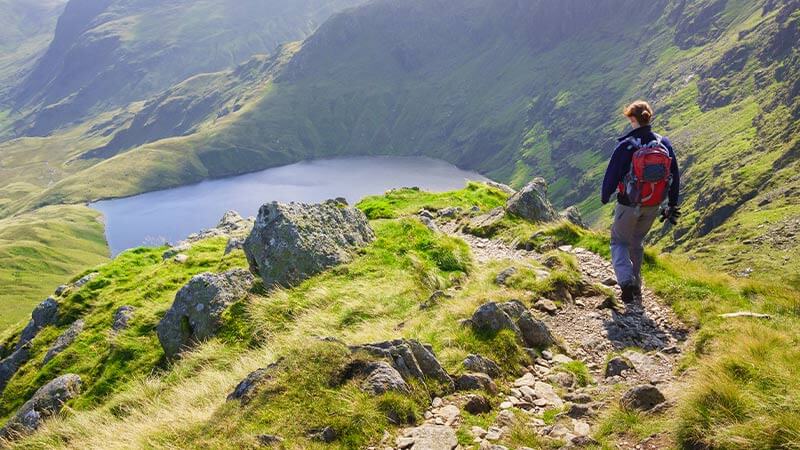 We can not does not mention walking in the Lake District. The trails here offer some of the most impressive views in the UK. Think craggy mountains (or "fells" as they say in the north of England), rolling green hills, mossy forests and sparkling lakes. There are trails for all levels and abilities (including 48 paved accessible trails), whether you fancy a leisurely stroll to a beautiful picnic spot or challenge yourself by climbing the highest peaks.
At 978 meters high, Scafell Pike is England's highest mountain and you can imagine the view from the top is quite something. Always make sure you have the right equipment and keep up to date with the weather forecast when hiking in the mountains – it can get very windy and wild up there!
2. Have a brew at Keswick Brewery
You deserve a pint (or two) after a day of walking. Keswick Brewery produces a range of award-winning beers, bitters and cask hops in the heart of the Lake District. They also brew limited edition seasonal beers, so be sure to ask the friendly bar staff what's on offer. If you are a beer lover, you can also take the brewery tour – every Tuesday-Saturday at 11.30am and 1.30pm – to get a sneak peek (and taste) of what goes on behind the scenes. Psst, you can even find out how – and why – they use sheep's wool in their brewing process. It sounds strange, but it makes sense.
3. Shop like a local at Keswick Market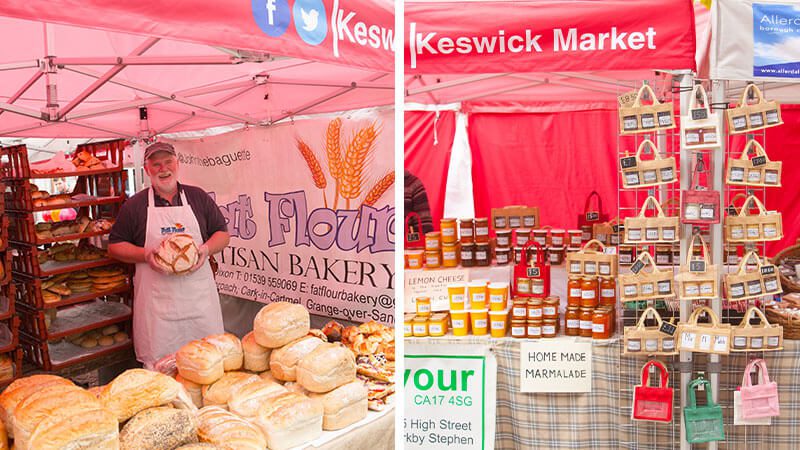 Who doesn't love a local market? If you're around on a Thursday or Saturday morning, a trip to Keswick Market is a must. It has been running for over 700 years and is known as the best market in the Lake District. You will find everything from locally grown fruit and vegetables, fresh fish and artisanal bread to handmade clothes, shoes and art. You can also pick up delicious takeaway food for brekkie or lunch, or delicious things to pop in your picnic basket. The town is really busy on market day and it's worth a visit even if you don't buy anything.
4. See a show at Teater ved Søen
Situated on the shores of tranquil Derenwater, picturesque backdrops for a theater don't get much better than this. Theater by the lake started as a mobile theater called Blue boxes after the Second World War and it quickly became a hub for creatives in Cumbria and the North of England. It has hosted hundreds of plays and exhibitions as well as countless literature, film and music festivals. After watching a show, grab a bite in the Lakeside Restaurant or head out onto the patio for a glass of vino.
5. Get a tip at the Drunken Duck Inn
With wood-beamed ceilings, comfy sofas and a roaring fireplace, The Drunken Duck Inn is the perfect place to grab a bite and relax. The gastropub menu offers hearty favorites such as Scottish haddock soup, leek and artichoke pie, baked cod with green peppercorn sauce and game bourguignon suet pudding. They also do sharing boards, small plates and pub snacks if you fancy something lighter. Wash it down with a strong bitter or ale brewed at Barngates Brewery next door.
6. Follow in Beatrix Potter's footsteps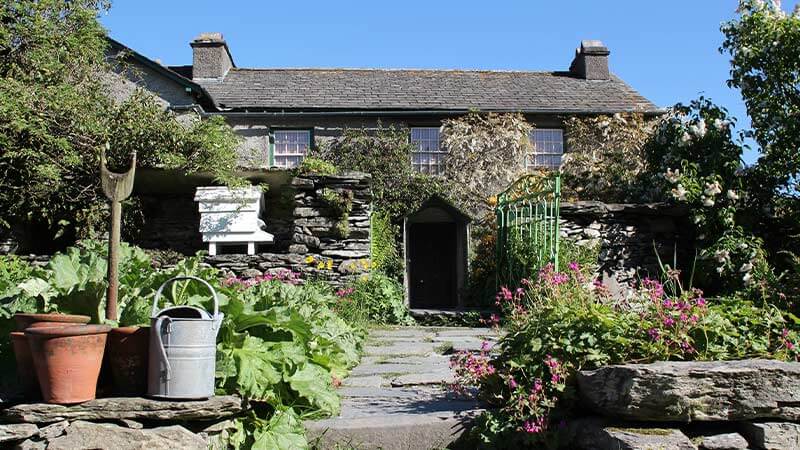 Hill Top is the former home of beloved children's author, Beatrix Potter. Potter loved the Lake District ever since she first visited as a child on a family holiday. She bought this charming 17th century farmhouse using the royalties she earned from it The Tale of Peter Rabbit. Even after marrying and moving in with her husband, Hill Top was Potter's special place that she retreated to and filled with her most treasured possessions.
You can visit the charming Hill Top Cottage to experience what inspired the tales of Peter Rabbit, Miss Moppet and Jemima Puddle-Duck. Peek into the rooms where Potter spent her days, see her most beloved furniture and objects, and stroll the beautiful garden filled with flowers, herbs and vegetables. You can also use the National Trust's Beatrix Potter Trail app to explore her favorite spots across the Lake District.
7. Put into Grasmere gingerbread
You know the ginger flavored treat – often shaped like a person with frosting on their face and candy buttons? Turns out it had humble beginnings. This much-loved treat was reportedly born at Grasmere Gingerbread Shop in 1854 at the hands of the Victorian cook, Sarah Nelson. The shop is run by third-generation owners in Sarah's original summer house. Don't worry if you get lost, as the sweet ginger aroma in the air will guide you. If there's anywhere you can treat yourself to some gingerbread with your afternoon cuppa, it's here in Grasmere.
8. Look into the world of William Wordsworth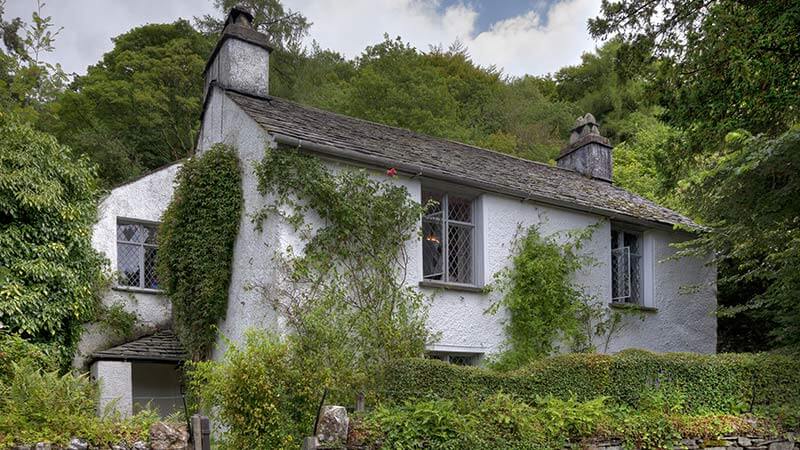 Dive into the world of the world-famous poet William Wordsworth. Dove Cottage is where much of the literary magic happened and you can look into the rooms where Wordsworth wrote some of his greatest works. Using extracts from Wordsworth's poems, letters and journals, Dove Cottage has been brought back to life for an immersive experience with the sounds, smells and sights that Wordsworth experienced here all those years ago. The surrounding grounds and gardens are absolutely idyllic and it is not hard to see how this place was such a great source of inspiration.
9. Cycle around the Lake District
From gliding through the charming villages of Ambleside and Bowness-on-Windermere to riding along the calm waters of Buttermere and Derwentwater, cyclists are spoiled for choice in the Lake District. If you're looking for more challenging routes, climb the serpentine slopes of Honister Pass and Newland Pass. The climb is worth it when you hurtle down the hill and feel the wind tickling your cheeks. Keep a close eye out for nesting ospreys and – if you're really lucky – the reclusive golden eagle.
CYCLE THROUGH THE ICONIC LANDSCAPES OF THE SOUTHERN DISTRICT
10. Take a steamboat across Lake Windermere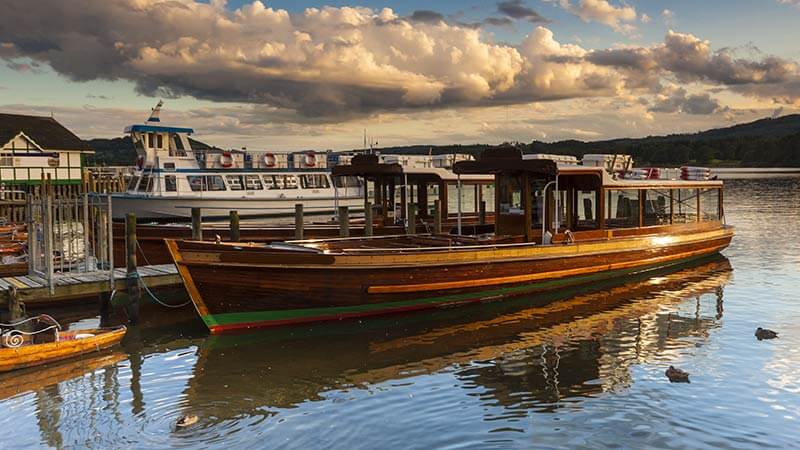 We don't like favourites, but we will make an exception for Windermere. It is one of the Lake District's most beautiful lakes with picturesque lakeside villages, pebble beaches and towering mountains as a backdrop. Take a trip across the water on a steamboat (an old steamboat) or rent a rowboat to explore at your own pace. You can even explore the lake on a standup paddleboard. If the weather isn't on your side, there are plenty of cafes, pubs and shops nearby where you can curl up and admire the lake indoors.
11. Go wild swimming
Most people see the Lake District from the footpaths, so why not get a different perspective from the middle of a mountain lake. Plus, wild swimming is one of the fastest ways to recharge your batteries and put a spring in your step. From the great waters of Windermere and Buttermere to small tarns (glacial ponds) and emerald pools at the foot of waterfalls, the park is full of places to take a dip. Cold? You could say the water is a bit 'fresh' up here, especially in the winter, but once you're in, you're in. If the cool water doesn't take your breath away, the view certainly will.
12. Visit the ancient Castlerigg Stone Circle
England has over 300 ancient stone circles, but Castlerigg is one of the oldest and most magical. This Neolithic site was built around 3000 BC, making it older than Stonehenge. The 38 stones are believed to have been a social gathering place, trading station or astronomical observatory for the people of the time. When you stand near these ancient stones, you stand among 5,000 years of history. The impressive views of Skiddaw and Blencathra Hill are equally impressive. We recommend going at sunrise or sunset to see the sun peeking between the mountains.
Experience these fantastic places and sights for yourself on one Lake District tour.