During our three months traveling around Tasmania, we managed to tackle a lot of incredible adventures here.
One of our absolute highlights was the Mt Amos walk in Freycinet National Park.
We had heard a lot about this walk (our local mate even told us it was his favorite short walk in all of Tasmania) so when we started driving our way down the east coast we made sure to lock in a few days here to make the ascent.
Not for the faint of heart, the Mount Amos walk is a short but steep rock trail that navigates its way up polished granite boulders, through native bush and onto the summit, where hikers are rewarded with panoramic views of Wineglass Bay and the southern Hazards. Mountains on the east coast of Tassie.
We knew the views would be incredible, especially if we got good weather, so we decided to take on the challenge of climbing Mt Amos for sunrise.
Mount Amos Hike, Freycinet National Park
Time: 3 hours
Distance: 3.6 km return
Difficulty: Moderate (not safe in wet weather)
Our alarm went off at 03:45 and despite the freezing weather and darkness, we dressed in our hiking gear and headed to the base of Mount Amos.
Leaving the van in the parking lot, we grabbed our cameras, some water, headlamps, extra layers and started the Mount Amos hike.
The track started off fairly easy and with the beams of light from our head torches illuminating the path we pushed through bushland before gaining altitude.
Soon enough we hit the first one granite section, and following the reflective yellow markings on the rock slabs we crossed across and up the boulders.
At times we found ourselves almost on all fours, struggling to grip the granite mountains in the early morning mist.
READ MORE: Looking for more hiking in Tasmania? Don't miss our comprehensive guide to hiking on the Overland Track in Cradle Mountain National Park!
The sky was dark and visibility low so we took our time walking the smooth Mount Amos course.
As we neared the summit, the bushes grew denser and the wind increased in ferocity.
With a final push we scrambled over the last boulders and reached the top in just over an hour.
The wind was fierce and skin-deep in the freezing temperatures, and we took shelter under a large rock while we waited for the sun to rise.
There were already a few early risers up there, all photographers, and as the landscape began to light up below us, we all jumped away.
The sun peaked above the horizon casting its golden rays across the sparkling sea of ​​Wineglass Bay and the Freycinet Peninsula below us was a sight to behold.
The view was as magical as we could have hoped for and we would go so far as to say it might be one of the most amazing coastal views in all of Australia.
Don't you believe us? Check out our video of the Mount Amos hike below!
Once we had taken all our pictures of Wineglass Bay below us, we started to climb back down.
It was only then, in the light of day, that we could see what we had climbed a few hours earlier.
The granite mountains are bare and steep, and one wrong move could potentially send a weary hiker dozens of meters straight down.
We took our time on the descent, making sure our feet were properly anchored on each step.
It was just under an hour to get back to the parking lot where we said goodbye to some new friends we met on the way down and headed down to the beach to make coffee.
The incredible Mount Amos hike was without a doubt one of our highlights things to do in tasmaniaand we are so glad we went for the sunrise tour.
If you're looking for a truly adventurous experience with an epic reward in a limited time frame, you can't go past climbing Mt Amos in Freycinet National Park.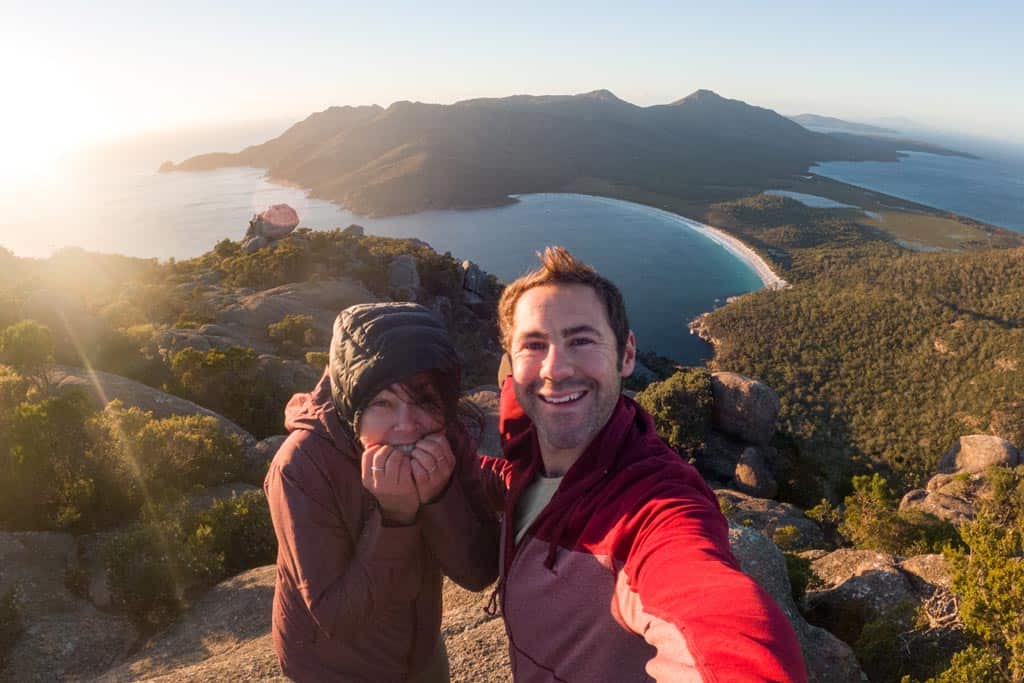 Mount Amos Trail conditions
Despite being only a short trail at 3 hours return, including time on the summit, the Mount Amos hike is quite challenging thanks to the slippery and steep terrain.
Parks Tasmania classify the Mount Amos track as Grade 4, just below the Cradle Mountain summit walk, and recommended only for people with bushwalking experience.
In bad weather, the hike on Mount Amos would be very dangerous, bordering on impossible, as the granite rocks lose all grip with the slightest hint of moisture.
Under no circumstances should you attempt to climb Mount Amos in wet conditions.
If it rained the day before or rain is in the forecast, skip this track and consider instead Wineglass Bay walk in Freycinet National Park (which we also have a great guide on).
There are yellow reflective markers to guide you up the mountain and these are easy enough to follow, even in the dark.
There are a few sections where you will climb on all fours.
The trail to the Mount Amos summit is steep and strenuous, but once you reach the top the panoramic view is worth it. Just take your time and be careful.
There are no facilities on the Mount Amos hike. We recommend going to the bathroom in the parking lot before going for a walk to Mount Amos.
Mind you, this is not the Wineglass Bay Lookout in Freycinet National Park, but the views are even better.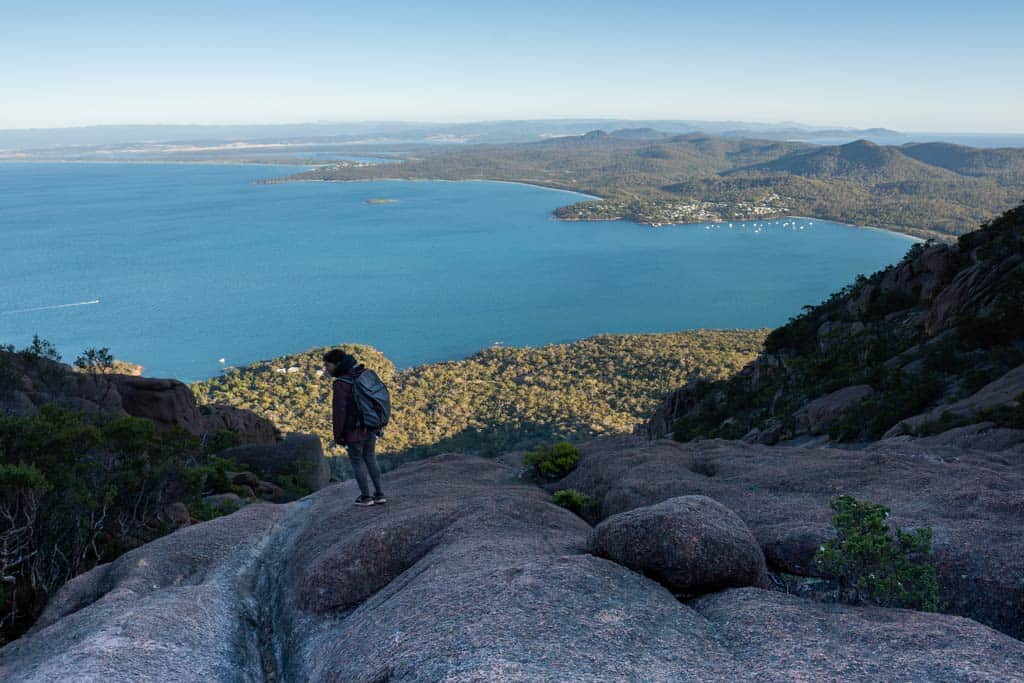 What to bring for the Mt Amos trek
It's only a couple of hours' walk and departs directly from the parking lot, so you don't need to pack a lot of stuff when hiking Mount Amos.
Here's what we recommend packing for the Mount Amos summit hike.
Comfortable day pack
Supportive and grippy hiking boots (no straps)
Comfortable walking shoes, trousers/shorts and a shirt
Water (at least 1.5 liters per person)
Sun cream
Hat
Sunglasses
Snacks or lunch
Fleece if you do sunrise
Rain jacket (just in case)
Camera
How to get to Mount Amos in Freycinet National Park
Mount Amos is located in Freycinet National Park on the east coast of Tasmania, Australia.
If you're flying into Tassie, it's about a 3-4 hour drive from either Hobart or Launceston to get to the Freycinet Peninsula.
You can access the national park via the Tasman Highway (A3) towards Bicheno and turn off onto the Coles Bay Road (C302) for Coles Bay.
As this is a popular tourist destination for many people on their way to the top places to visit in Tasmaniaare there signs along the way to direct you.
For the entrance to Freycinet National Park, drive through the town of Coles Bay to reach the Freycinet Visitor Centre.
Once you have your National Parks Pass, you will need to drive a further 3.3 km to get to the Mt Amos Track car park. It is the same place that the Wineglass Bay Walk departs from.
The road is sealed all the way from the Tasman Highway, right through Coles Bay and onto the Freycinet Peninsula.
Please drive with caution as there are many native animals on the road, especially at dawn or dusk.
If you don't have your own car is there guided tours from Hobart which also goes out to Freycinet National Park.
The best way to get around is to rent a car and explore on your own! We recommend Rental carswhich has the largest selection of vehicles at the best value on the market.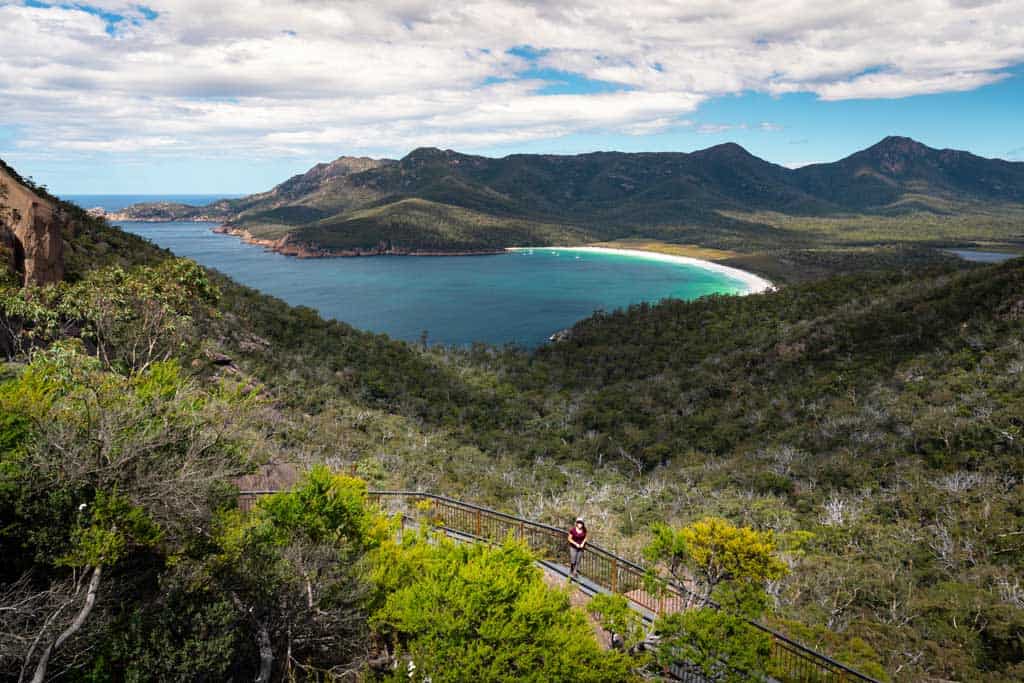 Where to stay in Freycinet National Park
The Freycinet Peninsula has limited accommodation options, so be sure to book in advance if you want to stay in the national park.
Accommodation in Freycinet National Park
Accommodation in Freycinet National Park and Coles Bay ranges from budget to luxury, but even if you choose the cheapest options, you'll still be paying more than most places in Tasmania.
Here are our recommendations for this part of Tasmania's National Parks. Remember to pre-order online as far in advance as possible, especially in the summer.
Budget
Definitely check out BIG4 Iluka Holiday Centre for the best value in town.
Middle class
Our personal favorites for couples and families are Acacia Cottage and Mason Holiday House.
Luxury
If you want to stay at the absolute best resort in the area, and one of the best in Australia, then check out Sapphire Freycinet.
Camping in Freycinet
There are a few options for camping in the area, but you need to get there fast.
As this is a popular destination, campsites can book up and you may struggle to sleep somewhere overnight.
The national park campsite, located behind the Freycinet Visitor Centre, has limited powered pitches.
Call the information center on (03) 6256 7000 or email [email protected] to make a reservation.
Check out our guide on camping in Tasmania while in the state.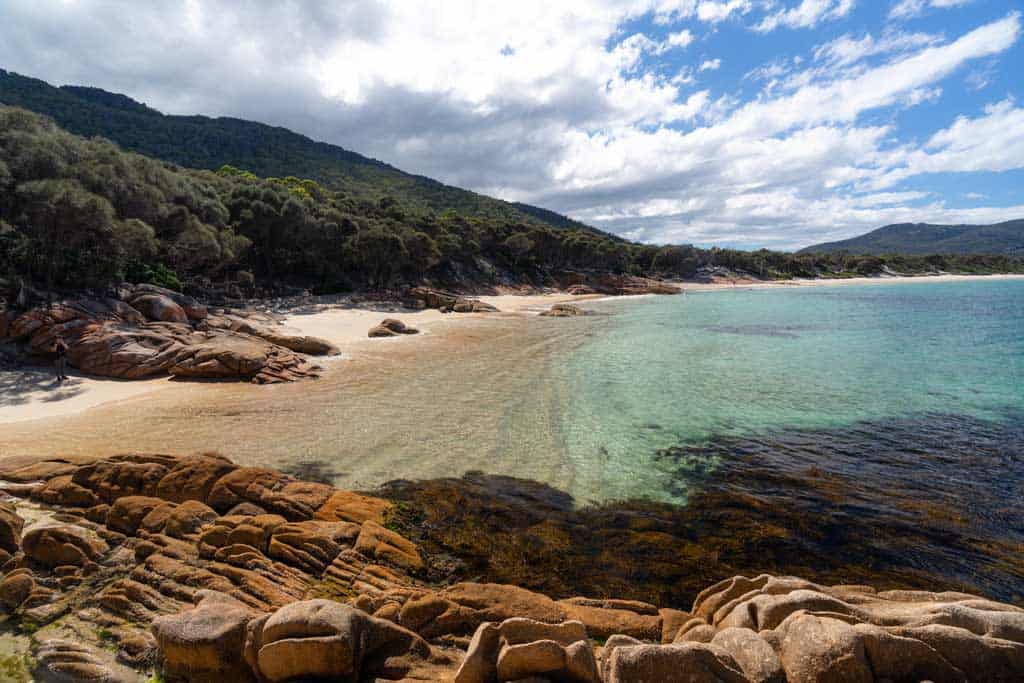 Camping in Coles Bay
You have a few options in Coles Bay, but you may need to pay or get there early or out of peak season for the free camps.
Freycinet Golf Club costs $10 per night with a flush toilet in the nearby clubhouse. Independent vans only.
River and Rocks Campground is free and is located at the entrance to Moulting Lagoon.
DISCLAIMER: Some of the links in this article are affiliate links, which means that if you book accommodation, tours or buy a product, we will receive a small commission at no extra cost to you. These commissions help us keep creating more free travel content to help people plan their vacations and adventures. We recommend only the best accommodation, tours and products, and review these regularly. Thank you for your support, kind friend!