Fried potatoes, bell peppers, onions, cheesy scrambled eggs and sausages, what more could a hungry camper ask for for breakfast?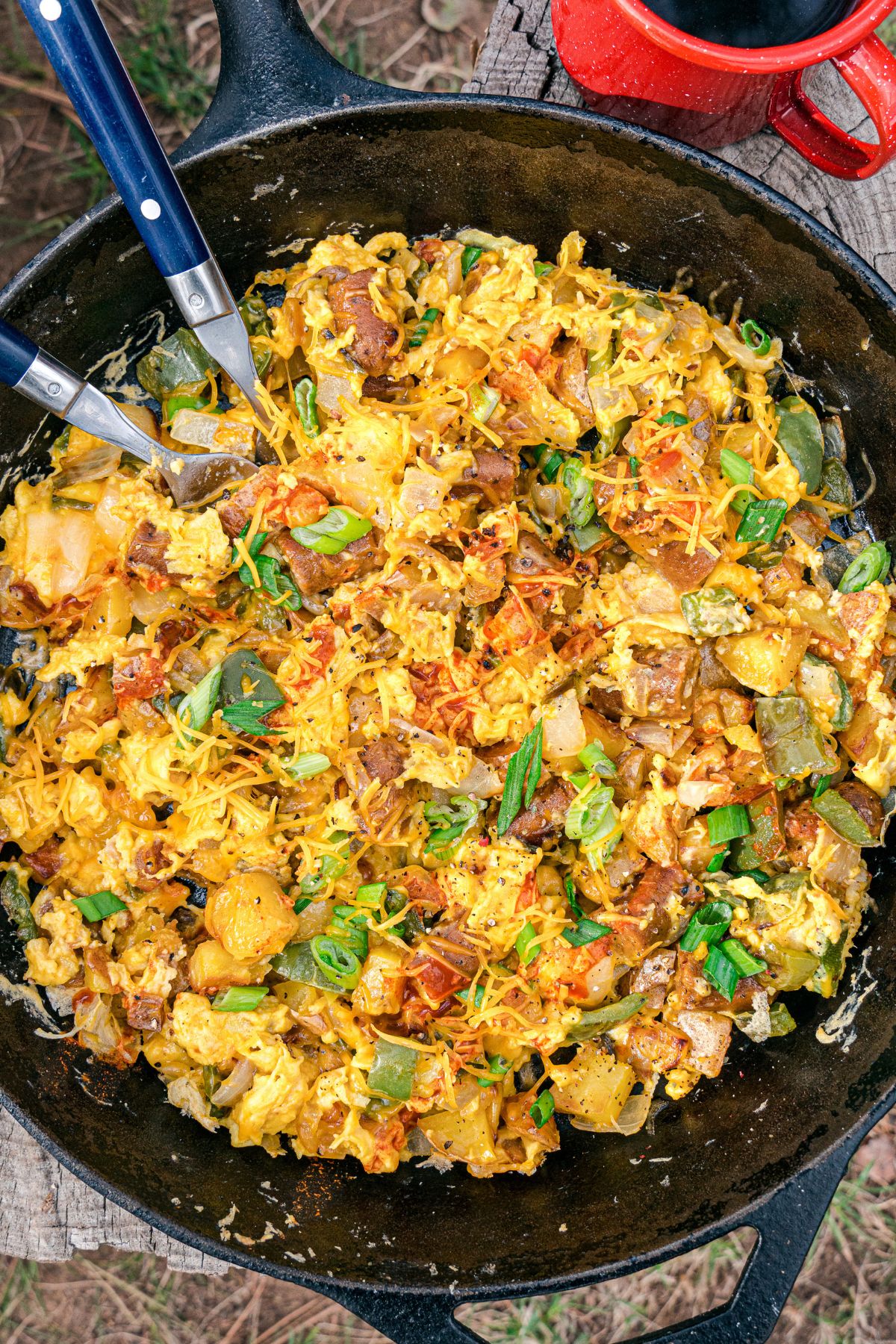 A cross between a potato hash and a cheesy frittatathis classic camping breakfast is often referred to as a "Mountain Man Breakfast". We have no idea where the name came from (and apparently neither does Google), but what we do know is that it's incredibly easy to make, super satisfying to eat and quick to clean up. All you need is a single frying pan!
For the flavor profile of this recipe, we wanted to keep things firmly in the "Classic Americana" category, so we went with golden potatoes, green peppers, yellow onions, garlic, maple sausage, and cheddar cheese eggs. The end result is a mash-up of some of the best tasty breakfast flavors, all in one bite!
So if you are looking for a simple, a frying pan breakfast that's full of protein, then you'll definitely want to try this breakfast casserole!
ingredients
Potatoes: We suggest using waxy potatoes like Yukon Gold, Red, New or even fingerling potatoes. They will retain their structure even when pan-fried.
Pepper and onion: Use any color pepper if you want to keep the flavor mild, or for a little extra heat, consider using an Anaheim or Poblano pepper. For the onions, we like to go with a classic yellow. But white or red would work too.
Cheese + Egg: One of the signature parts of this breakfast is the cheesy scrambled eggs.
Breakfast sausage: Lots of options here to choose from: links or crumbles, mild or spicy, meat or vegan. They will all work, so it's up to you.
Spices: Salt, Pepper, Garlic powder.
Toppings: Sliced ​​scallions, jalapeños, cilantro, hot sauce, more cheese… The sky's the limit!
Equipment
Cast iron pan: For breakfast hash like this, we recommend using a large one cast iron pan. We used our 12″ Lodge skillet (a 10″ would work too). You can use it over a campfire or campfire and it does a great job of radiating heat, which can help speed up the cooking time for the potatoes. Just make sure to add a little extra oil before trying to scramble the eggs.
Prepare potatoes, peppers and onions
The smaller you cut your vegetables, the faster they will cook, but if you go too small, they will be difficult to pick up with a fork. We aim for about 1/2" cubes, which we think are just big enough to pick up easily, but also don't take all morning to cook.
Start with a little oil and the potatoes. When the potatoes have had a 5-minute head start, add the peppers and then the onions.
Add the sausage
If you're using uncooked meat sausages, you'll want them at the same time you add the onions. But if you are using pre-cooked or vegetable sausages, you can wait until all the vegetables start to look almost done and then add them just to heat them up.
Stir the eggs together
For scrambled eggs, make sure to beat the eggs thoroughly. You want to make sure the whites and yolks are fully integrated. This is also a good time to add grated cheese (although reserving some extra for topping is recommended).
Before adding the egg mixture, reduce the heat, put the vegetables to the side of the frying pan, add a little oil in the middle and then pour the mixture in. Keep the eggs moving with your frying pan until they start to set, then integrate with the rest of the the vegetables.
Toppings
You have many options when it comes to extra toppings. Sliced ​​scallions and extra cheese is what we went with. But cilantro, jalapenos, hot sauce or bacon bits would all work!
2

tablespoonfuls

oil

,

divided

½

pound

Yukon gold potatoes

,

cut into ¼"-½" cubes

1

green pepper

,

in dice

1

yellow onion

,

in dice

½

teaspoonful

sea ​​salt

¼

pound

sausage

,

about 6 links

6

egg

1

cup

grated cheddar cheese

Chopped green onions, ground black pepper and hot sauce

,

to serve
Avoid your screen going dark
Heat a large frying pan over medium heat and add 1 tbsp oil. add potatoes and cook, turning occasionally, until they begin to brown, about 10-15 minutes.

Add another tablespoon oil and green pepper. Sauté for 5 minutes until it starts to soften, then add onion and salt. Saute for about 5 minutes until the onion is soft and begins to color. add sausage and cook until browned.

Beat thoroughly egg in a bowl. When all the vegetables are soft and browned, lower the heat and push them to the sides of the pan. Add a bit of oil to the center of the pan, then add egg and grated cheese to the frying pan. Use your spatula to stir the eggs until they set. Then return the vegetables to the mixture.

Remove from heat and top with sliced ​​green onions, cracked pepper and hot sauce (optional).
Serves: 4portions | Calories: 444kcal | Carbohydrates: 18g | Protein: 26g | fat: 30g | Fiber: 2g | Sugar: 4g
*Nutrition is an estimate based on information from a third party nutrition calculator