Picking a country out of a hat was soooo last year.
So you have chosen the continent (Asia), but can't settle for the country you want to explore. Don't worry, this is an incredibly common problem. Like how to choose between the different landscapes in Malaysia or Indonesia's paradise-like island Bali?
That's where we come in. To help you on your way to decision-making success, we've put together a guide that compares these two spectacular countries, so you don't have to spend all your free time Googling. You're welcome.
Whether you're more interested in customs and culture, or your taste buds are already salivating at the thought of traditional cuisine, this blog will determine which country you visit next. Fingers crossed.
Culture
You don't just get one culture when you travel to Malaysia, you get several. With Indian, Chinese, Malay and Eurasian influences, Malaysia is truly a melting pot of cultural diversity and with that comes plenty of traditions, religions, foods, languages ​​and customs.
But regardless of your ethnic background, there are some things in Malaysian culture that all groups embrace. The older demographic is respected and well cared for, as are those who rank higher in society (great financial wealth, government officials, etc.), and food is often used in religious ceremonies and celebrations.
The religions found in Malaysia vary from Buddhism and Hinduism to Christianity and Islam, and most beliefs are widely accepted among the wider population, even if they are not part of that religion.
EXPLORE MALAYSIA ON OUR SABAH ADVENTURE
If you thought Malaysia's culture was diverse, multiply that by 10 and you have Indonesia's culture. With people hailing from all over the world, including India, Portugal, China and Malaysia, Indonesia is influenced by its neighbors when it comes to religion, cuisine and lifestyle.
But despite the great difference in language groups (there are over 300) and ethnic groups among the population, this country's bond is strengthened towards a common concept with its national slogan – Unity in Diversity. This core value is filtered through communities with ideas about gotong royong (mutual assistance) and agreeable (consensus) dictates everyday life.
Religion plays a bigger and stricter role in society for the majority of Indonesians, as everyone has to choose a religion, which is then written on their national ID card. The majority of Indonesians practice Islam (about 88%), but Hinduism, Buddhism, Christianity and Confucianism are also widespread.
EXPLORE INDONESIA ON OUR BALI AND LOMBOK ADVENTURE
Landscapes
The landscapes of Malaysia are out of this world – think golden sandy beaches, reefs bursting with marine life, thriving highlands and cities bursting with life and colour. Thanks to its environmental diversity, you'll never run out of fascinating things to do and extraordinary places to see.
If you're after a "busy city" vibe, a trip to Kuala Lumpur will satisfy you with its skyscraper-filled skyline, trendy cocktail scene and malls filled with every store under the sun. If green is more your thing, then you'll instantly fall in love with the rocky spectacles and ancient forests of Gunung Mulu National Park in Sarawak. If you just want a beach holiday, the islands of Pulau Perhentian offer that and more with exotic marine life below the surface and enough sea activities to fill your afternoons.
RELATED: HOW TO SPEND 48 HOURS IN KULUA LUMPUR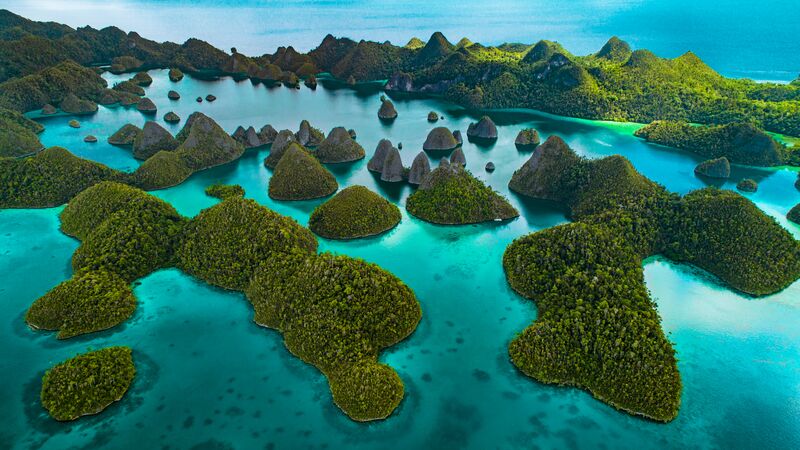 Indonesia's landscapes are guaranteed to leave you in awe of dense tropical forests, endless rice paddies, volcanic mountain ranges and pristine coastlines among the natural wonders you won't be able to get out of your mind. With over 17,000 islands including Bali, Sumatra and Java to explore, Indonesia promises landscapes that have something for everyone.
From the breathtaking shape of Mount Bromo in Tengger-Semeru National Park (Java) to Komodo National Park (part of the New Seven Wonders of the World) with its rich marine ecosystems and the impressive Komodo dragon, this diverse archipelago will never stop being fantastic. you. And that is a promise.
Join OUR BEST TOUR OF INDONESIA
Kitchen
There are few countries that can compete with food like Malaysian cuisine or with the passion of Malaysian people when it comes to food, and for good reason.
Due to its diverse population, Malaysian cuisine draws heavily on its Asian neighbors with favorites such as murtabak (fried bread stuffed with meat and onions), roti canai (a crusty flatbread often served with a tasty dipping sauce) and ayam madu (honey fried chicken) all originally from another country.
But that's not all. After a full day of exploring, sit down to a meal of nasi lemak (considered Malaysia's national dish), a bowl of laksa or a plate of mee siam if you're in the mood for something a little sweet and spicy.
And wash it down with a glass of luftbandung – a condensed milk and rose syrup concoction – enjoyed across the Asian continent.
Join OUR BEST OF BORNEO SMALL GROUP TOUR
Indonesian food is a delight for the taste buds with traditional dishes filled with rice, meat and vegetables – a winning combination. You're probably already familiar with some of the most popular foods to try in Indonesia (such as satay and beef rendang), but sitting down to eat them in their country of origin is different.
Rice is a staple food for most Indonesian families, so you'll find it on any restaurant or cafe menu throughout the country. But if steamed rice isn't your thing, why not try Indonesia's famous nasi goreng? Titled Indonesia's national dish, nasi goreng is essentially this country's version of fried rice, but what sets it apart from the versions of its Asian neighbors is the sticky, sweet sauce in which it is cooked.
If you're thirsty (as well as hungry), a cup of tea or coffee should do the trick when it comes to raising those hydration levels. While they might not sound super refreshing after a long day exploring, Indonesia's versions are sweeter than you might be used to, making them the perfect accompaniment to any meal.
RELATED: WHAT TO EAT IN INDONESIA
The verdict
Both Malaysia and Indonesia are similar in so many ways and although it can be difficult to tell them apart, they have their own distinct feel. Indonesia probably takes the top spot when it comes to scenery, but both countries are pretty tied in terms of cuisine and culture.
This one is tough, but Indonesia, take your crown.