It's no secret that New Orleans has a troubled and haunted past, but these famous cemeteries are at the top of the grave when it comes to the creepiest places to visit.
Known for its dark and sometimes twisted history, New Orleans is not only home to tales of vampires and voodoo, but it's also home to tons of haunted places from slave killer houses to haunted hotels. But some of the most famous cemeteries in New Orleans also happen to be some of the most haunted places to visit if you're looking for an otherworldly encounter.
So whether you are thinking about which optional activity to do at our Southern Comfort USA Tour or want to spend a little more time in the Crescent City after your tour is over, why not explore both the history and beauty of these cemeteries while listening to a ghost story or two. Who knows? You might even have the fright of your life.
Originally built in 1789 to replace an existing cemetery, St. Louis Cemetery was a popular place for people to bury their dead and is now the oldest standing cemetery in New Orleans. Although this cemetery is the final resting place of prominent historical figures such as New Orleans' first mayor and the famous 'Voodoo Queen', Marie Laveau, it also houses people who were both poor and wealthy at the time of their deaths.
Due to constant vandalism, the cemetery closed its doors to outsiders, despite the fact that it is still an active burial site. Now the only way to see the cemetery and the 700 graves inside is by taking a tour with a licensed guide, adding to the eerie atmosphere that surrounds this historic site.
Henry Vignes
There have been reports of many ghosts lurking around the tombstones, the most commonly seen being the sailor Henry Vignes who lived in the 19th century.Th century. Before one of his sea voyages, Henry asked his landlord to hold on to some important papers for him, which included the family tomb, and while he was away, the landlord sold the tomb. Henry was unsuccessful in trying to reclaim the tomb, and after his death he was buried in an unmarked grave in the poorer part of the churchyard.
Visitors to the cemetery have described a tall, blue-eyed man who walks around aimlessly and asks for directions to Vignes' grave. Yes, you read that right. Henry's ghost appears as real as people have had actual conversations with the centuries-deceased sailor.
As if that wasn't enough to convince you that he's still trapped on this earth, his figure has reportedly been caught on camera and a male voice (widely believed to be Henry himself) has been recorded on an EVP (Electronic Voice Phenomena) saying the haunting words, "I need to rest". After hearing these words, you may not be able to rest either.
Sometimes ghosts can be the best travel companions, and if you go to St. Roch Cemetery, you just might find yourself surrounded by a supernatural apparition or two. One of the largest cemeteries in New Orleans, St. Roch Cemetery was founded in 1874 by Reverend PL as a thank you to the patron saint of the plague, Saint Roch, after no one from his church died during an outbreak of yellow fever.
Surprisingly, this burial ground is also the least visited in the entire city, adding to the speculation that this is one of the most haunted cemeteries in New Orleans, as spirits can gather largely undisturbed within its maze-like walkways.
The ghost dog of St. Roch Cemetery
While he was the patron saint of the plague and other contagious diseases, Saint Roch was also the patron saint of dogs, and it is for this reason that curious travelers believe that a ghostly dog ​​haunts the cemetery's grounds. Oh, and because there have been sightings of one.
Said to roam among the tombstones, this dog is described as black in color and unnaturally large. While there are skeptics who say the dog may in fact be a stray, visitors to the cemetery have reported that when they try to follow the dog, it simply vanishes into thin air when cornered. You can't get more ghostly than that.
Located in the heart of New Orleans' Garden District is Lafayette #1 Cemetery, a beautiful yet haunting collection of crypts that take you back in time. Containing over 26 nationalities, this cemetery was not only the first to allow non-Catholics to be buried within its borders, but it was also non-segregated, giving it a reputation for being the most inclusive cemetery in New Orleans.
Built in 1833, Lafayette Cemetery was once lined with plants of all shapes and sizes (and still has magnolia trees lining the main path) with flowers running along paths and various walkways, giving the cemetery a park-like feel. When yellow fever hit New Orleans, Lafayette Cemetery quickly filled up, and if you walk among the graves today, you'll see "died of yellow fever" more times than you thought possible.
Now housing more than 7,000 people, including 1,100 family graves, the cemetery features famous graves such as 'The Woodmen of the World' and 'The Miniature Graveyard'.
Ghosts of Lafayette
While the cemeteries we've already written about have distinct figures that haunt the grounds, Lafayette Cemetery is interesting in that there are no specific ghosts that can be identified. But just because you can't see them doesn't mean they aren't there.
Instead, there have been numerous reports of unexplained light sightings as well as noises and other strange noises with visitors claiming to hear sobs despite being completely alone. Other investigators have caught words on EVPs that sound like "help me" and "fever," which would make sense given the alarmingly fast and horrific way Lafayette Cemetery filled up.
Metairie Cemetery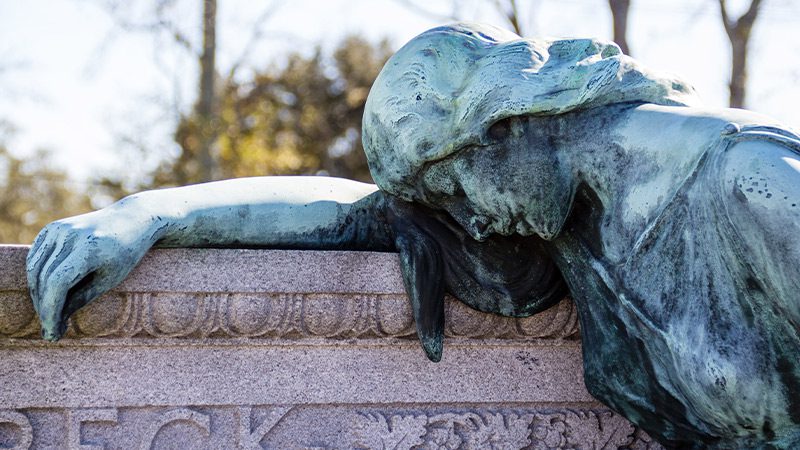 We're not saying we left the best for last, but we're not does not say so if you know what we mean. Of all the cemeteries in New Orleans, Metairie Cemetery happens to be the most beautiful. This cemetery is not filled with any old graves. No, this burial site is decorated with the finest graves that money and status could buy.
Although this cemetery is still full of twisting and turning paths lined with the dead, it is also filled with pyramid-like structures, tombs that look like British castles, and grand mausoleums that take this cemetery to the next level. You can easily spend a whole day walking through the cemetery, so it makes sense that the spirits of those buried there never want to leave either.
Josie Arlington
There are many reports of paranormal activity at Metairie Cemetery from the ghost of a 19th century New Orleans police chief.Th century to strange sounds coming from the grave of the cemetery's founder, Charles Howard. However, the grave with the highest level of supernatural tendency is the first resting place of the brothel owner, Jose Arlington.
Credited with helping to run New Orleans' red-light district, Josie was a prominent figure in the underground community until her brothel burned down in 1905, leaving her with a strange fixation on death. From that point on, she became obsessed with creating her tomb and strived to have one of the best mausoleums in all of New Orleans. She succeeded.
Josie's grave was fitted with an elaborate statue of a woman and two flaming urns placed on either side of the entrance for dramatic effect, and after her death in 1914, Josie's body was buried there before being exhumed and moved elsewhere.
However, guests have reported seeing the urns glowing red with fire and have even witnessed the movement of the statue appearing to pound her fists on the entrance to the tomb. While Josie's body is no longer buried there, it seems her spirit cannot leave her beloved and painstakingly curated grave.
While spooky stories may not be your thing, all of the cemeteries outlined above are full of cobblestone paths lined with historic tombs and magnificent crypts that are worth checking out if you have time to spare.