Editor's Update: This article was originally published in September 2019 and updated in June 2022.
Choosing your next destination isn't easy, but there's a better way than spinning a big globe, closing your eyes and slamming your finger down (it'll probably end up in the middle of the Atlantic, and the wifi there is spotty to say the least). Introduction to our ultimate destination guide month by month: your effortless list of places to go, things to see and good weather to chase around the world.
Today we're looking at where to travel in May, a balmy, sunshine-in-a-bowl month, especially for the Northern Hemisphere. Europe is waking up from its winter slumber, tables and wine glasses are beginning to appear on cobblestone pavements, beaches in the Caribbean and Mediterranean are beginning to buzz, and the world is putting its metaphorical feet up with a good John Grisham novel. Here's where to look for the perfect May break.
Top 10 destinations to travel in May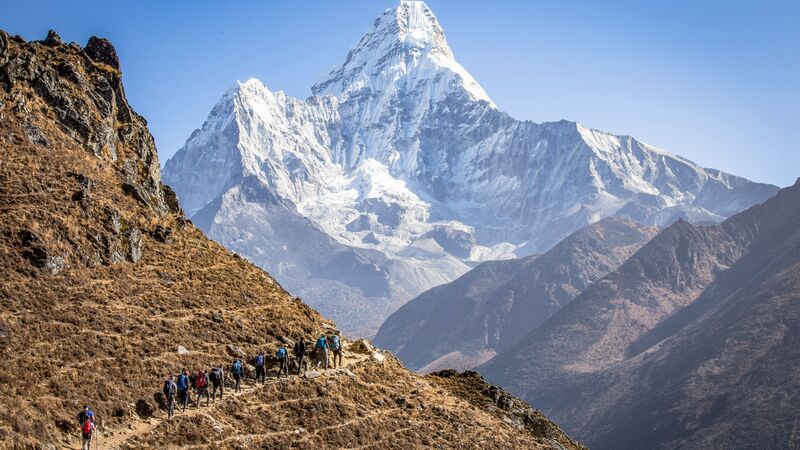 If you've been wanting to knock Base camp off your bucket list, May is a damn good time to do it. The June rains have yet to hit the Himalayas and the sky is usually duck egg blue, no fog in sight (when you walk a thousand feet to get a good view, it's nice to be able to see them when you get there). The trails from Namche to Base camp will be quite busy during this month, so seriously consider the Annapurna Circuit (Chitwan NP is also a good bet if you're worried about potential Yetis.) May is also Buddha's birthday month, and you'll be hard pressed to avoid Lower-beat, street-dancing parties that break out everywhere Nepal. Our tip? If you are looking for the biggest party, head to Bhaktapur or Patan.
Top tours
READ MORE: WHAT YOU NEED TO KNOW BEFORE YOU TRACK EVEREST BASE CAMP
It's the classic shoulder season gamble: temperamental weather but the promise of much smaller crowds. Greece in May is no different. If you are after long days at the beach and a sun strong enough to give your handbag en tan, visit in June or August when the weather is perfect. But if you are looking for Crete, Santorini, Athens and the Parthenon sans tourist hordes, May is ideal. The weather should be around 21°C (69°F) – perfect for strolling the ancient streets of Delos or haggling in a Mykonos marketplace. There is also the Corfu Beach Festival, May Day and the annual Rhodian Flower Festival, an explosion of color that takes over the island for a few weeks at the end of the month.
Top tours
READ MORE: 9 GREEK STANDS THAT NEED TO BE ON YOUR BUCKET LIST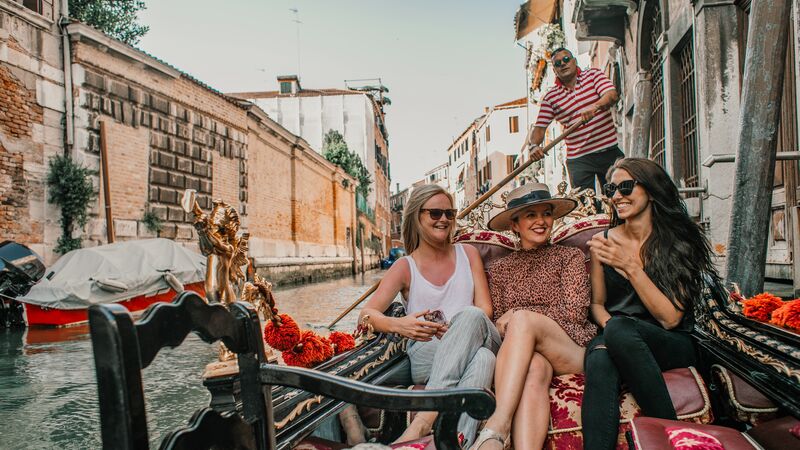 Like its Greek cousin, Italy swells with tourists in high summer (June-August). But May is where you'll find the crafty travelers. The crowds are down (no five-hour queues for St. Peter's), flowers colonize every available windowsill, and the temperature is perfect for sightseeing, with the thermostat set at a balmy 25°C (77°F). There may be a few showers around the beginning of the month, but leave after May 15thTh and you are pretty much guaranteed warm days and cool nights.
Enter Tuscany to find quiet cellar doors, visit Florence for the annual Festa del Grillo in Cascine Park (vendors basically unleash a horde of locusts on the city), or snack on seasonal fava beans, tomatoes and strawberries at a Monti street cafe in Rome .
Top tours
READ MORE: 6 ITALIAN CITIES YOU MUST VISIT BEFORE EVERYONE ELSE DOES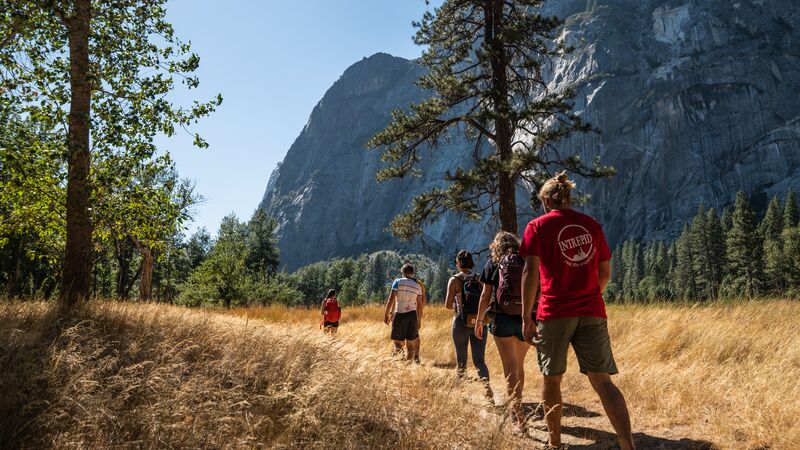 OKAY, America is a big place. Let's narrow it down. There's the Kentucky Derby if you happen to be passing through the Appalachians (and want to brave the trackside crowds). May is also a good time to visit the Grand Canyon: the winter snows are usually cleared, the weather is warming up, and the summer hordes have not yet clogged all viewing platforms. The North Rim, closed for most of the winter, will reopen on May 15 for the new season – always an exciting time. Weather-wise, though, it's hard to beat the Northeast: Cape Cod, Pittsburgh, and New England in general are all booming.
Top tours
As any country that can lay claim to parts of the Sahara, Morocco is a place where summer can actually be also hot. The camel won't fight, but you might. May is considered one of the best times to visit, with an average temperature of around 21°C (69°F). It is the month when spring meltwater flows out of the High Atlas, the rivers come alive, and flowers and festivals take over the land.
Our choice? The Rose Festival in Kelaa-des-Mgouna, a desert town that is home to the country's famous rose water industry. Over 700 tonnes of petals will be harvested from the valleys during this time and the locals celebrate with traditional dancing, singing and (our favourite) eating. If rosewater is your thing, there's no better place to be.
Top tours
READ MORE: 10 EXPERIENCES EVERY TRAVELER SHOULD HAVE IN MOROCCO
Feeling inspired?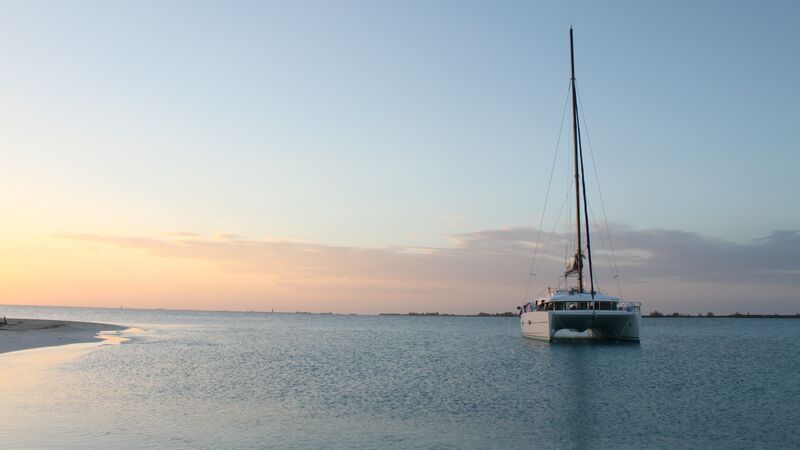 Throw a dart at a map of the Caribbean and wherever it lands, you'll hit paradise. But our choice for May is definitely to sail it Bahamas. Local prices are starting to drop, the humidity is low (goodbye flies and mosquitoes), the water is bath-like, and there is almost 0 chance of hurricanes. Weather? It cools off after the summer months, but it's still a beach-perfect 29°C (85°F). Spring Break students have usually packed up and gone back to classes by the end of April, so the islands will breathe a well-deserved sigh of relief: Beaches are less crowded, flights are easier to book, and European travelers show up at dawn for shotgun the sun loungers by the pool. Glad you chose to sail your own yacht, right?
Top tours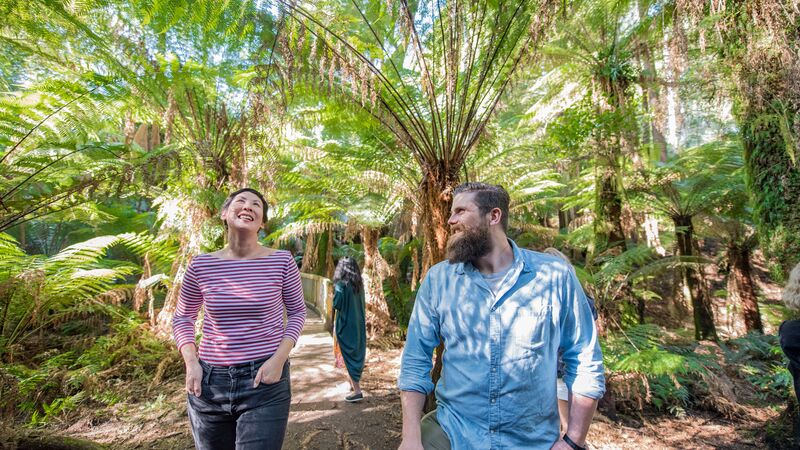 Like the US, you can't just tell someone to visit Australia' in May; there is just too much regional variation. While Victoria may be reeling through the start of its rainy football season, the Top End and Far North Queensland are just coming into their own (goodbye monsoon rain, hello bright, crisp sunny days). For us, however, May is time to get up the wild west coast, specifically Ningaloo Reef and Exmouth. The reason? Whale sharks. This is the start of the dry season, when dozens of whale sharks appear off the coast of Exmouth and cross the warm waters above the reef. The town hosts an annual Whale Shark Festival, but the real highlight is donning your snorkel, diving off the boat and swimming with the biggest fish in the world.
Top tours
It is difficult to find a month of the year when Prague doesn't look like a million dollars. Snow, rain, sunshine…it's the equivalent of a tall guy in town: it doesn't matter what he's wearing, you know he's going to look good. However, May is our pick of the bunch, if only for the color and the concerts. Hanging baskets dangle from every street corner and window sill, the magnolia trees are in bloom, and the epic Prague Spring Music Festival is in full swing. Three weeks of symphony, opera and chamber music (try to book an event at the spectacular Smetana Hall). And for those who like to chase their culture with a good brew, there's also the Czech Beer Festival: 17 days and over 70 local breweries, not to mention a stomach-expanding feast of local Czech food, courtesy of the country's hottest chefs. Trust us, you'll never want to leave.
Top tours
Ask a local what May means in Barcelona and they will tell you: sangria. Specifically sangria al fresco, with a setting Catalan sun, good company and a few choice plates jamón iberico or patatas bravas. May is the month when Spain comes back to life. The summer cruise is still a few weeks away, and if the weather is on your side, swimming should be idyllic. We recommend a slightly secluded place like Castelldefels (good tapas, less crowds). The weather usually hovers around the mid 20s (°C) or high 70s (°F). We recommend finding a good rooftop bar, probably in the Gothic Quarter, ordering a ruby ​​jug of sangria and letting the evening unfold. If you've got your dancing shoes on, be sure to also check out the Ciutat Flamenco Festival held in the Mercat de les Flors.
Top tours
READ MORE: OUR GUIDE TO THE ULTIMATE 7 DAYS IN SPAIN
Machu Picchu anyone? May is one of the best months to hike Peru's iconic Inca trail through the Andes. The rainy season is over, but there is still a green carpet in the valleys, and the big crowds don't come until June. As always with the Inca Trail, organize your permits months in advance (your tour operator should be able to help with this). Temperatures in the mountains can drop to around 10°C (50°F) after sunset, so pack a few layers to keep warm at night. For something truly special, check out the Qoyllur Rit'I, a massive indigenous pilgrimage to the summit of Mt Ausangate, near Cusco. Thousands of locals try to climb, some carrying blocks of ice down their backs; holy water for the crops.
Top tours
READ MORE: WHY TO VISIT NORTHERN PERU, HOME OF THE 'NEW MACHU PICCHU'
Don't want to travel in May? Don't worry, here's to the rest of the year
January
February
March
April
Able to
June
July
August
September
October
November
December
or see our full list of monthly destination guides.
Feeling inspired?