The Budj Bim Cultural Landscape in western Victoria is one of Australia's most important cultural heritage landscapes. Travel writer Kerry van der Jagt discovers the significance of this incredible site.
This blog was brought to you in partnership with Welcome to the countrya not-for-profit marketplace for Australian Indigenous experiences.
Long before the Egyptians diverted the Nile or the Romans constructed aqueducts, the Gunditjmara people of south-west Victoria created a sophisticated hydrological engineering system designed to capture, store and harvest kooyang (short-finned eel).
The extensive series of modified water channels, spillways and ponds, dating back 6600 years, is considered one of the world's oldest and most extensive aquaculture systems.
"Raising eels and trading surplus with other nations enabled my people to develop a large, permanent community," says Braydon Saunders, a local guide and Gunditjmara man who has been instrumental in opening Budj Bim to visitors. "Our eel and fish traps have rewritten the history books and prove that our mob was more than just hunter-gatherers leading a nomadic lifestyle."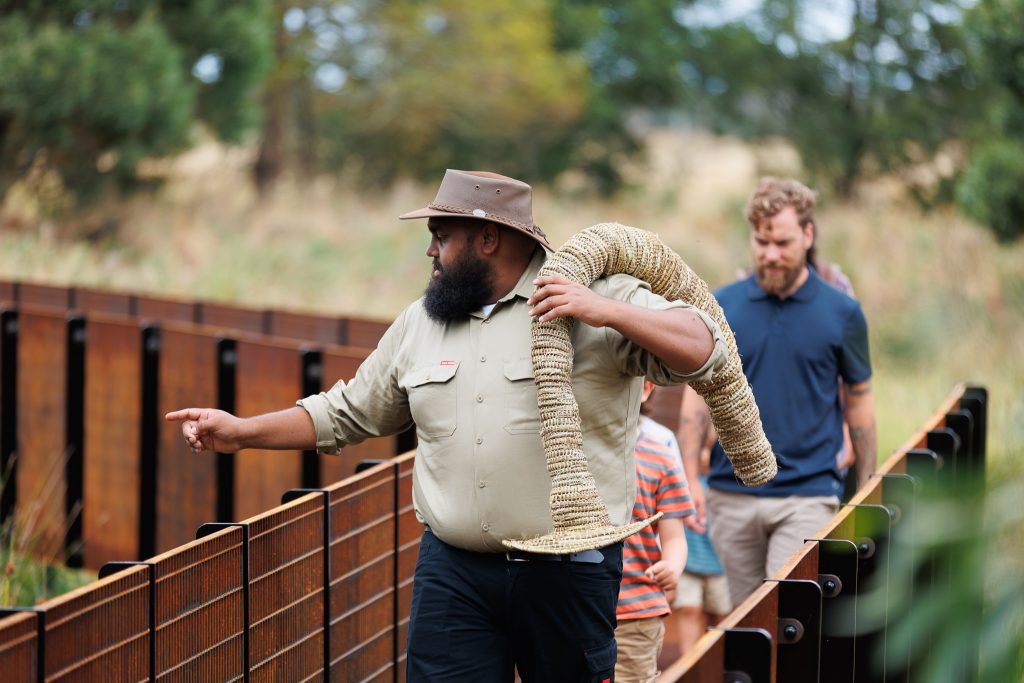 Today the stones are silent, but it takes a little imagination to conjure up a scene of men working the eel traps, adjusting the stonework according to the seasonal floods, while women weave elaborate fishing nets and baskets.
In recognition of the highly productive system which provided an economic and social basis for Gunditjmara society for six millennia, Budj Bim Cultural Landscape was inscribed as a World Heritage Site in 2019, the first Australian landscape to be included solely for its Aboriginal cultural values.
Since inscription, much work has gone into the Gunditjmara community in developing First Nations owned and operated Budj Bim cultural landscape tourism experience. Opened in July 2022, visitors can join a series of tours led by Gunditjmara guides that take in eel traps and canals, remains of circular stone dwellings and smoking trees where the eels were prepared for consumption or trade.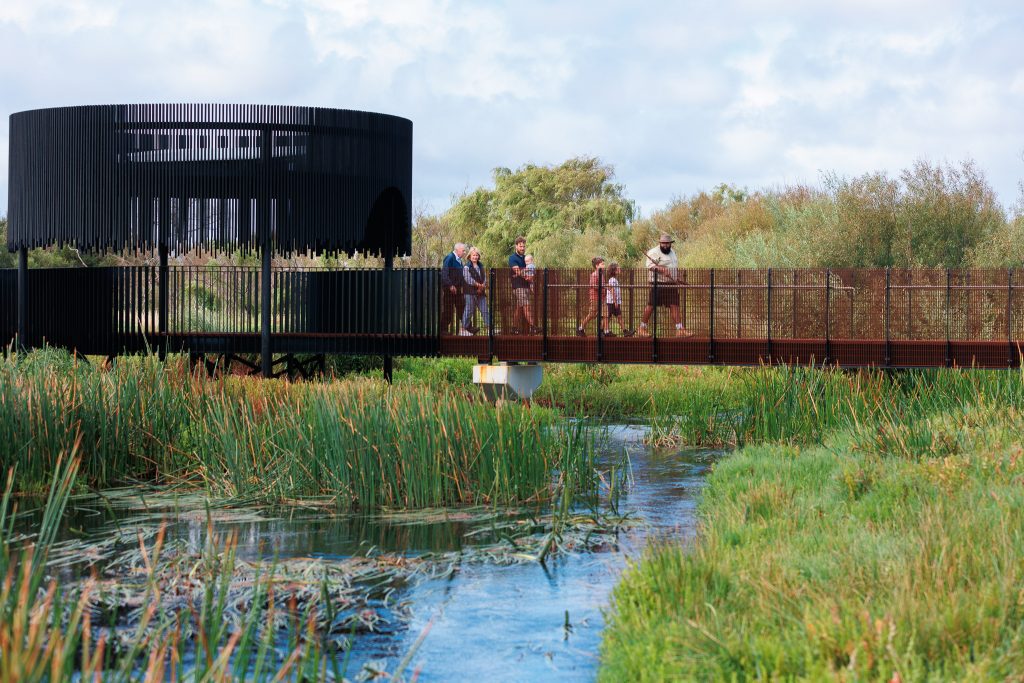 The new cultural tourism experience is located in and around Budj Bim National Park and Tae Rak (Lake Condah), in addition to Victoria's scenic Great Ocean Road. "The infrastructure and raised boardwalks allow visitors to get out among the fish trap systems and stand on top of them," says Saunders. The site also includes the Tae Rak Aquaculture Centre, bush tucker café, retail space and display tank.
Visitors on a tight time frame can enjoy a two-hour guided cultural walk at the Tae Rak Aquaculture Sites and Wetlands, while with a little more time, they can take a half-day tour of the Tungatt Mirring (rock country). The full-day Kooyang Yana tour includes Kurtonitj Indigenous Protected Area, Lake Gorrie drystone walls and a guided walk in the Tae Rak wetlands.
"Or you can just come and have a cup of coffee or a cake, or a barramundi or smoked eel platter for lunch. Our chefs do a great job of creating a story with the food," says Saunders. Tae Rak Aquaculture Center is open Wednesday to Sunday for tours and meals.
Whichever tour you choose, this new tourism venture will take everything you thought you knew about native culture and blow it out of the (eel-infested) water.
"Each time you come out you will learn a little more, build on your experiences. Each visit will be different as different things happen in different seasons. The menu at the cafe will also change depending on what is seasonal," he explains .
Gunditjmara land is a hauntingly beautiful place, created by fire and brimstone some 37,000 years ago when the volcano Budj Bim (meaning 'high head') erupted, resulting in lava flows and the formation of lakes and waterways.
"Budj Bim had seen our people struggling to live a sustainable life. They had lived too much for themselves and not enough for each other," says Saunders. "So he revealed himself and transformed the landscape by spewing blood (lava) and teeth (stone), and forced them to change their ways. It's a story as old as time, about taking care of each other and taking care of each other."
The trapping system was as innovative as it was simple, using the natural springs and lakes created by the eruption to funnel the eels into holding ponds. "It was then up to my people to create channels through the basalt through which the eels could follow. It was designed so they could get in but not get out."
"If you were to ask how we would do it, it is a very complicated process. Basically we used fire because this stone is very porous and the fire would collapse the stone. So our mob used fire to create channels."
Remains of eel traps can be seen elsewhere in Australia and around the world, but the unique feature of Budj Bim is that they were cut and shaped into the landscape, meaning the traps and ponds could be used and reused by the thousands. of years.
"It was about not making a massive change to the landscape," says Saunders. "But about making a change small enough that it worked in our favor but didn't have a negative impact on the environment."
Caring for the land and sharing stories with others is at the heart of Budj Bim Cultural Landscape Tourism. "My country and my home — I get emotional thinking about it now — mean everything to me," Saunders says. "It's been a real whirlwind over the last six weeks leading up to the opening, but the overwhelming feeling is one of complete pride in what we've been able to achieve, whether it's 6,600 years ago or three years ago with a World Heritage List. A lot of pride."
Want to visit Budj Bim? Welcome to Country has all the information you need. For more incredible tours around Australia, check out Intrepid's First Nations cultural experiences.
The author is a descendant of the Awabakal people of the mid-north coast of New South Wales.