UPDATED: This article was originally published in March 2016.
There's a lot to love about America's national parks. From deserts, canyons and mountains, to alpine forests, lakes, tropical reefs, even volcanoes – in terms of wilderness, the United States has it all.
These pockets of land are resolute protectors of wildlife, landscapes and communities that have been here much longer than anything else. From the highest peaks to the deepest fjords, here are 10 of the very best US national parks (in no particular order).
1. Zion National Park – Utah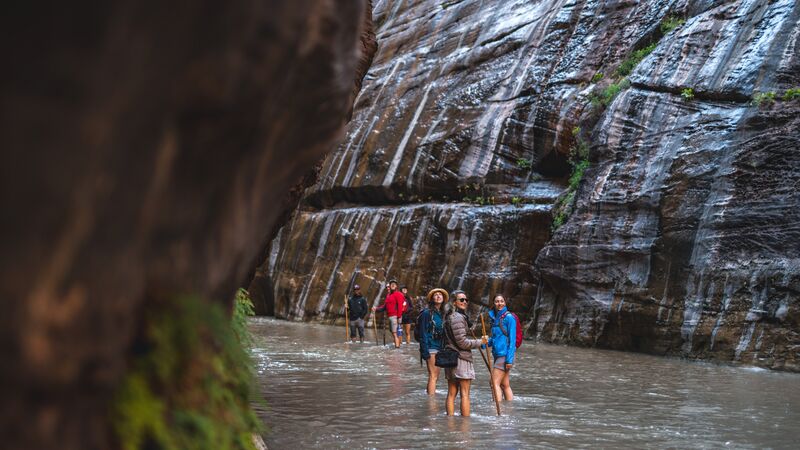 You know those famous pictures of undulating canyon walls flooded with a light so burning it looks unnatural? Well, chances are they were taken on Zion National Park. With its streaked pink cliffs, emerald pools, clear streams and castle gorges, the park inspires the kind of reverence its name – meaning 'heavenly city' – demands. The two most famous hikes are Angels Landing and The Narrows, and are some of the best you'll find anywhere. A surprising amount of vegetation thrives in the rocky landscape. In spring, the park is dotted with colorful wild flowers; in autumn it turns rusty yellow; and in winter the snow dusts the rocks like powdered sugar.
Visit Zion National Park on our 4-day Zion Ranch stay.
SEE OUR SELECTION OF SMALL GROUP EVVVET IN AMERICA
2. Denali National Park – Alaska
Tundra trails, ancient glaciers and the highest peak on the continent are just some of the reasons visitors flock to Denali National Park, the state's most popular land attraction. In addition to unspoiled geography (most of the park's land is untouched by humans, and only one road weaves its way through), Denali is also home to plenty of natural wildlife—keep your eyes open for caribou, moose, wolves, and grizzly bears.
Explore the Alaskan wilderness on our 6-Day Denali National Park Walking Tour.
RELATED: 8 INCREDIBLE HIKES IN DENALI
RELATED: 5 OF AMERICA'S BEST ROAD TRIPS (AND WHY YOU SHOULD DO THEM)
3. Bryce Canyon – Utah

Bryce Canyon, a vast amphitheater of red stone hoodoos, has often been described as a 'stone forest' and a 'roofless cave', and it's easy to see why. Hoodoos (say it out loud – it's funny) are columns of rock that have been left standing due to erosion. You may have seen something similar in Turkey's Cappadocia region or Australia's Pinnacles Desert, but nowhere have you seen them like this. This is Utahs rocky landscape at its best – especially at sunrise and sunset.
Check out Bryce Canyon on our Zion Family Ranch stay.
RELATED: A GUIDE TO GATEWAYS: THE SMALL TOWNS OF UTAH'S NATIONAL PARKS
4. Arches National Park – Utah
Home to over 2,000 natural sandstone arches, the aptly named Arches National Park is a wonderland of ancient red rock formations. Giant balancing rocks, towering peaks and "honeycomb" formations will make you feel like you've landed on Mars. And while, no, Arches isn't actually on another planet, it's unlike any other place on Earth. As well as boasting the world's highest concentration of arches, it is also home to the famous Landscape Arch, the world's largest rock arch.
Explore the many arches of Arches National Park on our 5-Day Moab Adventure.
5. Kenai Fjords National Park – Alaska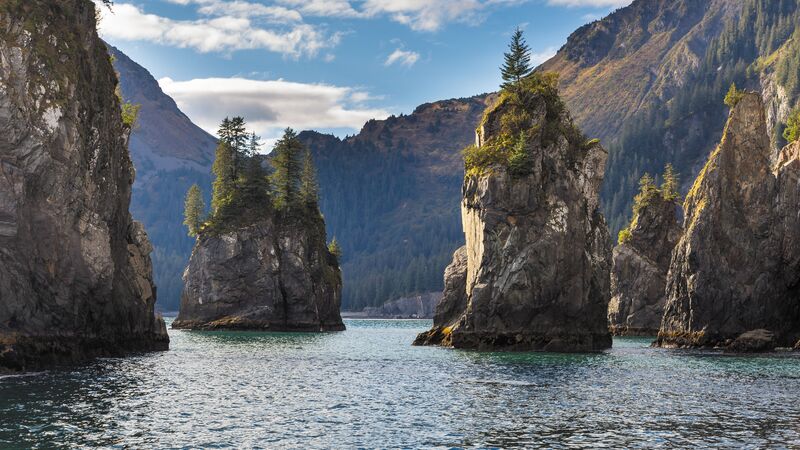 Lovely peaks, rocky outcrops and pristine glaciers await Kenai Fjords National Park, located along the Gulf of Alaska. It is also home to some of the world's most spectacular wildlife viewing opportunities. If you're lucky, you can see killer whales, humpback whales, sea lions, puffins, otters, eagles, moose and more. The park also boasts the Harding Icefield, one of the largest ice fields in the United States; the stunning fjords that make up the coastline are carved by glaciers moving down the mountains from the 23,000-year-old ice field.
Explore the fjords of Alaska on our 6-Day Kenai Discovery.
RELATED: 6 REASONS TO TAKE A GROUP TOUR OF AMERICA
6. Yellowstone – Wyoming, Montana & Idaho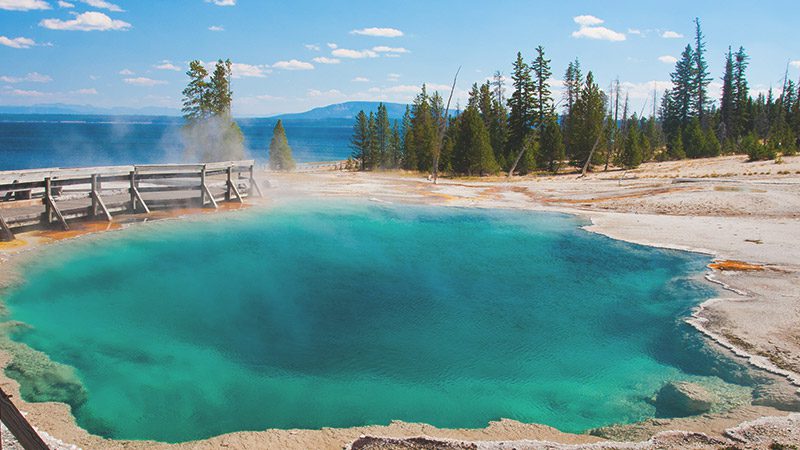 The first national park to be established anywhere in the world, Yellowstone is the king of the American wilderness. Yellowstone's diversity is home to hot springs, waterfalls and its own grand canyon. While the most famous landmark is undoubtedly Old Faithful, it is only one of 300 geysers in the park – the world's largest concentration, along with 10,000 other thermal features. Just up the road from Old Faithful is Grand Prismatic Spring, a hot spring with spectacular orange, green and blue hues. At the other end of the park is the open Lamar Valley, which is a great place to spot wildlife such as bears, wolves and the ubiquitous bison.
See Old Faithful in real life on our 6-Day Yellowstone and Grand Teton Adventure.
RELATED: WHAT TO EXPECT ON A WOLF TRACKING EXPERIENCE IN YELLOWSTONE NATIONAL PARK
RELATED: THE 8 BEST HIKING TOURS IN YELLOWSTONE
7. Grand Teton National Park – Wyoming
Just a short drive down the road from Yellowstone is very different Grand Teton National Park. Instead of the volcanic features of its more famous neighbor, Grand Teton is all about granite peaks and glacial lakes. Every bend in the road offers another amazing view, as well as the possibility of spotting a bear or a moose. Some of the best hikes can be found around turquoise Jenny Lake, including Inspiration Point and Hidden Falls.
Keep your eyes open for moose (and bears – gulp) on ours Yellowstone and Grand Teton Family Vacation.
8. San Juan Island National Historical Park – Washington
A trip to San Juan Islands is like escaping to paradise. Lovely fishing villages, charming art studios and a relaxed pace are all reasons why visitors love to explore this corner of Washington state. But they also come for a bizarre bit of American history, when the death of a pig almost started a war between American and British soldiers. Today you can visit the American and English camps in San Juan National Historic Park, where the two nations occupied San Juan Island for 12 years before the end of the "Pig War" in 1874.
Discover the islands on our 6-Day San Juan Islands Bike Tour.
9. Acadia National Park – Maine
There is a reason for that Acadia National Park, the first national park east of the Mississippi, is one of the nation's most beloved parks. The rugged, rocky coastline offers fascinating vantage points, such as experiencing the wild waters of Thunder Hole, as well as peaceful spots, such as where golden sands meet turquoise waters at the picturesque sandy beach. Even the beautiful Bass Harbor Head Lighthouse is one of the most photographed lighthouses in New England. But Acadia's charms extend beyond the coast. Inland are picturesque Jordan Pond and Eagle Lake, as well as Cadillac Mountain – famous for being the first place where the sun's rays touch American soil at dawn.
Explore Acadia and beyond Maine on a 6-day cycling tour.
SUBSCRIBE TO INTREPID'S NEWSLETTER FOR TRAVEL TIPS, COMPETITIONS, GIVEAWAYS AND MORE
10. Yosemite National Park – California
listed on the World Heritage List Yosemite National Park is an icon. With its granite cliffs, towering waterfalls (including the tallest in North America), and famous landmarks such as Half Dome and El Capitan, Yosemite is on the bucket list of hikers everywhere. The range of altitude in the park (from 600 to 4000 meters) means that an enormous diversity of flora and fauna flourishes here. Conservationist John Muir said it was "far and grand of all the special temples of nature that I was ever permitted to enter." Visit the park and you will understand what he meant.
See another side of Yosemite on our 6-Day Hike in Yosemite National Park.
Explore America's unique national parks on an intrepid small group adventure.