If you want to discover the Scenic Rim's excellent regional dining, all you need is a little time and a hunger to try something new.
You'll find plenty of rural charm in this picturesque rural area nestled in the foothills of the Great Dividing Range two hours south Brisbane. Stalls selling everything from local avocados to freshly cut roses line the grassy roadside and everything is impossibly green. On a drive to the best restaurants in Scenic rim, you can enjoy the scenery and for lunch or dinner you can take your time. The Scenic Rim is perfect for a culinary adventure where the only thing that rivals the stunning scenery is what's on your plate. Here are five Scenic Rim restaurants worth the trip.
Homage Restaurant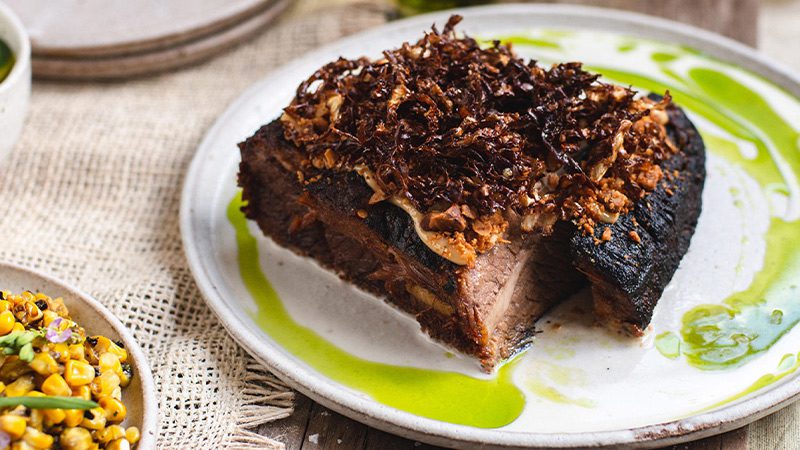 Fire pits and wood-fired ovens have always shaped the menu at Homage Restaurant, but the kitchen had no choice but to fully embrace a 'cooking with fire' concept for nearly a year after a fire destroyed the farm that housed the restaurant. Wood-fired dishes have since become an important part of the dining experience, with the original outdoor wood-fired ovens now complemented by an indoor Milbrasa grill. The kitchen takes its inspiration from the culinary and visual landscapes of the Scenic Rim and works with local farmers who supply much of the produce. Beef brisket from nearby Rosevale is combined with cabbage from the garden and citrus from the orchard. The on-site smoke house is used to preserve the orchard's abundant raw materials for use all year round. This progressive regional restaurant with a focus on sustainability and provenance has won several awards and should not be missed.
Ocean View Estates
Pull up a table on the outdoor deck and take a deep breath of the fresh, country air at this charming Scenic Rim restaurant at Ocean View Estates Winery. With views revealing rural rolling hills with the ocean sparkling in the distance, this casual yet upscale winery restaurant near Dayboro is picture-perfect. Start with crispy calamari, seared scallops or grilled squid served with charred salsa, papaya salad and finger lime. Entrees include massaman curry and twists on popular favorites such as Maryland duck instead of the usual chicken. Diners with dietary needs are particularly well catered for with dishes such as miso pumpkin served with puffed rice crackers, fried spring onions and seasonal pickles or gluten-free teriyaki beef short ribs. The friendly staff who go out of their way to make diners feel welcome adds another reason to visit.
The dining room at O'Reilly's
It takes two hours to reach The Dining Room at O'Reilly's Rainforest Retreat from Brisbane or 1.5 hours from Gold coast. As the road twists and turns up Green Mountain, ancient trees meet above to form green, verdant tunnels, adding a sense of mystery and excitement to the journey. If you're looking for a unique Scenic Rim dining experience, The Dining Room is the place to be. The food is homely rather than fancy, but it's also 'lick your plate' delicious, especially if you've spent the day hiking the trails of Lamington National Park, where this restaurant is located. If you can, try to score a prime table in front of the window overlooking the 'possum perch' where nocturnal marsupials of all shapes and sizes crawl down the branches to feast on cut fruit. Which table you get depends on luck, as The Dining Room does not take reservations, but eating early increases your chance of dinner and a show.
ENJOY THE SCENERY ON A SCANIAN RIM WALK
The Peak Restaurant
As you make your way up the winding road to the Peak Restaurant at Spicers Peak Lodge, Australia's highest non-alpine retreat, your dining destination appears before you like a mirage. The hatted restaurant takes up most of the lower floor of the architecturally stunning two-story lodge, which looks like it's up above the clouds. A massive bluestone fireplace takes center stage in the shared guest lounge outside the restaurant, and reclaimed Blackbutt timber enhances the luxurious, high country atmosphere. If you're not keen on driving down the winding road at night, lunch is your best option, but nothing beats the multi-course tasting dinner accompanied by impressive wine matches from the in-house sommelier. They are so good that you will be tempted to top up.
Scenic Rim Brewery
What this casual restaurant lacks in posh, it more than makes up for with excellent local brews and delicious food with a Dutch twist that honors the owner's heritage. Located inside a cute wooden building that was once a corner store, Scenic Rim Brewery offers signature brews like Shazza and robust Giddy Gout milk stout. European dishes like the bitterballen, gourmet hotdogs and a mighty wurst plate packed with wurst platter bratwurst sausage, bockwurst sausage, cheese kransky sausage, french fries, sauerkraut, pickled vegetables and coleslaw will keep you going well into the afternoon . They are also the perfect accompaniment to a refreshing brew or two while relaxing at your desk.