Medieval history and royal palaces? Check. Word famous festivals? Yes. Edinburgh does many things well, but if there's one thing it knows how to do really good, it feels good.
Edinburgh's social scene is pumping. From cozy pubs tucked away in cobbled alleyways to trendy cocktail bars with dazzling views of the city skyline, there's no shortage of pubs to pass the time and warm up on those (often) cold and damp Scottish days. Whether you're looking for a good old pub and a pint (or two) in the Old Town or fancy getting your happy rags on and dancing the night away in a cool bar, we've rounded up some of our favorite watering holes to check out on your next trip to Edinburgh.
Here are the best pubs in Edinburgh
Whiskey lovers rejoice! The Bow Bar in Edinburgh city center has over 300 whiskeys to sample (maybe not all at once) from Highland malt to Speyside malt and everything in between. They also have a pretty impressive range of draft and cask beers to wet your whistle. Stick to German and Belgian classics or surprise your taste buds with new flavors such as coffee and cherry stout or peat-smoked brown ale. Established in 1987, The Bow Bar has the feel of a 'proper' Scottish pub as soon as you step inside. You won't hear blaring music or TVs showing sports games here. Only good conversations oiled by a glass or two of premium whiskey.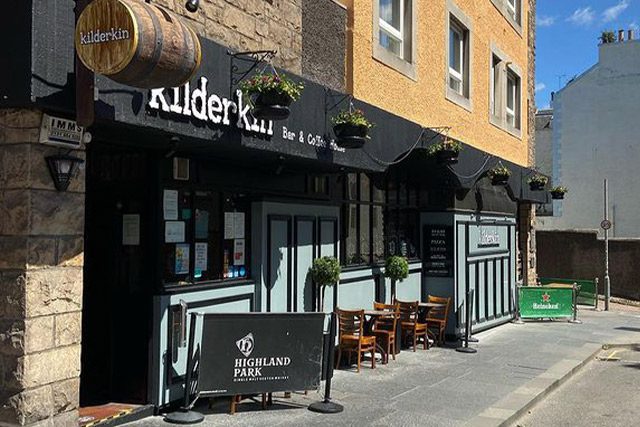 Before we go any further, we just want to say this YesKilderkin may be very popular with tourists, BUT it still deserves a place on this list. Located in the heart of Old Town, Kilderkin is a classic old-school boozer with polished wooden floors, stained glass windows, comfortable leather sofas and rickety bar stools. The location attracts throngs of tourists, but it has a relaxed atmosphere and serves a fine list of thirst-quenching rums, draft beers and rustic pizzas. Kilderkin also hosts a well-known pub quiz every Tuesday which attracts loads of locals.
If you are looking for a cosy, unpretentious joint where the staff are experts in everything on the menu, then Dagda Bar has you covered. The bar oozes character and charm. It was built in an 18th century terraced building and retains some of the traditional features. There is a solid selection of malt whiskies, craft beers and guest beers that change every week or so. Pull up a chair at a worn table or grab a seat at one of the beer barrel tables to enjoy the cozy, friendly atmosphere.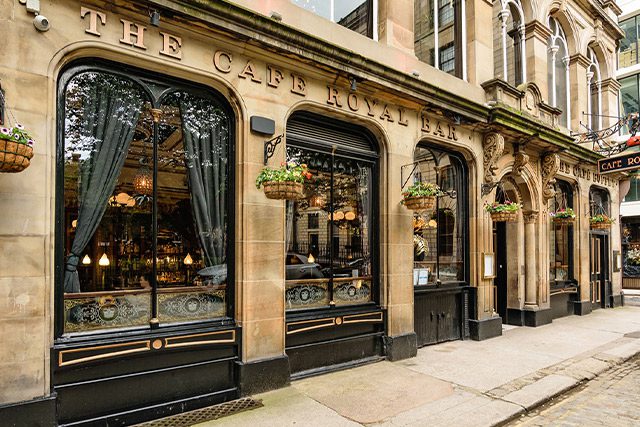 Café Royal may be glamorous, but it still has that cozy pub feel. Established in 1863, many original details are still intact, including stained glass windows, polished brass taps and an elegant marble bar serving a fine selection of spirits. They also serve delicious food – think pub grub with a sophisticated twist. Sink your teeth into freshly shucked oysters, garlic mussels, steak n' chips, beef cheek steak pie and other favourites. They also serve tasty pub snacks like smoked haddock scotch eggs and samphire pakoras if you're not too hungry.
If you've come to Edinburgh to learn about history, you must stop by World's End. There is an interesting story behind this little pub. After the Battle of Flodden in the 16th century, Edinburgh became a walled city to protect its inhabitants, and anything outside the walls or gates was considered to belong to another world. The pub sits on the tip just within the walls, hence the name World's End. After walking the cobbled streets of the Royal Mile, quench your thirst with a beer or a hearty scran. They make pub classics like steak pie, fish and chips and macaroni and cheese. The atmosphere is as classic as Scottish pubs come with wooden beams, warped walls and memorabilia pinned up across the walls.
With a name like The Last Drop, you might think of the last drops of booze. However, there is a dark history behind the name of this pub. The Last Drop is located in the heart of the vibrant Grassmarket near the infamous Greyfriars Kirkyard (said to be the most haunted graveyard in the world). 'Last straw' actually refers to the final hanging which took place in the gallows opposite the pub. Some say a ghost of a little girl haunts the pub's walls, but you'd never guess its harrowing story after walking inside. It is a classic pub with low ceilings, polished wooden tables and leather benches. They have a decent selection of traditional and craft beers, wines and whiskeys. You can also sit outside in the lively pedestrian square with a pint while you watch the world go by.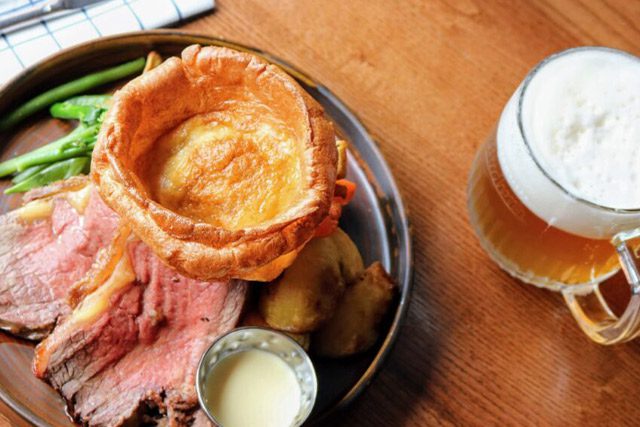 Brewhemia was inspired by the life of a Scottish man named Robert, who was a distant royal relative of Elizabeth Stuart. After missing out on the English throne, Elizabeth traveled to Bohemia in the Czech Republic, where she became the Winter Queen, Queen of Bohemia. After learning about her life, Robert followed in her footsteps and fell in love with Bohemia's artistic lifestyle and riotous parties. He then traveled to Munich and Venice, where he discovered Oktoberfest and Prosecco parties.
In his final days, Robert shared the stories of his free-spirited life with his son, who vowed to enjoy and pass on his father's hedonistic lifestyle to the next generations. These tales resonated so much with one of Robert's great-grandsons that he created Brewhemia. With a Czech-style copper beer palace, a French-style boudoir and a Scottish tartan lounge, Brewhemia is a place to get a little fancy and enjoy the finer things in life. They also serve some tasty Scottish scran and German-inspired house sausages.
Psst… apparently this is the oldest pub in Edinburgh. Established in 1360, these pub walls have seen it all. The Sheep Heid Inn has been a favorite watering hole of monarchs and famous poets for centuries. One of its most famous players was Mary Queen of Scots, who enjoyed bowling here. Located in Duddingston Loch (10 minutes' drive from Edinburgh city centre), the Sheep Heid Inn is the perfect choice for a pint after climbing Arthur's Seat. They serve hearty meals like sea bass fillets, prawn linguine, rotisserie chickens, chicken pot pies and plant-based dishes. It's also an excellent place to enjoy a Sunday roast.
The Royal Dick is not your average pub. It's tucked away behind the popular Summerhall art venue in what used to be the Small Animal Hospital at Dick Vet School. It's a quirky joint with old projector slides set in the bar top and quirky art and veterinary artefacts covering the walls. There's a good range of drinks, including craft beers and gin from Barney's Beer and Pickering's Gin – both brewed and distilled on site at Summerhall. You can enjoy the booze with pub snacks, light meals or tasty platters. Take a seat in one of the eccentric rooms or head outside to the Courtyard Bar (arguably the largest in Edinburgh) to quench your thirst in Sometimes sunny beer garden.
If you fancy grooving to some traditional Scottish and folk music, head to Sandy Bell's. Known for its "sessions", this watering hole is a bit of a local legend, and musicians gather here to jam most days. Don't be surprised if you suddenly hear violins, guitars, accordions and wooden flutes coming out of the woodwork while enjoying a quiet draft beer. The music is different every night and you never really know what to expect. Drinks-wise, they serve all the usual suspects and a solid selection of malt whiskeys and craft beers.
Have you ever wondered what it's like to go to Wizards afternoon tea or make alcoholic potions using molecular mixology? We're guessing not. If you're a huge Harry Potter fan, the immersive cocktail hour at The Cauldron will be a dream come true. You'll be given your own cape and wand before being taken to an interactive workstation where you'll craft your potable potions and potions using a bubbling vat. Quirky? Just and then But hey, it's fun to try something different every once in a while. There are also mixology experiences available for non-drinkers and families.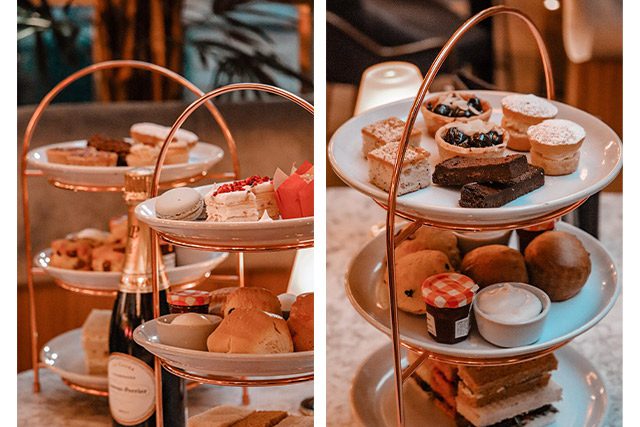 Le Monde is a boutique hotel, bar and restaurant where you can party until the small hours. Located in the heart of George Street, the bar-cum-club oozes cosmopolitan glamour. It offers globally-inspired decor and drinks from some of the world's most vibrant cities. Enjoy a Prosecco afternoon tea on the terrace, kick back in a booth or dance the night away in the Shanghai club. If you're feeling a little more bougie or you're out celebrating something special, head to the opulent New York-style cocktail bar or book a table in the champagne lounge.
With so many cozy and quirky pubs to explore, Edinburgh promises to quench your thirst for a good brew and a good time.
Experience the charm of Scotland's capital on a Edinburgh trip.