From skydiving over the beach to swimming with great white sharks, these are top 10 adventure activities in Australia!
Australia is a huge country packed with adventure – from skydiving out of planes to diving some of the most incredible reefs in the world – everything in between – it's every adrenaline junkie's dream!
Adventure Activities in Australia
If I'm honest, it's been hard to narrow this list down to just 10 (and if 10 isn't enough, I've 100+ more great things to do in Australia which will definitely give you a few more things to add to your bucket list!).
As hard as it was to keep the numbers down, these are some of the absolute best adventure activities in Australia.
Scuba Diving Great Barrier Reef
The Great Barrier Reef is one of Australia's major attractions and a listed UNESCO World Heritage Site. If you're a diver, this 2,300 km ecosystem should be on your list of once-in-a-lifetime dive sites.
Coral life may be on the way back, but the marine life is still varied and incredible with over 1625 species of fish, 6 species of sea turtles, 133 species of sharks and rays and up to 30 species of whales and dolphins! It's an underwater paradise!
Skydive at Mission Beach
What better place to jump out of a plane than over a beautiful beach on Australia's east coast?
A tandem skydive in Mission Beach is easily one of the most iconic adventure activities in Australia – I mean, who wouldn't iconic image taken from GoPro on the wrist of the skydive instructor you're strapped to while your face is contorted into a funny shape by the air whizzing past your body at high speed?!
It's the perfect selfie, right?!
Cage diving with great whites in SA
Consistently tipped as one of the best adrenaline-pumping activities in the world, jumping into a steel cage to be plunged into shark-infested waters is only for the brave among you.
But despite coming face to face with one of the sea's biggest predators – this activity is completely safe. And it really is an incredible experience just to be in the water with such powerful creatures.
Climbing the Sydney Harbor Bridge
The Sydney Harbor Bridge (and the nearby Opera House) are some of Australia's most iconic exports – and possibly one of the first things that comes to mind when someone mentions Australia. But did you know you could climb them?
Well, at least one of them – from where you get a cracking view of the other!
The Sydney Harbor Bridge Climb offers unparalleled 360 degree views of Sydney Harbor and the Opera House with the CBD as the perfect backdrop. On a clear day you can even see as far as the Blue Mountains!
If you have your heart set on conquering the 440-foot climb, there are a variety of time slots to choose from. You can climb at sunrise or sunset, and a few places in between, with the option of an express climb for those short on time or a half climb for those afraid of heights.
What are you waiting for? Go up that bridge!
Check out our article on how to spend a day in sydney like a boss.
Kayak The Katherine Gorge
I have no doubt it's at the top of your Outback bucket list Uluru – and while it certainly should have pride of place, I can't quite describe watching the sunrise or sunset as an adventure activity – and could only count walking around its base as a noteworthy activity!
That said, there are plenty of other Outback adventures to be had, and top of that list would be kayaking through the Northern Territory's Katherine Gorge.
Running through the middle of Nitmiluk National Parka kayak or canoe trip gives you a unique perspective of the gorge from its base.
You can rent canoes/kayaks for a few hours, a whole day, or there is even the option of going on a 2-day trip – giving you the chance to sleep under the stars in the National Park!
Dune Bashing on a 4×4 on Fraser Island
Do you drive a 4×4 on the beach? Yes please! World Heritage-listed Fraser Island is the largest sand island in the world at over 120 km long – but there's more to the island than just sand.
You can drive down Seventy-Five Mile Beach to see the technicolor sand cliffs at the Pinnacles and the SS Maheno shipwreck; swim in crystal clear Lake McKenzie or float peacefully down Eli Creek before heading up to enjoy the incredible view from the Indian Head Lookout. And these are a few highlights!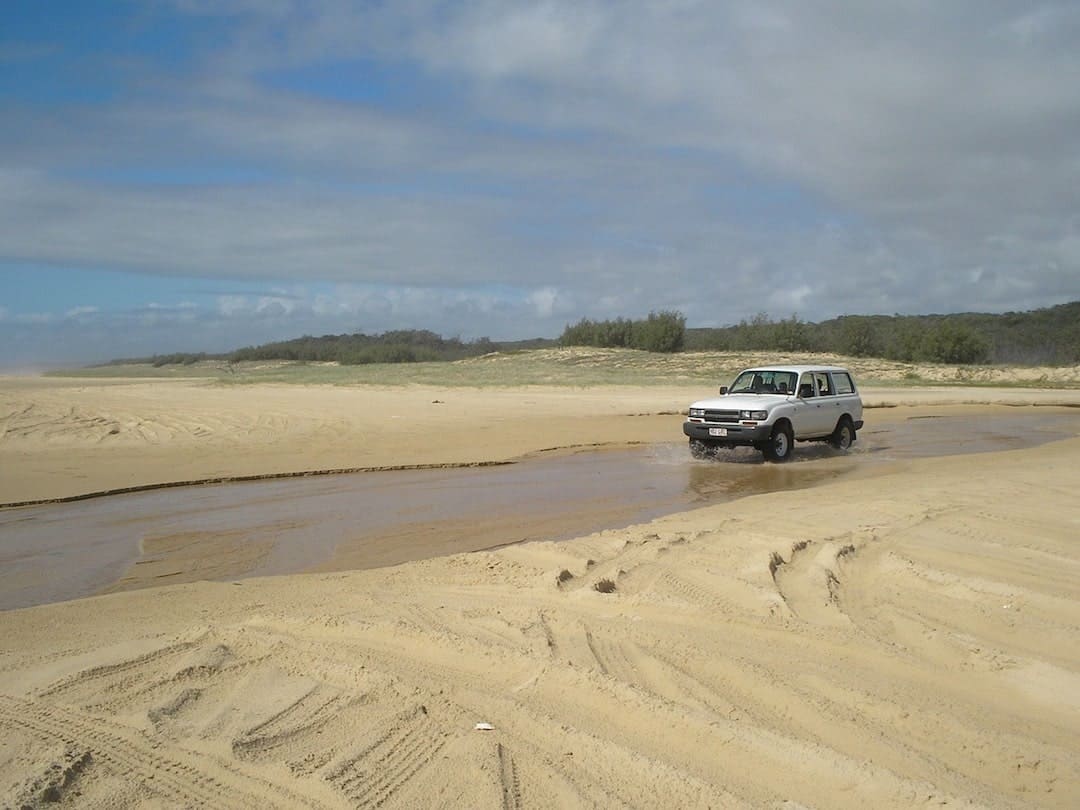 Bungy Through The Jungle in Cairns
AJ Hackett is famous all over the world for his bungee jumps from different heights and from different structures. Cairns' offering is a jump from 50m high in the rainforest canopy to practically the floor below!
Jump on your own, or jump with a friend – you can go forwards, backwards or even from sitting on a chair! There's a menu of 16 different ways to jump, so if you've done a bungy or two before and fancy something a little different.
A jump off the menu could be just what the doctor ordered – and is sure to be an adventure activity to get your heart pumping!
And even if you're not a thrill seeker, this Bungy center has the first purpose-built viewing area in the world, with bars, music, sun loungers and free transportation from Cairns.
Drive The Great Ocean Road
One of Australia's (and possibly the world's!) best roads is the Great Ocean Road, and driving it makes for one heck of an adventure.
Along the way you'll find Port Campbell National Park, home of the 12 Apostles, Loch Ard Gorge and what used to be London Bridge (now London Arch) plus Bells Beach (famous by many as an International Surf Comp) and cute coastal towns such as such as Lorne and Wye River.
Not forgetting the impressive cliffs that border the drive and the Gibson Steps that allow you to get all the way down to the beach, gaze up at the incredible rock formations carved from years of tidal erosion.
Snorkel with whale sharks at Ningaloo Reef
If cage diving with white sharks isn't quite your thing, why not try swimming and snorkelling with whale sharks at Ningaloo Reef in Western Australia?
These gentle giants are the largest fish in the sea and live solely on a diet of plankton – so there are no scary sharp teeth and you turn down the "Jaws" theme music that's probably playing in your head!
You are able to see these incredible creatures between March/April and August as they migrate along the coast – and between June and November you can see some Manta Rays too!
Get in the cage of death with a saltwater crocodile
So we've already had sharks and whales on the list, but there's also a large aquatic reptile that the Australians have devised a way to get up close that we haven't mentioned yet – the saltwater crocodile.
Head to Crocosaurus Cove in Darwin to see some of the largest saltwater crocs in the country. – and if you're brave enough, you can jump into a reinforced Perspex 'Cage of Death' and look the oversized creep right in the eye!
[box] Have you ever been down under? Let us know what your favorite adventure activities in Australia are in the comments![/box]