From kayaking through deep inky fjords to waking up to the sound of waterfalls, Milford Sound is all about getting up close and personal with nature.
Nowhere is wild, dramatic landscapes and jaw-dropping landscapes quite like New Zealand. It's the kind of beautiful that forces you to be completely here and now. Milford Sound in Fiordland National Park is one of them The South Islandbiggest draws. The stunning landscapes have been carved by glaciers over thousands of years, and the steep granite peaks, beech forests and hanging valleys remain virtually untouched.
Rudyard King (author of The Jungle Book) once said that Milford Sound is "the eighth wonder of the world," and you'll understand exactly what he means when you get here. Without further ado, here are some of our favorite things to do in Milford Sound.
1. Walk the Milford Track
Dust off your hiking boots and get ready to see some spectacular sights. The Milford Track is one of New Zealand's Great Walks (ahem, and the world!). This 53 kilometer trail (open from April to October) takes four to five days to complete. You will tackle a variety of terrain through the foothills of mighty peaks, glacier-carved valleys, lush alpine forests, tranquil rivers and tumbling waterfalls.
There are also several shorter trails, including the Milford Sound Lookout, the Foreshore Walk and the Key Summit Track. These trails take you through beech forest, dense bush and sandy foreshores and offer impressive panoramic views of Milford Sound, Miter Peak and the surrounding Fiordland.
2. Go kayaking
The feeling of being in the open water surrounded by soaring cliffs is like no other. The landscape is constantly changing. One minute the sky will be perfectly clear and the next a blanket of fog and clouds will roll over the mountains, making everything look and feel even more mysterious. Paddle into hidden coves, glide past hanging forests and get close to waterfalls – maybe even close enough to feel the refreshing mist on your skin. If you're lucky, you can come face to face with curious bottlenose dolphins, seals or fjord penguins (from July to November).
3. Visit the Te Anau Glowworm Caves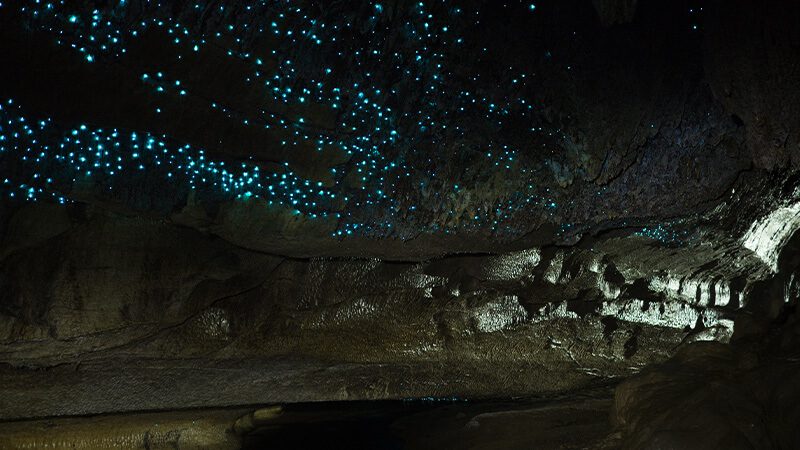 Te Anau Caves is a magical labyrinth of limestone passages. The caves are only 12,000 years old (this is young in cave years), so they are still being carved out by the river that runs through them. After hopping in a small boat, you'll slide deep into the caves, where you'll see unique rock formations, a hidden waterfall, and hot tubs. You will then drift into a pitch black, silent cave where you will discover an underground world lit by thousands of tiny glow worms. Seeing these bioluminescent creatures is truly magical.
4. Sleep aboard a heritage-built vessel
Step aboard your home for the night (also known as a heritage-built vessel) and enjoy the amazing journey into the Tasman Sea. After spending time outside enjoying the scenery and spotting the wildlife, head inside for a delicious three-course dinner. The night sky over Milford Sound is incredible and you might want to sit out on the deck with a blanket to stargaze. The best part of this experience is waking up. Waking up to the sound of waterfalls and the sunrise peeking through the granite rock tops is pretty hard to top.
EXPERIENCE A CRUISE IN MILFORD SOUND
5. See the local wildlife
Milford Sound is a paradise for wildlife lovers and you have a good chance of seeing animals from land or water. Over 60 bottlenose dolphins live in the fjord and are known to be quite playful – they may even pop up to say hello (not literally) when you're sailing or kayaking. The other residents are fur seals, Fiordland Crested Penguins, the rare mallard, the kiwi and the kea. Look out for fur seals hanging out on the rocks at Seal Point. If you are really luckily, you might see a whale, which sometimes visits the fjord to hunt for food.
6. Admire Mirror Lakes
You guessed it – on a clear day, Mirror Lakes is so pristine you can see the towering Earl Mountains reflected perfectly on the water. Mirror Lakes is located in the Eglington Valley and you pass it on the scenic drive into Fiordland. There's no doubt you'll want to stop here, stretch your legs and get some epic photos for the 'gram, but keep an eye out for wildlife. You may see some of the country's rarest birds here, including New Zealand's smallest duck, the quail (or pāpango) and the mallard (or pārera).
7. Hunt waterfalls
Milford Sound receives a whopping 200 days of rainfall per year. But you don't have to worry about a bit of rain putting a damper on your mood. In fact, you want it to rain at least once. Huge downpours mean temporary waterfalls can literally appear out of nowhere, sometimes tumbling from heights of 1000 metres. There are a couple of permanent waterfalls, including Bowen Falls, which plunges 162 meters from a hanging valley. You can get close to the waterfall either on a boat trip or kayak. Or get a bird's-eye view of the cascades on the Bowen Falls Walk (only accessible by custom-built boat). Be prepared to get wet!
8. Go stargazing
Oh boy are you in for a treat. Milford Sound is blessed with almost no light pollution and on a clear night the sky sparkles with millions of stars. There is nothing but you, blissful silence (or the odd bird chirping or rustling in the trees) and the Milky Way. Keep an eye out for satellites and the Southern Cross, Anchor and Maui's Fish Hook constellations.
9. Milford Sound Scenic Drive
You can not do that does not drive the Milford Sound Scenic Drive. No seriously. It is the only way in and out of Fiordland. But even if it wasn't, it would still deserve a spot on this list. The Scenic Drive from Te Anau to Milford Sound showcases the beauty of Fiordland. You will drive through the mountains and see giant granite peaks towering over you in every direction. You'll pass lush Mirror Lakes and Lake Gunn and the beautiful Milford Sound Forest Walk, which is worth it for the views of Miter Peak. The drive takes about 1.5 hours, but with so much to see, it goes by quickly.
DISCOVER THESE NATURAL WONDERS FOR YOURSELF ON A MILFORD AUDIO TOUR