Lace up your boots, put your phone on do not disturb mode, and get ready for a hiking adventure in the rich wilderness of the Canadian Rockies' most rugged national parks.
It is no secret that Canadian Rockies drown in natural beauty, but simply visiting Banff National Park, Jasper National Park, Yoho National Park or Kootenay National Park is not enough. To soak up as much natural goodness as these parks have to offer, simply head out on a few hikes for views that will be proudly posted on your Instagram feed later.
From 'this is easy, let's do another one' to 'I don't think I'll ever catch my breath' (easy to hard for those of you who need that spelled out), the Canadian Rockies offer both casual outdoor lovers and hardcore hikers the chance to disconnect from everyday life and reconnect with the peace of Mother Nature.
So you can spend more time hiking in the wilderness and less time trawling the internet, we've put together a list of the best hikes in the Canadian Rockies for you. All you have to do is charge your camera, choose where you want to go, and take your hiking adventure one step at a time.
Difficulty: Easy-medium
Distance: 8.5 miles (13.5 km)
Duration: 2+ hours
The Plain of the Six Glaciers Trail in Banff National Park has a little bit of everything from a bird's eye view of Lake Louise to a teahouse where you can stop and enjoy a light refreshment before continuing on your journey.
Although it may be an 8.5 mile (13.5 km) hike and has a total elevation gain of 2,000 feet, this trail is well worth the effort as it takes you right into a natural amphitheater with magnificent views of massive glaciers , resting on snow. covered slopes.
There's even a chance you might spot mountain goats along the way, and if that doesn't get you excited, we honestly don't know what will.
RELATED: 8 INCREDIBLE ANIMALS YOU'LL FIND IN CANADA
2. Sawback Trail, Banff National Park
Difficulty: Hard
Distance: 44 miles (70 km)
Duration: 4+ days
We can't promise that this challenging hike won't give you back pain (*insert wink face emoji*), but the Sawback Trail is one of the best multi-day hikes in the Canadian Rockies for experienced hikers who want to take on their treks to the next level.
Gaining about 1,000 feet in elevation over a stretch of 70 km, this trail will take you down below craggy mountains, through blooming meadows, past the iconic Lake Louise and right into the heart of the Rockies, while promising spectacular views you will never forget.
Difficulty: Hard
Distance: 12 miles (19 km)
Duration: 6+ hours
Just because this hiking trail is located in the less visited Kootenay National Park doesn't mean it deserves any less of your effort and appreciation. In fact, Floe Lake delivers big time when it comes to wildlife and turquoise alpine lake views.
That's not to say it isn't extremely difficult, because it is. Boasting up to 3,000 feet of elevation gain, the Floe Lake Trail is not for the faint of heart, but if you can muster the energy and determination to tackle this hike head on, you'll be rewarded with not just the satisfaction of completing a 12 mile trail (19 km) but also picturesque scenes your camera will love as much as you.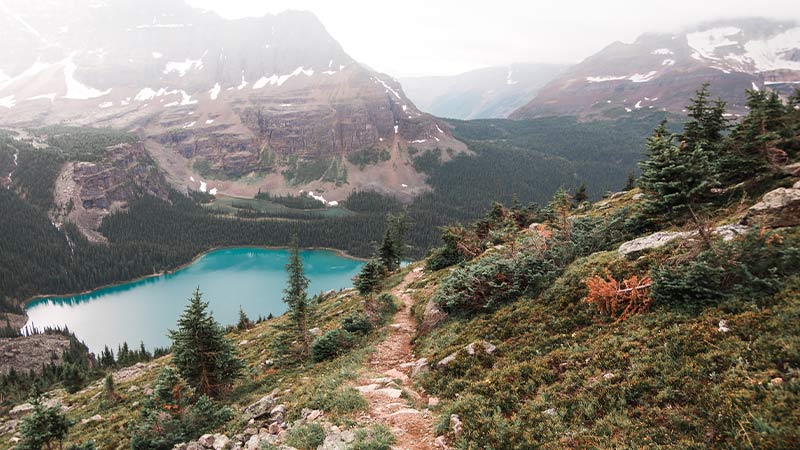 Difficulty: Medium-hard
Distance: 6.5 miles (11 km)
Duration: 5+ hours
Treat your eyes to a sight so magical you won't want to miss it while hiking the Lake O'Hara Alpine Circuit. You might think that if you've seen a majestic mountain peak and beautifully colored alpine lake, you've seen them all, but Lake O'Hara in Yoho National Park is just as stunning as those found in Banff or Jasper National Parks (if not anymore).
With sparkling water you can easily get lost in and wooded surroundings that will instantly bring you peace and tranquility, the Lake O'Hara Circuit is not only extremely extraordinary but also exclusive. With the road to Lake O'Hara closed to all traffic (access to the hike is by reserved shuttle bus only), it's easy to feel like you have this trail all to yourself.
TAKE THIS HIKE ON OUR CANADIAN ROCKIES TOUR
5. Mount Smutwood, near Kananaski's Improvement
Difficulty: Medium-hard
Distance: 11 miles (17 km)
Duration: 6+ hours
Climbing up rocky mountains on an 11 mile (17 km) hike might not automatically seem like an enjoyable way to spend a day in the Canadian Rockies, but once you gain the 3,000 feet it takes to get to the top of the ​​Mount Smutwood, you're going to be glad you didn't spend it on something else.
With a couple of pristine alpine lakes, wooded forests full of foraging animals and captivating views of Mount Birdwood – a cathedral-like mountain that looks as if the gods themselves shaped it – this hiking trail will lower your stress levels and get your heart rate up to rise all the way up.
6. Aylmer Pass, Banff National Park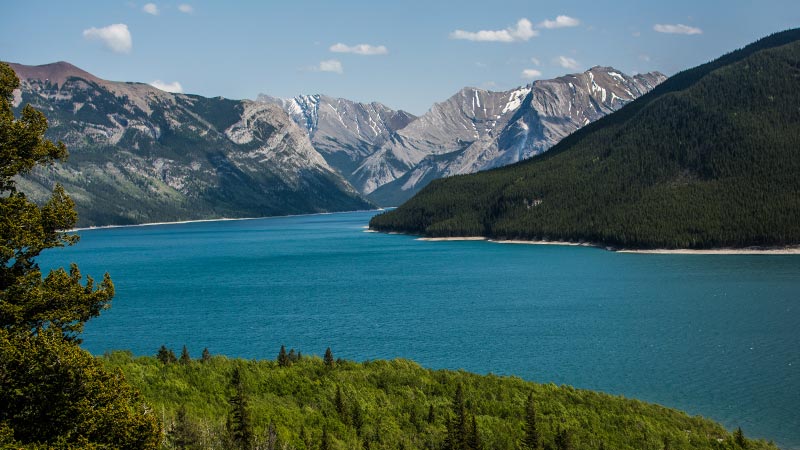 Difficulty: Medium – hard
Distance: 16 miles (25 km)
Duration: 1 day+
If you can handle a little quad-burning and heavy breathing, treat yourself to the beautiful mountain and lake views at Aylmer Pass in Banff National Park. With an elevation of a whopping 4,000 feet, this is one of the best hiking trails in the Canadian Rockies if you're looking for memorable views that look like they belong on a postcard.
Whether you want to tackle the trail in one day or prefer to break it up with a camping session under the stars, Aylmer Pass, with its conifers and fascinating wildlife, promises to deliver a hiking adventure others only dream of.
CHECK OUT THE AYLMER PASSPORT ON OUR GRAND CANADIAN ROCKIES TOUR
7. Valley of the Ten Peaks, Banff National Park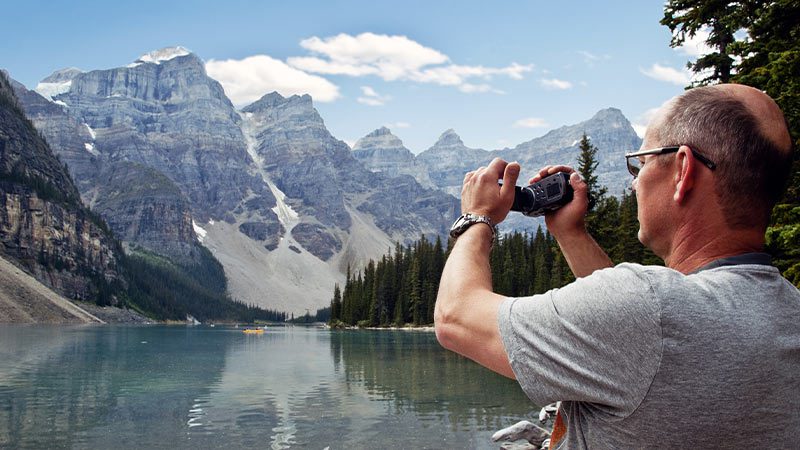 Difficulty: Easy – medium
Distance: 5 miles (8 km)
Duration: 2.5 hours
Sounding more like a mystical landscape straight out of the Lord of the Rings trilogy than a hiking trail in the Canadian Rockies, this sweeping stretch of wilderness won't hesitate to take your breath away. Find yourself being lured in by the fragrant succulent Douglas fir trees as they stand guard along the rocky path and listen to the sound of birds fluttering from branch to branch as you put one foot in front of the other.
But the quiet peace that will undoubtedly accompany you is not the best part of this hike. As you make your way through the wooded woodland and into the open, you'll find the imposing and imposing stature of the Ten Peaks – a collection of snow-capped mountain peaks that seem to disappear into the clouds in winter and stand out against brilliant blue skies in the summer.
These peaks act as a witness to your 5 mile (8 km) journey and create the most epic photo backdrops and will completely steal your nature lover's heart.
HIKE THIS ROAD ON OUR CANADIAN ROCKIES TOUR
8. Iceline Trail, Yoho National Park
Difficulty: Hard
Distance: 11 miles (18 km)
Duration: 6+ hours
Yoho National Park takes its name from the Cree word for 'awe' and 'wonder', which makes perfect sense once you embark on the Iceline Trail in the north of the national park. With spectacular views of several glaciers as well as one of Canada's tallest waterfalls, the Takakkaw, this hiking trail promises a front-row seat to some of Mother Nature's most outstanding work.
Living up to the park's name, the Iceline Trail offers diverse landscapes such as lush forests and sparkling emerald lakes that will have you completely and thoroughly enveloped all the way along the 18km stretch.
Whether you're after a leisurely walk in the wilderness or prefer to tackle something a little more challenging, the Canadian Rockies have a hike for every fitness level. Now it's up to you to get out there and explore.