Undoubtedly Queensland's hidden gem, this tropical city turns up the heat and offers breathtaking experiences you'll never forget.
Located at the top of the Sunshine State, Cairns is often overlooked in favor of more popular destinations such as the Gold Coast or Port Douglas. But you would be surprised. This anything but sleepy town has plenty to offer and is perfect for everyone from keen adventurers and adrenaline junkies to thrill seekers and foodies.
Whether you fancy snorkelling the Great Barrier Reef or prefer to spend your time 1,500ft in the air, we've put together a list of the best things to do in Cairns. You're welcome.
1. Explore the Great Barrier Reef
How could you go to Cairns and does not visit the Great Barrier Reef? It's like going to Adelaide and not drinking your way through the Barossa Valley or going to Sydney and refusing to see the Sydney Opera House. With many day trips from Cairns, you can explore the world's largest coral reef system and fully immerse yourself in the most beautiful underwater universe. Whether you're into snorkeling or you're more comfortable staying dry, there are several ways to visit the Great Barrier Reef, including taking a glass-bottom boat ride. Feel the sun on your back, watch as the colorful fish and marine life dance in the sea and make some unforgettable memories.
REEF SWIM ON OUR EXCITING BRISBANE TO CAIRNS TOUR
2. Take a stroll through the Cairns Botanic Gardens
While walking through a garden might not be high on your holiday priority list, Cairns Botanic Gardens is something special. This beautiful expanse of heritage listed green space was built way back in 1886 as a way for locals and tourists alike to enjoy the tropical flora and fauna found in Cairns. With plenty of gardens to discover, such as the Aboriginal Plant Use Garden and the Zhanjiang Friendship Garden, you'll wander around enjoying the breathtaking sounds, smells and sights for hours. If that hasn't convinced you, why not take a guided walking tour to learn more about this incredible natural attraction.
If skydiving is a little too extreme, but you still like the idea of ​​getting your heart rate up, then the Zoom and Wildlife Dome is the place for you. Located in the heart of the CBD on top of the Reef Hotel Casino, this indoor adventure combines an equal parts scary and exciting high ropes course with a family-friendly animal park, offering the best way to spend a few hours. This sanctuary offers the opportunity to pet koalas, learn about our native animals and get your blood pumping with 2 high ropes courses and 3 zip lines. Did we mention that one of them walks over a 4-meter saltwater crocodile?
4. Play around in Fairy Falls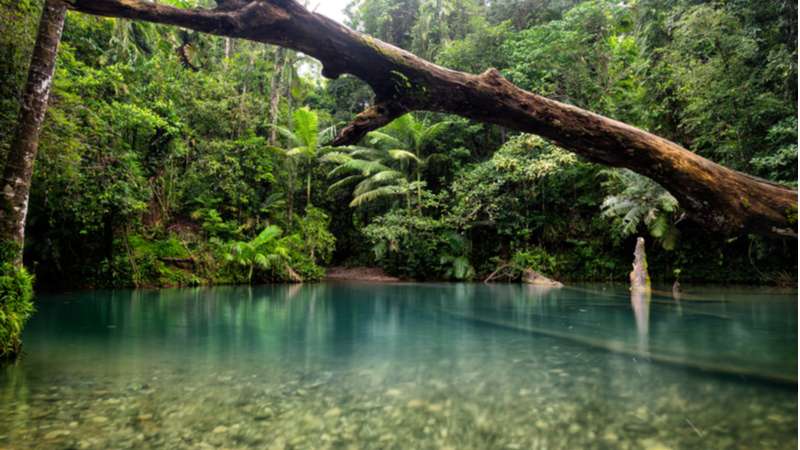 Where else can you swim like a mermaid in the fairies' home? Answer: nowhere. Regardless of what tlc says, you can go in search of waterfalls, especially when in North Queensland. Fairy Falls is just a 25 minute drive from the Cairns CBD in the lush Wet Tropics Rainforest and close to the Crystal Cascades. Guaranteed to make you feel like you've stepped into a wonderland, this picturesque location makes for some serious Insta-worthy photos thanks to its stunning waterfalls and is one of the best free things to do in Cairns. Whether you want to take a dip in its cool waters or admire the peaceful serenity that surrounds this place, Fairy Falls is a non-negotiable must-visit.
You may have had some fancy and special dinners in your life, but we bet none of them come close to eating fresh shrimp straight out of the sea on a trawler that used to catch them. Located by the marina, Prawn Star consists of four restored fishing trawlers moored together to make them a permanent dining destination. Decorated with festoon lights for a simply magical experience on the water, this seafood spot serves oysters, crayfish and salmon accompanied by a nice cold beer or bottle of wine. So sit back, relax and enjoy the delicious food and even better company with the thought that life doesn't get any better than this.
Whether you prefer an action-packed holiday or one full of enjoying as much nature as this beautiful city has to offer, Cairns is a place for everyone. The best part? You can do so much more than what we've outlined, including taking a dip in the free Esplanade Lagoon or taking some time to walk the Atherton Tablelands. Cairns is waiting for you, so what are you waiting for?
HAVE THE CHANCE TO EXPERIENCE THESE ADVENTURES ON OUR CAIRNS TOUR